If you've ever thought that there isn't much to a burger – patty, bun, cheese, maybe some bacon – talk to Shake Shack's culinary director, Mark Rosati, about the thought that goes into each creation on its mouthwatering menu, and you'll rapidly change your mind. Since joining the company 14 years ago, Rosati has opened 80 Shake Shack branches worldwide, with latest two being on London's New Oxford Street and in Cardiff. We met with the burger enthusiast to talk about beef, toppings and what makes the London and US food scenes so different.
When did you first realise you wanted to go into food?
It happened accidentally – I'd always loved to read and watch shows about food, and cook for my friends, but about 14 years ago I met the chef of one of my favourite restaurants in New York at a food and wine event, and I was such a fan of the restaurant and asked so many questions that he said to me "You're either very passionate or completely insane. If you ever want to watch us cook one night, I think it would answer a lot of your questions."
So I did that and I fell in love with everything I saw. I started to realise I wanted to work in this business. I was in the right place at the right time and the guy was at the time one of NYC's most highly revered chefs. He cooks very farm-to-table, very seasonally, and it was the perfect fit for me. When I started out, it was actually the owner of the restaurant, Danny Meyer, rather than that chef, and his philosophy on hospitality within the restaurant, that I fell in love with. That's why, today, I'm still in the same company working for Danny.
Which chefs have influenced the way that you cook?
That chef who I started out working with is Tom Colicchio and he's a very famous chef in America. He was the chef of Grammercy Tavern at the time, which is one of NYC's most storied restaurants, not only because of the cuisine but also because of the level of front-of-house care. It had the perfect mix of all the elements that make a great dining experience. Tom was very influential in how I thought about cooking. Even though our food is very simplistic and humble in the way we approach it, we're still looking to find the best beef we can, and we use the finest bread. Our burgers are so simplistic that they have to have all great elements for it to really shine.
It's all about us creating items that we look at with a critical culinary eye but are still accessible to anyone from any walk of life
How do you find all the suppliers and producers you work with across the globe?
It's really a team effort, and we rely on the local teams in the countries we're in. When we came to London, we knew we wanted to work as locally as possible, and we set out to make one of our most handcrafted Shake Shacks since we opened our very first one over 11 years ago. We wanted to find cattle ranches where we could source amazing beef and a really great butcher that could craft our bespoke blend just how it is in New York. It takes a lot of time, and it involves a lot of meeting and getting to know different producers, and ultimately getting to know the culinary scene and find and identify all the guys who are working at a high level.
How do you develop the menus?
I try to keep the burgers and other menu items as simple as possible. What I like to do is pick a theme or something I want to highlight and then build the burger around that. For instance, we have a bacon-centric burger that we added to our menu called the Smoke Shack. What I wanted to do was build a burger around the flavours and textures of great bacon.
Our top signature burger is the Shack Burger, and I thought it would be too easy to add bacon to it. Bacon is very rich, it's very smoky, so in order to highlight that flavour we chose use a pickled chopped cherry pepper, which is spicy and tangy. The combination of pickled peppers and pork is used in loads of different cultures – there's a great classic Italian dish of pork chops roasted in a pan with the pickled cherry peppers – and that's because the acidity from the cherry peppers cuts through the richness and fattiness of the meat.
There's a lot going on when you create items like that, but we never want our guests to know all that behind the scenes work! At the end of the day it's all about us creating items that we look at with a critical culinary eye but are still accessible and recognisable to anyone from any walk of life. That's what we think the real magic is, creating something that's really delicious but keeping it in the comfort zone that's not challenging to people.
You've got two new restaurants opening, one in London and one in Cardiff. Are they different from the others?
Once they've opened, we'll have 80 Shake Shacks worldwide. We approach each Shake Shack menu slightly differently. For example, we make a fresh ice cream that's very popular in midwest America called frozen custard. We make it throughout the day and because it's fresh, it's very creamy and it's very dense, it doesn't get hard and crunchy and develop ice crystals like ice cream can. It makes the most delicious milkshakes.
We take that frozen custard as our base and we add different sauces and different pastry items, such as a brownie from Druid Street's St. John Bakery. We also have chocolates that we use from Paul A Young – we reached out to a lot of people in London that we've admired for a long time. I believe that the brownies that come out of St. John are the best in the world. Every time I go there I take a slab home with me and put it in my freezer so it lasts for a couple of months.
We've worked with a lot of partners over the years in London to make the menu very reflective of what's going on in London's cooking scene right now and as we go to Cardiff, we're going to be working with a few new vendors over there. We're going to be blending Welsh cake into our vanilla frozen custard to make something a little more bespoke and unique for Cardiff, and on top of that we'll also have a couple of different, special craft beers from the area. If we do it right, the menu reflects the city that we've just moved to, and it's something that adds a little more depth and dimension to Shake Shack.
How do you maintain the quality that Shake Shack is known for when there are so many locations?
A lot of the work is done at the very beginning. We spend a lot of time trying to identify the great butchers and produce in every city, and once we've done that we spend a lot of time training all the teams worldwide. They learn to understand the deeper levels of our food and our culture so that once we open and they understand how the restaurant is going to be different within the world of Shake Shack, they usually hit the ground running. A lot of the team that has made the London branches so successful will be in Cardiff to help train the team members so it can just take off on on opening day.
In your opinion, what makes a really great burger?
I really think the core of any great burger is the the quality of the meat that you're starting out with. We use only whole-muscle cuts, we never use any trim and we champion the absolute best quality meat, which means no added hormones or antibiotics. Our meat is ground fresh, so when it gets to Shake Shack, it's very fresh, it's very delicious, and then we season it – that's all our burgers have got going on, they're just little bit of salt, and little bit of pepper and some great beef. From there, the rest of the burger gets a lot easier.
We use only whole-muscle cuts, we never use any trim and we champion the absolute best quality meat
For us, the other most important element is the bun – ours is made of soft potato. When you bite into it, the first texture and the first flavour you get is actually the burger, and the bun is just there to make everything that much better, but not take away from the main focus of the great beef. Once you have that, you have a great burger, and you can put whatever you want on it.
When I'm at home and I cook burgers and have friends over, I don't make a composed burger and give it to them. I'll cook the burgers and ask if they want cheese, and then I just give them a tonne of toppings and they can choose to dress the burger however they like.
What's the best burger you've ever eaten?
I would say the second-best burger I've eaten would be Shake Shack, of course, but there are so many out there, and it comes down to a lot of different elements. I think the atmosphere is a huge factor too, I've had a lot of amazing burgers in dodgy pubs, and that the pub is dodgy but they take their burgers seriously and it goes down with a great pint of beer, that's a pretty memorable burger. I've also had great fine dining burgers in fancy restaurants.
If I had to pick, I'd say The Spotted Pig's chef, April Bloomfield [in New York], is fantastic. She's a big fan of simplicity, too, and letting the ingredients speak for themselves. The London burger scene is tremendous these days – there's a lot of variety and they're all excellent. I've always thought that Patty & Bun's is a great burger. I like their style and I like their flavour combinations. When I come over, I try to hit two or three burger places every trip, but Patty & Bun is always on my list.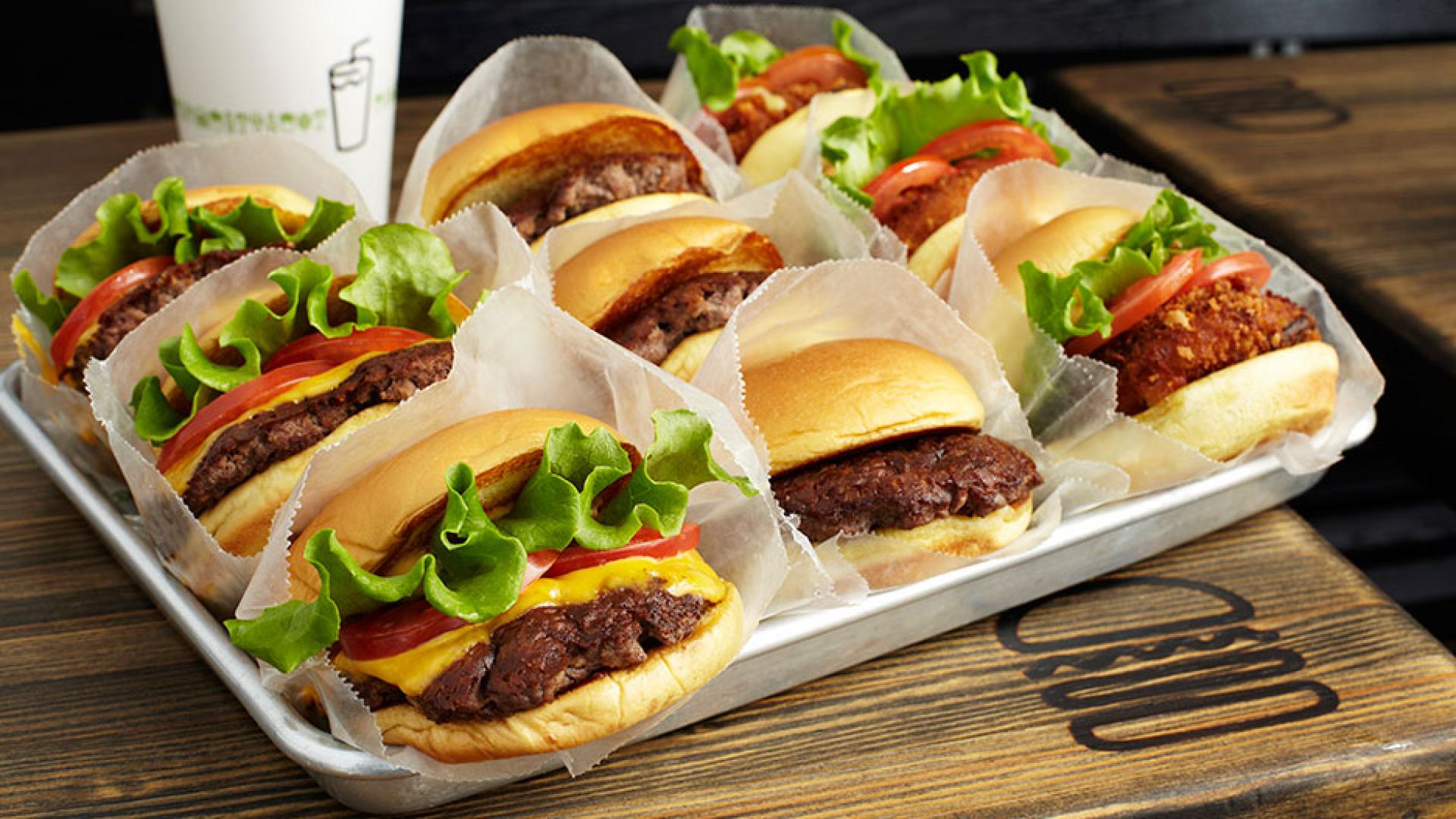 What do you like to eat when you're not eating burgers?
I'm a bit boring – I love a good roast chicken. When I go to London, I always try to leave on a Sunday and go to a little pub right next to Heathrow called The Hind's Head. It's a Heston Blumenthal pub and it does one of the best Sunday roasts I've had in my life. I either have the pork neck or the prime rib of beef. I'm always happy with that, because I can't get it in the States.
How do you think the NY and London food scenes are different to each other?
I think the only thing that's different about the two scenes is the way the chefs think and their individual creativity, but I do think we think about food differently. For instance, in the world of burgers, I think a lot of the burger makers in London will use sweeter elements. In New York, we think about savoury toppings, so they're more mustard- and bacon-based, whereas in London I see a lot of pickled onion relishes and barbecue and ketchup sauces that have that sweeter component. I think traditionally the American palate in terms of burgers is a little more savoury on the toppings.
A lot of the burger makers in London will use sweeter elements, like pickled onion relishes
What's the most unexpected thing that you've had on a burger that you've really enjoyed?
Bone marrow – either ground into the burger for added richness and butteriness, or made into a sauce and put on top of it. It just makes sense, because you're adding further depth to the beef by using another part of the animal to bring another level of richness. I don't see it often but when I do and it's in the right hands, it's pretty exciting.
Do you think you can get a sense of NY in each of your restaurants that aren't in New York?
I think so. We were born in NYC and 11 years ago we opened our very first Shake Shack on Madison Square Garden, right in the heart of the city, and I just think that everything we do, that's just going to be part of who we are. I think there's some elements to our food and our hospitality, and the design and feel of our Shake Shacks that I think is just so New York and you definitely get that sense when you walk into one of our restaurants. At the same time, we do try to bring in a lot more unique elements so that our restaurants are never carbon copies, they all have their own voice and soul within their neighbourhood.
If you walk into our new Oxford Street location or our new Cardiff location you could think that maybe a local guy opened it, but at the same time it feels a little different and new. If it's done right, it feels local, but there's also something going on that you can't put your finger on that make it feel unique.
Which is your favourite Shake Shack burger?
We did a special burger in the US a few months back that was a cheeseburger topped with a malt vinegar and sea salt dusted pork rind. Everyone is familiar with chips with both of those things, and I wanted to do was introduce those same flavours but not on a potato, so using pork crackling gives you crunch and texture, but you also get that pork richness. When it's balanced with the acidity of the sea salt and the malt vinegar, it's not too rich. You never know, we might bring it to the UK...
Shake Shack's new branches in Cardiff and London are now open. Bloomsbury Plaza, 56B New Oxford St, WC1A 1ES; shakeshack.com