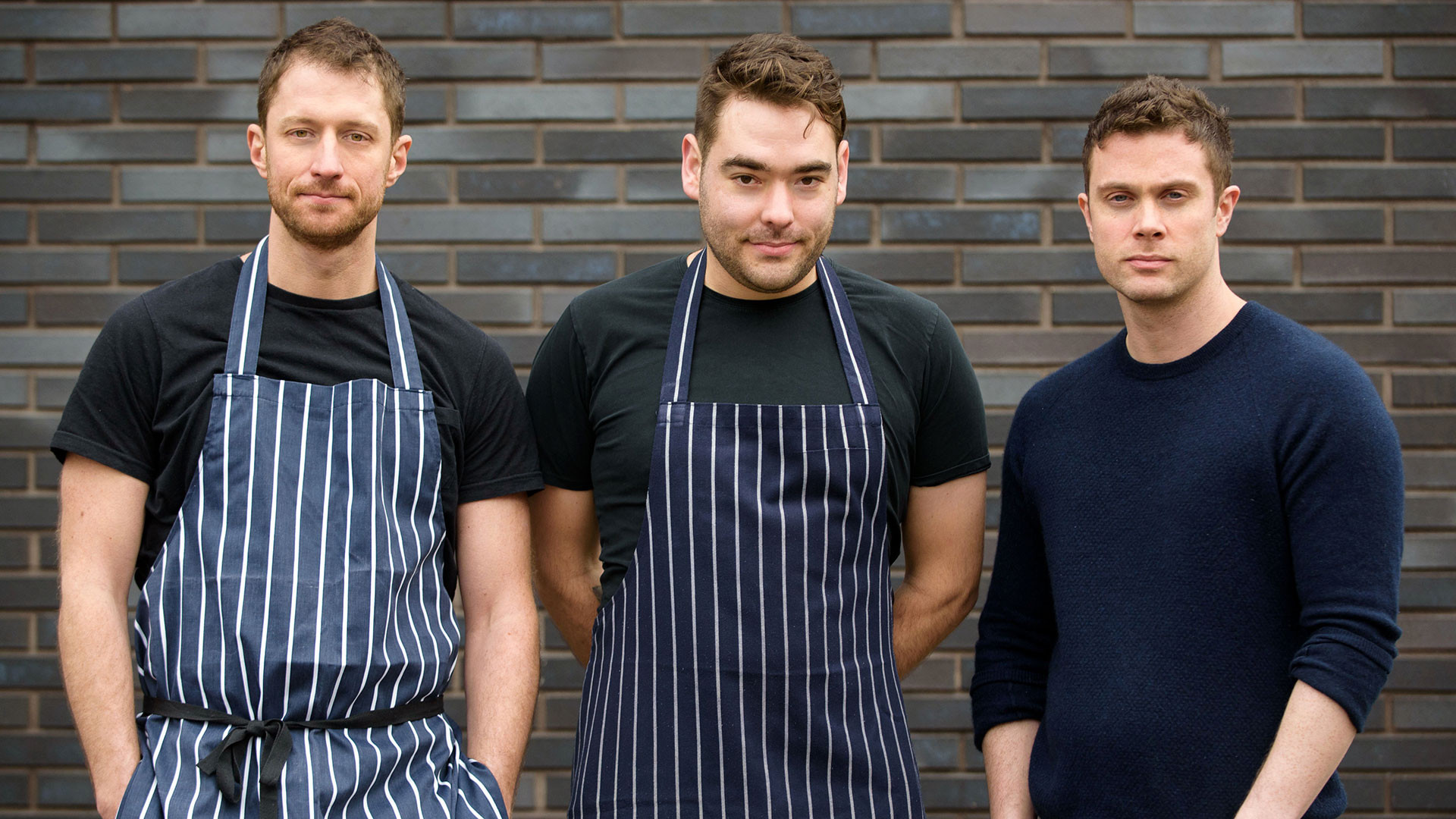 Photograph by Ben Broomfield
When a residency is meant to last three months and ends up staying for a year, you know it's good – and that's exactly what happened to the vaunted Som Saa, the Thai pop-up that took over Climpson's Arch last year. It's taken its own sweet time to find a permanent site - not to mention a successful £700,000 crowdfunding campaign – but it's back, opening on 11 April. Here, chef Andy Oliver tells us about the new restaurant, making fresh coconut cream, and how London, if you know where to look, has a wealth of authentic ingredients just waiting to be found.
How are things going at the restaurant?
It's exciting and scary in equal parts, opening a restaurant that you've been thinking about for a long time. The builders are in and the space is looking great. It's changing all the time. It's really exciting to see a shell get turned into a restaurant bit by bit.
The restaurant is on Commercial St in Spitalfields. It's 3,000sq ft, all on the ground floor. It's about an 80-cover restaurant and a 30-cover bar. It's got some cool natural arches in the middle of the restaurant which we've stripped back to the original brick work and then there's going to be an open kitchen at the back and a bar out the front and a big back bar in between the arches. It'll have a long sharing table and booze and it's going to feel a bit like Bangkok and a bit like London, with some touches of Thailand but nothing too in your face. There'll be an open kitchen where you can see the woks and the charcoal grill. It'll be really fun, buzzy and atmospheric.
What is it about Thai food that inspires you so much?
I travelled there when I was quite young. I always weirdly more interested in Asian recipes than Western ones – even at a young age I'd pick up Asian cookbooks rather than Western ones. I did what loads of people did and took a gap year and went travelling. I spent four months in Southeast Asia, backpacking by myself, and I got a taste for the food and that never really left. I ended up going to uni and then I worked in restaurants to see which ones I liked and ended up at Nahm, David Thompson's Thai restaurant on Hyde Park Corner. When I went in the kitchen and tasted stuff and looked at the ingredients and saw the techniques that were going on, it blew my mind. I never really looked back from there.
What do you first remember cooking?
You always remember cooking with your mum, then as you get more independent you're able to open the fridge and chuck anything in a pan. You always have a few disasters when you first start cooking because you're experimenting and trying out things which are blatantly never going to work but you're learning loads in the process.
I used to get loads of really contradictory ingredients and whack them together because they looked fun, but sometimes your enthusiasm runs away with you and you think something's going to be amazing rather than tasting it first and checking. You realise that you can't put huge handfuls of mint into pasta because it tastes like toothpaste.
Do you have a secret ingredient?
In Thai food, there are lots of ingredients which are really delicious but you wouldn't imagine them to be, or in isolation, they're not. Things like shrimp paste, fish sauce and dried fish. They're all ingredients that, if you use them cleverly, they create this mystery deliciousness that you can't place, but by themselves, they're a bit funky. They add that fun, funky note in food, and if you balance it with hot, sweet and sour flavours and rich dishes, it works.
You've got to be creative in London because it's not always there on a plate for you
Where do you source the Thai ingredients from?
We have to work really hard as we're very particular about ingredients and there are challenges when it comes to finding good-quality stuff in London. We get lots of herbs from the Vietnamese community in Hackney. The shops are really good on fresh Southeast Asian herbs. We use a few specialist Thai suppliers, one guy sends us stuff from Bangkok. We order specifically and they give us a bespoke order – high-quality dried prawns and chillis, palm sugar, basics, but much better quality than you'd be able to buy here. We also have a guy who grows some stuff for us in Dorset in these amazing hot houses and he grows organic Asian produce there. His dad is really passionate about butterflies, and because they live in these heated greenhouses, it's created the perfect environment to grow tropical plants.
The Indian and Bangladeshi communities have some really interesting ingredients in their shops and some of those are the same as what's used in Southeast Asia, so if you know your ingredients, you can walk around an Indian shop and find loads of things you can use in a Thai kitchen. You've just got to be creative in London because it's not always there on a plate for you.
Have you decided on the menu yet?
We're really excited about it – Climpson's Arch was brilliant, but it was really focused on the grill side of things because we didn't have much equipment other than the grill. Now we're really excited to be able to showcase the whole range of Thai techniques. We're going to have wok burners, a charcoal grill and a whole section doing curries. We're going to make fresh coconut cream in the kitchen everyday which allows us to make amazing Thai curries that taste so much better than stuff out of tins. We'll be making fresh curry paste in the kitchen. We'll be doing a really interesting dessert section with the fresh coconut cream. It's a menu that's more balanced in terms of techniques that what we did last year. At Climpson's Arch we did northern and northeastern food in particular, and now we're going to be doing it from all the different regions.
Som Saa's dishes – in pictures:
Do you have a favourite dish?
From the Climpson's days, there was a deep-fried fish in a northeastern-style salad with loads of herbs and dressing. It almost became our signature dish. From the new menu, we'll be fermenting our own sausages, which is really exciting. Our opening menu is going to have panang curry made with salted beef cheeks which are braised in our fresh coconut cream, which I think will be a crowd-pleaser. But I change my mind all the time.
Did you feel there was a gap for a really authentic Thai restaurant in London?
We don't use the word authentic too much because it gets a bit controversial. What does authentic mean anyway? And I don't want to say that what other people are doing isn't authentic. And even in Thailand, tastes are changing. Food's a moving beast. At the end of the day I think the way we cook Thai food is slightly different to the way other people cook Thai food, partly because of the menu we choose – Thai restaurants in the UK tend to have very similar menus, and we don't want to do it like that. We like doing things the hard way, and we're very uncompromising when it comes to flavours. Our position is that we serve the food the way we think you'd taste it in Thailand. People have responded really well to that, and I think London is ready for that now. We're much better travelled than we used to be, and we're interested in authenticity, and we like to be challenged and eat things the way they're eaten on the streets in Thailand.
Even in Thailand, tastes are changing. Food's a moving beast
Do you adapt your dishes to suit Londoners' tastes?
I don't think so. We try to choose the dishes on the menu so that they have a balance between spicy dishes and not spicy dishes – but those dishes are specifically meant to be not spicy. There's a common misconception that all Thai food is spicy, but it's not. Some dishes are really mellow and soothing, others are fresh and sour, others are rich. If you have a menu that's reasonably well-balanced between all those things, instead of changing a dish because someone doesn't like spice, you can offer them an alternative. But if someone has a dietary requirement, we can obviously tweak things there.
What do you think of the London food scene at the moment?
It's so exciting. I've been in London about ten years now and I think it's just getting better and better all the time. There's so much choice at the medium price point. It pushes you to raise your game. No one can rest on their laurels because there's so much amazing choice out there. Really excited by the mid-range stuff. Ethnic food is doing really well, too. People like Bao and Koya are doing really delicious, accessible food with really good ingredients and incorporating a bit of British technique in there. Even fine-dining has been stripped back to really good ingredients and really good cooking and nice service, but not too much stiffness. That's exactly the way I like to eat.
My only complaint is I think we could do with a few better-quality, lower-priced restaurants. That area's been dominated by chains for too long. If you want to eat lunch for £5 to £10, you're pushed to chains instead of independent operators. Compared to other cities like New York, where you can get really high-quality Chinese food for that price, or Mexican, that's authentic, delicious and accessible, we're not as good at that lower price point.
Som Saa opens on 11 April. 43A Commercial Street, E1 6BD; somsaa.com