Straight off the back of his long residency at Climpson's Arch, Leandro Carreira headed South East to open his first solo restaurant and wine bar in Bermondsey. The opening of Londrino at the tail end of last year marks the marriage of Leo's extensive culinary experience with his Portuguese heritage and the seafaring culture of the capital.
Aptly named after the Portugese word for 'Londoner' (top marks if you spotted that one) Londrino's menu has its sights set on the sea. Working closely with fishermen and producers, Leo has brought the best of British to Snowfields' little pocket of foodie heaven, heading it up with his ferment-forward style of cooking dished out in the form of a Pesticos 'snack' menu at the 30-strong industrial-chic wine bar, and from the regularly changing seasonal menu in the adjoining sunlit restaurant.
Here, he talks to us about his new venue, why London is begging for a Portuguese revolution and why he doesn't like to name favourites when it comes to eating out in the capital.
Why do you think Portuguese cuisine is less well represented in London than say, Italian or Spanish?
I think, aside from Nuno Mendes, one of the reasons might be because of the lack of Portuguese chefs in London.
Is it maybe something to do with it often being lumped in with Spanish cooking?
No, I don't think so. There are a lot of similarities in the way that we eat and the culture. But I don't think that is the problem, I think until a couple of years ago there wasn't anyone really pressing the button on the Portuguese side. And, to be honest, I wouldn't describe Londrino as a Portuguese restaurant. It is a restaurant that brings some flavours and cultural ideas from Portugal to the capital. For me, as a chef, I have a huge challenge ahead of me. I'm really looking forward to exploring that side of things. I haven't done anything like this before.
What exactly is the concept of your restaurant then?
It's a combination of all my culinary experience, coming to a head in this one venue in Bermondsey. Luckily with this job, I've been able to travel the world and I've lived in eight different countries, so it's definitely a product of those experiences and everything that has inspired me over the years.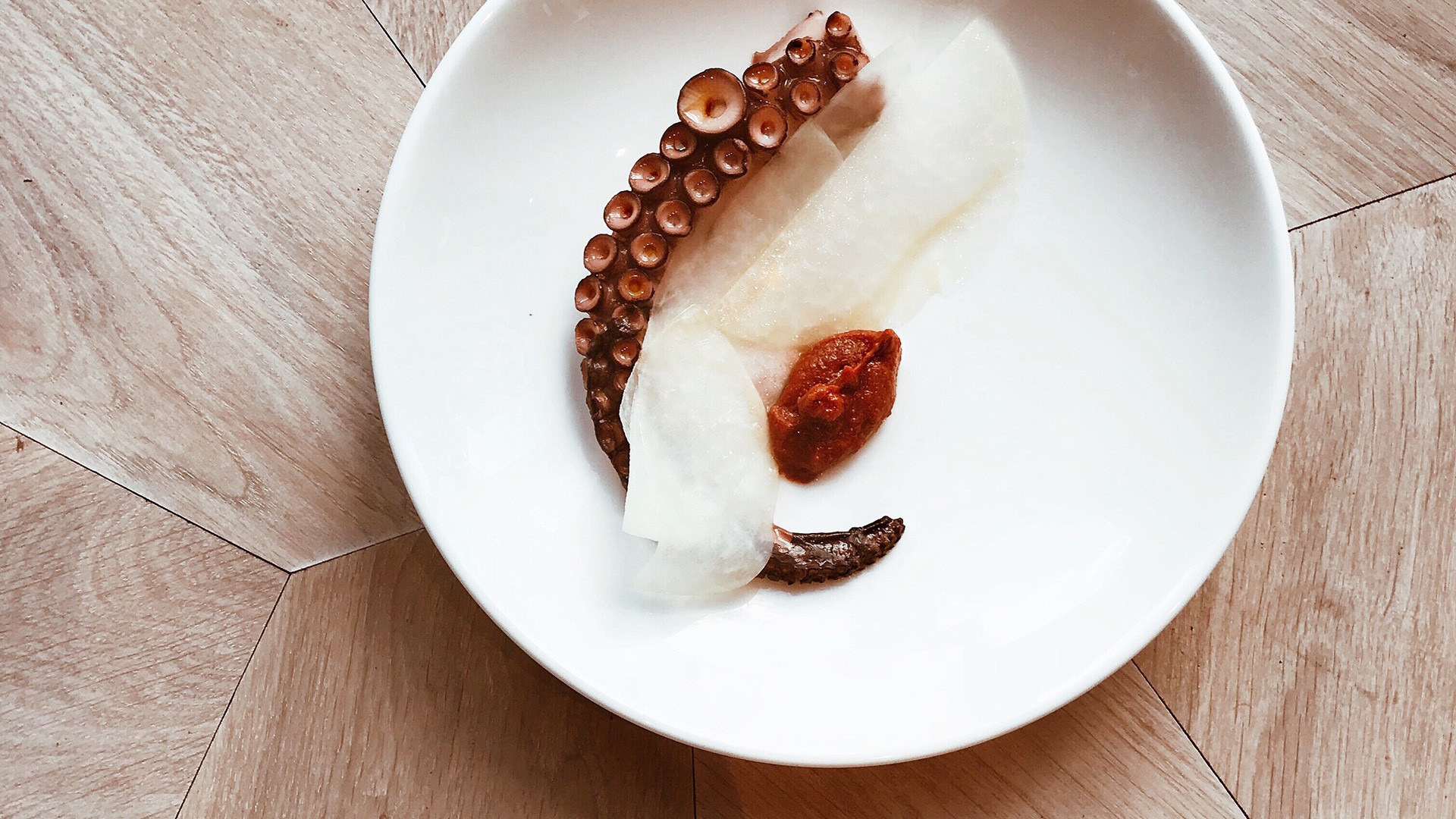 Photograph: Richard Massey
How would you describe your cooking style?
I don't know. I wouldn't know how to describe it. I'm crazy about really bold flavours, not too many ingredients in the dish, and I try not to interfere too much with the produce. I love, love, love the idea behind Japanese cooking, and how they work so hard to master one thing to perfection. Sometimes I apply this idea to our dishes and they'll often centre around one or two ingredients. I love textures and creating simple, no-fuss food.
Will you be using any particular ingredients that we might not have come across before?
Yes, but look, 95% of our produce will be British, from the sea, the land and, you know, anything we can get our hands on. Obviously there are a lot of things things that are very, very important to me and I love them to bits, but you don't really see them in restaurants and they're not that common in London. I'll be using things like periwinkle, sand salt, and stuff like that.
Have you got a favourite dish on the menu yet?
I like all the dishes but the mackerel is very appealing to me at the moment. All the fish we're seeing is phenomenal right now.
When did you realise that you loved food?
Oh, since I was little. I'm from the countryside in Portugal and in my house, there was always a big table and great food. But, you know, I don't believe in those kinds of stories, when people talk about that one defining dish from their childhood. I think they're all made up. I'm not going to tell one like that, I don't remember my favourite dish from when I was 12 years old.
I don't believe in those kinds of stories, when people talk about that one defining dish from their childhood. I think they're all made up
Would you say then that it was a particular chef that inspired you, rather than your parents?
Obviously, my parents were my biggest supporters. You know, I never wanted to be a chef. They were the ones that pushed and told me I had to go and study, so I went to culinary school. Even then, I wasn't sure if I wanted to be a chef, but eventually I learnt to like it. There are so many people who work alongside me and I work alongside as well. The guys from Mugaritz and El Celler de Can Roca and Nuno at Viajante. All the previous restaurants and hotels I've work in all over the world. All these people have equal importance to me.
The really big turning point was going to work the Basque Country, that really changed my outlook. It was hard. I already had two years experience in the kitchen and all of a sudden, you know, you're not erasing you're just putting aside all that information, all that experience that you have and you start all over again. And that was very, very challenging and amazing in that sense. The way they cooked and operated in the kitchen, it opened up my perspective and that is something I'll absolutely put into play in Londrino.
Where's your favourite place to eat in London? And which chefs do you think are currently the most exciting?
I have a lot of places that I like. I can't tell you though because I will piss off so many people.
Hungry? Try it all for yourself with Londrino's regional Sunday feasting menus. Each month Leo choses a new area of Portugal to take the lead, so you can explore his home country bite by bite. For more information, go to londrino.co.uk