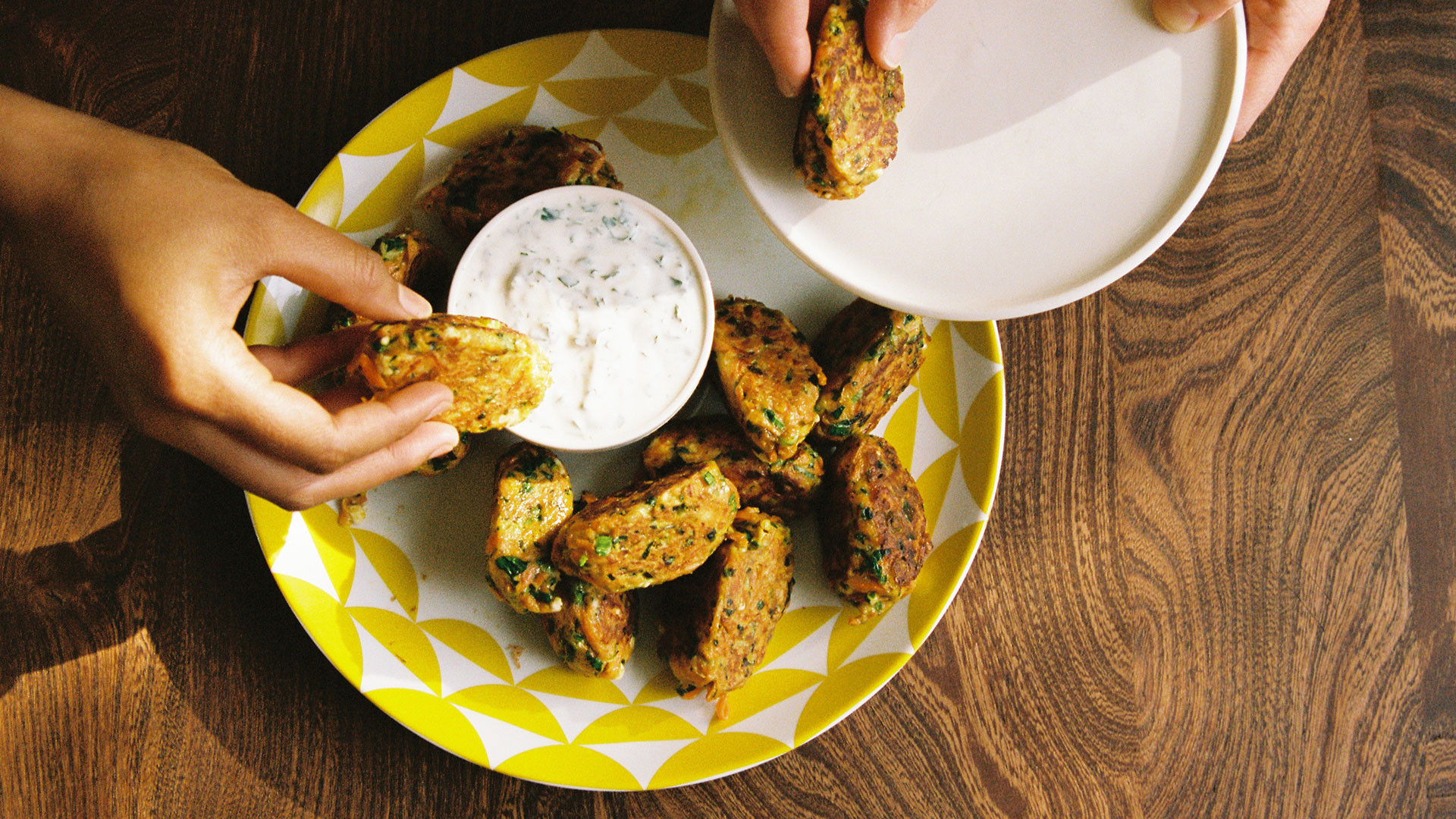 Photography by Charlotte Bland, taken from Flavour by Ruby Tandoh
There's a patisserie called Pain Pain in Montmartre that isn't cake par excellence but it's cute. Say Pain Pain out loud in your best French and see if it isn't cute. There are four cute tables by the window, and one long cabinet, full of deeply cute Parisian tarts that you just have to take pictures of. Yes, even you.
I select a pistachio-raspberry tart and carry it to the window, where two women are using three of the four tables to host a private iPhone shoot. Such theatre! They've got props – magazines and sunglasses – and they're just wondering whether bringing one of the seat cushions into the frame might add a little je ne sais quoi. They demand fresh napkins. No good. A member of staff is summoned to eliminate some wayward ganache.
What I must impress upon you is that this place is already photogenic. The tables are faux marble, the gateaux are works of art, and the stationery is navy-gold magnificence. We're right by the window, don't forget, with all the late afternoon Parisian light we could dream of.
The Pain Pain set-up I've just described is ripe for the overhead shots that fuel our Instagram feeds every day. Once I've sat down, I take one too – by briefly, incompetently hovering my phone over my plate. It's like I'm scanning this beauty into my life. This tart registers. It's in the catalogue. I'm going to eat it now.
Taking a photo of a whole tabletop gives us space to install a bit of ourselves and that can be real (a smeary knife) or not (a copy of Shantaram). If we want, we can use the space to show off the hand of a husband, or a fresh shopping bag, or perhaps a fancy purse. There's lots of opportunity here to be awful humans if we want to be.
we've come a long way from images of slick, inedible food, brash with flash. Now, it's all about natural light
Photographer Charlotte Bland's Instagrams are entirely honest, naturally lit snapshots, often taken inside her actual house. She's got this overhead thing nailed, whether it's two fried eggs, a cup of tea, a tray of just-baked cookies, a massive tomato, a pan of pears or a bowl of lemons – it's all there, all beautiful, all real.
Her delicious work is – and has always been – about capturing "everyday life". "It's very much a visual diary of a time and place – where you're living and the things that you're eating," she explains.
"Instagram has been a huge enabler. Before that I used Flickr – that's where I started posting things like half-eaten meals and empty plates, which a lot of people found – and still find – really messy. Someone once commented: 'Why on earth would you post a photo of a plate with a chip on it?' – well, because it's my plate."
I tell her I've heard of people scattering rose petals around their macarons (it's true, I have). "A lot of the photos you see on Instagram are styled to look like they haven't been styled. It's the Kinfolk [the US hipster lifestyle magazine] phenomenon. These 'natural' shots are often so carefully thought out that they present a style of living that just doesn't exist."
Bland recently shot Ruby Tandoh's cookbook, Flavour. Tandoh is all about the joy of cooking and eating – everything real and celebratory, nothing pretend at all – so the photos had to embody that feeling. "I was photographing dishes that were cooked from scratch, genuinely. We'd all sit down and eat the food, and then I'd photograph around people while they were eating. A lot of styled shoots would be done in studios with lights, whereas I've always used natural light because that's what I love."
And that's another thing our Instagram feeds are flooded with – natural light. We've come a long way from slick, hairsprayed, inedible food, brash with flash.
Petrina Tinslay has been a food photographer for 25 years and has shot 45 cookbooks. She worked on Nigella Lawsons's How To Be A Domestic Goddess, which was the cook's first book with photos in it. At the time, she says, "baking books tended to be shot in warm tones" but she and Lawson went for "white backgrounds and minimal props". She remembers shooting the cupcakes – Lawson loved the beauty of each one, and how the very minimal sets really let the cupcakes work the pages. I think immediately of the chocolate-cherry cupcakes with their dark swirls of ganache.
In the early noughties, Tinslay worked on books with Donna Hay, the Australian food stylist, author and magazine editor. For maybe the first time, every recipe had its own image, so there were a lot of photos to take – no time to faff – and consequently the look was "super simple and pared back". She won a James Beard award for her pictures in one of these clean, modern books. "We used backgrounds in block colours – white, blue or green – with white plates that were usually matte, and just gorgeously plated food. This look was widely copied afterwards".
Of lnstagram, Tinslay says: "The over-the-top angle has a more graphic and one-dimensional look, which translates well to a hand-held device. If you glance at a feed that's been shot this way, it has a great visual impact. There's basically no depth of field on an iPhone, so this angle is the best."
One book that's notably full of these shots is Fergus Henderson's Complete Nose to Tail. There are pressed pig's ears pictured from above, on white plates, on white tablecloths. The style is St John all over – natural light, crisp linen, hands reaching across for capers, or digging some crabmeat out of a leg. "Natural is the theme all the way through at St John," says Henderson. "If it's a fish, it's a half-eaten fish, which is why no one liked the pictures when they first came out".
The over-the-top angle has a graphic look and great visual impact
It's hard to imagine the images being any other way now, but when Henderson and photographer Jason Lowe first tried it, the style was a bit affronting, a bit messy, and some food critics hated it (Henderson: "well everyone thought Christopher Columbus was mad"). Of the book's photographer, Henderson says: "Jason's appetite is huge, so his pictures were taken with love. He'd clamber up an enormous tripod to take them, then come down and eat the whole lot. Jason was a lovely chap to work with. His hunger was very good. It was a whole new school of thought for taking photos."
Through the hands, everyone gets their moment in the book. There are the hands of Henderson's parents, wife, friends and ex-colleagues, and the littler hands of his now-teenage children.
For the blood cake and two fried eggs recipe, Lowe and Henderson found themselves short of hands. So they went outside in a bid to try and recruit some, and managed to bring in two kosher Jewish women. "They were happy to puncture the yolks and cut the blood sausage, but they wouldn't go any further than that".
There are of course some really witty pictures in here, too (Henderson: "pleasure is pleasure"). Alongside a recipe for butterbean, leek and cauliflower salad is the now-ubiquitous overhead shot of an immaculately laid table, but it's carefully dotted with single butterbeans. This is how ahead of the curve they were.
Henderson has noticed that this style is everywhere now – not just on Instagram but in advertising, too. New restaurants employ it on their feeds and websites – it's a neat way of demonstrating to potential diners what their time at the table might look like.
And though we owe a lot of it to St John, Henderson doesn't really want you to take photos of your food. "We try to have a no phones policy, but I can't really enforce it. Most of the time it's fine, but sometimes people bring in giant cameras and tripods to shoot these poor carrots that can't move at all".
Poor carrots. That's exactly how I feel about the women's tarts, originally so carefully constructed by a patient chef, and now entirely uneaten as I leave Pain Pain. Photograph your food if you want. Scan it in. Log it in your visual diary. But don't make a mockery of it, and please make sure you eat it. If it tastes good, then you won't need a photo to remember it by.