"Hi, we've got a table for two... Oh, and where are the bathrooms, please?"
There's a silence – just for a moment – before Virgilio Martinez graciously passes the two women who've just mistaken him for front-of-house staff at Covent Garden's Lima Floral into the capable hands of the actual maitre d', with just a hint of a wry smile. He doesn't concern himself with explaining that not only is he not a waiter; he's actually the executive chef, who also just happens to preside over Latin America's most acclaimed restaurant; and a man without whom we'd all be eating a lot less ceviche right now.
It's been a while since London diners fell in love with Peru. As with most cuisines, there have always been restaurants serving ceviche and pisco sours tucked in side streets around the capital, but it's only in the past couple of years that Peruvian food has skyrocketed to the forefront of London eating. Looking at the success of Martinez's restaurant Central, in the Miraflores district in Peru's capital Lima, it's not surprising that this approach has been welcomed by Londoners hungry for creativity and boundary-breaking cooking.
"You know what we do at Central?" Martinez asks me when I sit down with him and Robert Ortiz, head chef at Michelin-starred Lima and its sister restaurant Lima Floral. "Our aim is to tell stories with our food, and for our guests to get to experience the biodiversity of our country.
"Every single dish we do reflects a different ecosystem in Peru. So in order to create a dish, we have to travel to different parts of the Andes and the Amazon and reinterpret the landscape. And we're always finding new ingredients, because Peru is such a vast country. That's the concept behind Central – I think of it as a way to eat and enjoy the landscapes of Peru over 17 courses."
It's obvious that Martinez hasn't gained his global reputation from quick-and-easy, accessible cooking; there are plenty of backstreet kitchens serving roots-style ceviche and barbecue in Lima if that's what you're hankering for. No, Martinez's style is different. It's not just about eating, but engaging – it's dinner with a narrative – and it's no surprise his approach has won him legions of disciples around the world, not to mention in our captial. We Londoners are suckers for experiential dining, after all.
I think of Central as a way to eat and enjoy the landscapes of Peru over 17 courses
But this presents something of a dilemma: how can you claim to encapsulate the soul and spirit of Peru – still very much a developing country in parts despite sustained economic growth over the past decade – when you're cooking Michelin-starred tasting menus at top price points? Is what you end up with truly representative of Peru?
"We are historically very poor," Martinez says, "but in other aspects, like in a social sense, Peru is rich in tradition. Gastronomically we are very rich, too. Our richness is in areas like nature, and people; culture, tradition, happiness, conversations.
"In Peru, food is a big part of our lives, because we have so much agriculture; so much diversity; so much tradition. So every single person is always talking about food. Our relationship with food and nature is very close. We respect the tradition of Peruvian cuisine. We enjoy it, but we twist it to make it more understandable for different palates."
"And obviously we want to push certain boundaries," Ortiz interjects. "We concentrate on Virgilio's experience and the belief that we have in what the people like to eat."
It's not like experimentation is unknown to Peru, either. The Inca people were keen foragers who built pseudo-laboratories, and Peru's history has incorporated generations of Asian and other Latin American immigration, resulting in the creation of Nikkei and other fusion cuisines.
"People might question if it's Peruvian," Martinez says. "Of course it is, but some Peruvians probably don't believe it is, because we don't do the typical Peruvian dishes. We focus more on travelling, getting ingredients we haven't seen before, speaking to the people who live in the altitudes of Peru and bringing their stories to the dish."
The two grew up around food in different ways. Ironically, Martinez – an exponent of truly contemporary cooking – first came into contact with cooking in the humblest of ways: watching fishermen make roots-style ceviche on the beach. Ortiz's mother owned a traditional Peruvian restaurant, and both of them saw cooking as a way to escape the uncertainty facing their country at the time. "Peru was in very difficult times," Martinez, now 37, says. "Terrorism, economic hardship, corruption – lots of things were all happening. In my generation the idea was just to escape."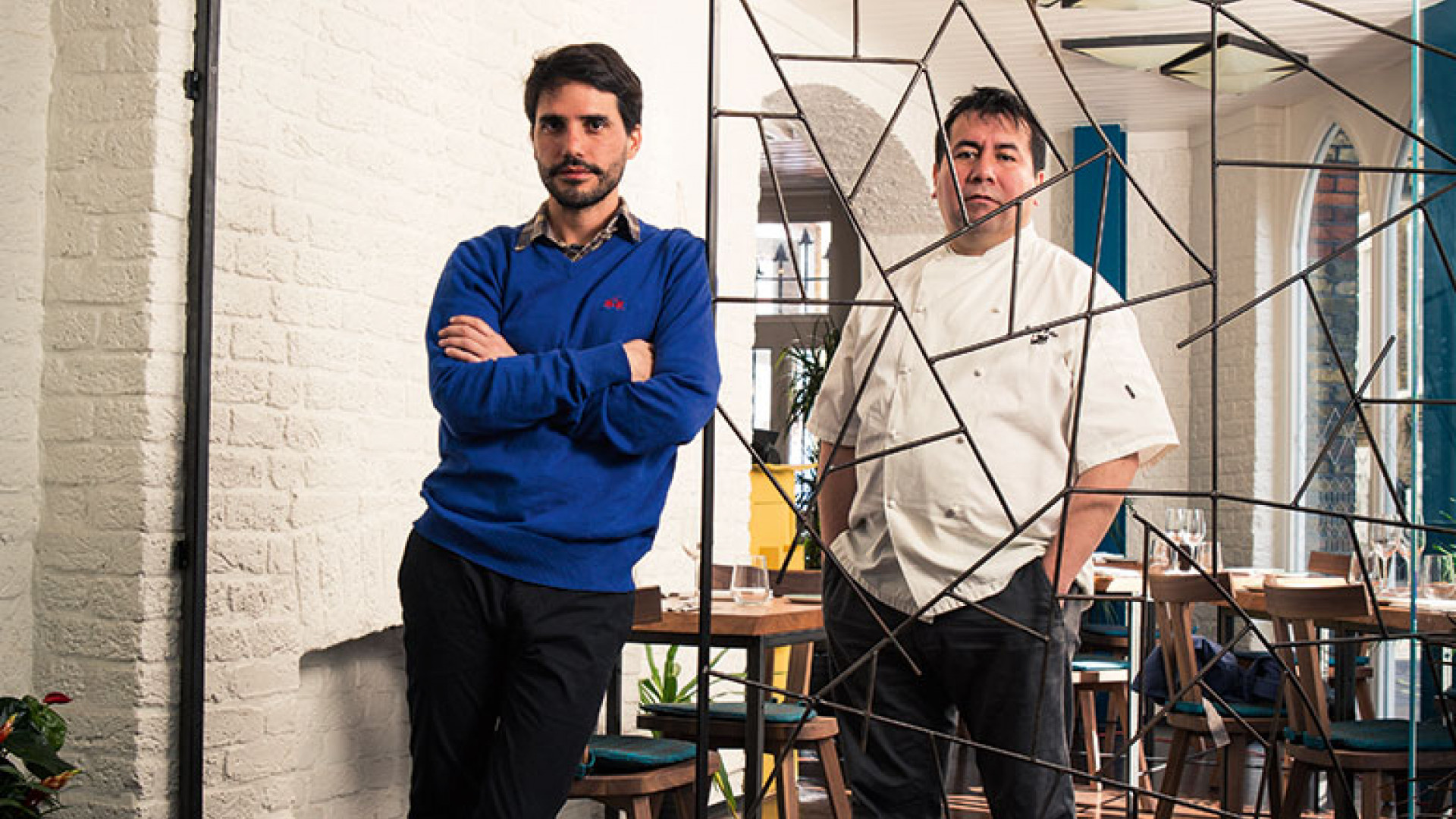 Photograph by David Harrison
Martinez did so by going to culinary college in Canada, before trying his hand in kitchens around the world, including one in London where he met Ortiz for the first time.
"I used to work in the Four Seasons hotel in Canary Wharf," says Ortiz. "I was the only Peruvian at the time, working nights in the kitchen – it was the hotel where I met Virgilio. I had been there longer, so I knew more about the food, and more about the people."
It's hard to think of Martinez – who's as relaxed and restrained when he instructs Lima's kitchen staff as when he sits down for this interview – as a loose cannon, but he insists he's come a long way.
"When I came to London I was immature. I came to the restaurant and I met Robert and he happened to be my boss. He was an inspiration, a model to follow, and the only Peruvian in the kitchen."
Producers in Peru are the chefs I really admire, because they cook in the soil
Their paths diverged after that, but they kept in touch. Martinez, of course, founded Central, which quickly became one of the most acclaimed restaurants in the world – and when the time came to expand into London, there was only one man he entrusted with the task of running the kitchen.
"I believe in the law of attraction – when you want to do something and you just send a message. The Gonzalez brothers [co-owners of Lima] called me, and I called Robert.
"Central is my base, my home, and it's a very good place for innovation and creativity. Robert came to Central to spend a month or two, he got the idea and I thought 'Robert, we have to do something like this.' I thought that Robert and I could build the recipes together, and that's it – after that it's his thing. I just come once in a while to see what's going on.
"My position in the restaurant is about the concepts. I'm in based in Lima, Peru, and I travel to the Amazon and the Andes, so my work is also to keep Robert in touch with Peru. This is something that's very positive for us, because we want to keep the relationship with Peru every single day."
Martinez does this through developing recipes with Ortiz out of Central, and also through sharing the findings of his Peruvian foraging and research collective Mater Iniciativa. "It's good for the cuisine here, to keep it authentic," he says.
He also admits that London wasn't always the first port of call when it came to expanding the work he was doing at Central. But it does seem serendipitous that he and Ortiz would end up here together, years after they met in the Four Seasons kitchen. And it can't hurt that London was well set up for the kind of modern, experimental cooking the two were bringing to the table.
Lima and Lima Floral's best dishes – in pictures
"People here already like spicy cooking," Ortiz says, "but Peru brings something new. We have a lot of things to show; a lot of things to talk about. The flavours are new, but the people here already know about these kinds of spices. People like coriander here; people like lemongrass and they like sushi."
"They want authenticity," Martinez says. "They don't want industrialisation in food, and Peru has that – our food is fresh. They want to eat healthily, and Peru has that, too: if you go to Peru you can see agriculture; you can see producers doing amazing things without using chemicals. So I think this is what people want to experience: authenticity in nature and no special effects in food. We aren't simple, but we're straightforward."
I ask the two what they make of other Peruvian restaurants that are enjoying their time in the sun in London's food scene. "We love them all," Martinez responds, smiling.
"I've been to all of them and I think they do a great job. It may be a little confusing for Londoners, because you see different styles of Peruvian cuisine. We focus on innovation, creativity and working with Peruvian produce. Some other restaurants have more focus on traditions; some focus on ceviches and more typical dishes."
"I think it's great to have these new restaurants coming along," Ortiz agrees. "They help us, push us, and we see that."
And what of Martinez's influences? He may be a pioneer of gastronomy, but he must cite some of his luminaries as having had an effect on his cooking – he knows Nuno Mendes and Ferran Adrià well, among others. But the chef, once again, comes back to his native country: "I could make a list of 300 chefs, but mostly now it's producers in Peru, working ethically; these are the people I really admire, because they're cooking in the soil.
"Every time I see how they treat their products, they inspire me," he says. "These are the real chefs; the ones who are doing the real cooking." It's a magnanimous statement from a man who's won global acclaim for his food, but it makes sense. He's the chef-narrator – whether it's Incas, fishermen, or the people of Lima, he feels the same. It's their story – he just happens to be best-equipped to tell it.
To find out more about the restaurants or to make a reservation, go to limalondon.com