Scones? Jam? Clotted cream? While they might all be staples of a traditional British afternoon tea, we can't help but feel that they're also a little... boring. A cucumber sarnie might please your Nan just fine, but considering the sheer array of options in the London dining scene, it really does seem a waste to play it so safe.
It's been around since the 1800s but that doesn't mean that afternoon tea shouldn't be fun. We're firm believers that afternoon tea should be exciting. It should be sexy. And despite your grandmother's shrillest protests, there are an increasing number of restaurants in the city offering that experience through their alternative takes on afternoon tea. No longer will you have to pretend to actually enjoy Coronation chicken; you can let your palate roam free alongside your caffeinated beverage of choice. While, of course, still fulfilling your duty as a doting offspring.
So, if you, like us, are the sort of person whose ears perk up at the mention of choux rolls piped with fish masala and cubism themed pastries, then you've come to the right place. Be prepared: these aren't your Nan's brunches. Although we're still pretty certain she'd love them, too.
Taj 51 Buckingham Gate
51 Buckingham Gate, SW1E 6AF
Not many afternoon teas start with a shot of salty caramel lassi, but then again the Jasmine Indian afternoon tea at the grand Taj 51 Buckingham Gate isn't your average afternoon tea. Drawing on the rich and varied flavours of India, it includes the likes of creamy fish masala choux rolls, chicken tikka pantheras and spiced paneer bhurjee puffs paired with royal saffron rice puddings and pistachio-crusted fruit and cardamon tarts. Yep, we know – sounds like the kind of afternoon you can get on board with.
Xu
30 Rupert Street, W1D 6DL
What do you get when you take specialty high grade teas rarely found outside of Taiwan, add a selection of traditional Taiwanese delicacies, and place against a backdrop of cinematic interiors reminiscent of 1930s Taipei? Xu, on Soho's Rupert Street, where afternoon tea isn't just a pleasant way to while away an afternoon – it's a great opportunity to acquaint yourself with the ways of Taiwanese tea ceremonies while tucking into dumplings and sweet treats such as red bean buns, alongside cups of delicate tea.
Afternoon Tea Bus
Various locations
Eating on London buses can be tricky business. If your driver is brake pedal happy, there's the risk your face is going to go sailing straight into your sarnie, and then there's the side eye from your fellow passengers when you rustle that paper just a little too loudly for the morning commute. Luckily with B Bakery's Afternoon Tea Bus, there'll be none of that. Sail through the streets of the capital on this pimped-out red Routemaster and take in the sights as you tuck into delicate fruity tarts, smoked salmon blinis and mini BLT burgers.
Rosewood London
252 High Holborn, WC1V 7EN
In the glittering Mirror Room at Rosewood London – one of the most glamorous hotels in town – you can indulge in the art of afternoon tea designed by executive pastry chef Mark Perkins. From Andy Warhol-inspired cherry and chocolate Campbell's Soup Cans to Yayoi Kusama-inspired yuzu, green tea and strawberry miniature sculptures and Cubism-themed pastries, the Holborn hotel's alternative afternoon offering is hard to beat when it comes aesthetics and flavour.
The Ampersand Hotel
10 Harrington Road, SW7 3ER
All the good science puns argon, so instead of trying to be funny we'll just tell it to you straight: The Drawing Rooms at The Ampersand Hotel's Science Tea is great for when you've got your ion some afternoon tea, but want to swerve the standard scones. Serving the likes of strawberry jelly petri dishes, dark chocolate and raspberry planet mousse, dinosaur biscuits and milk chocolate fossils, it is experimental, interactive and a good stop before visiting the Science Museum just down the road.
The Luggage Room
Grosvenor Square, W1K 6JP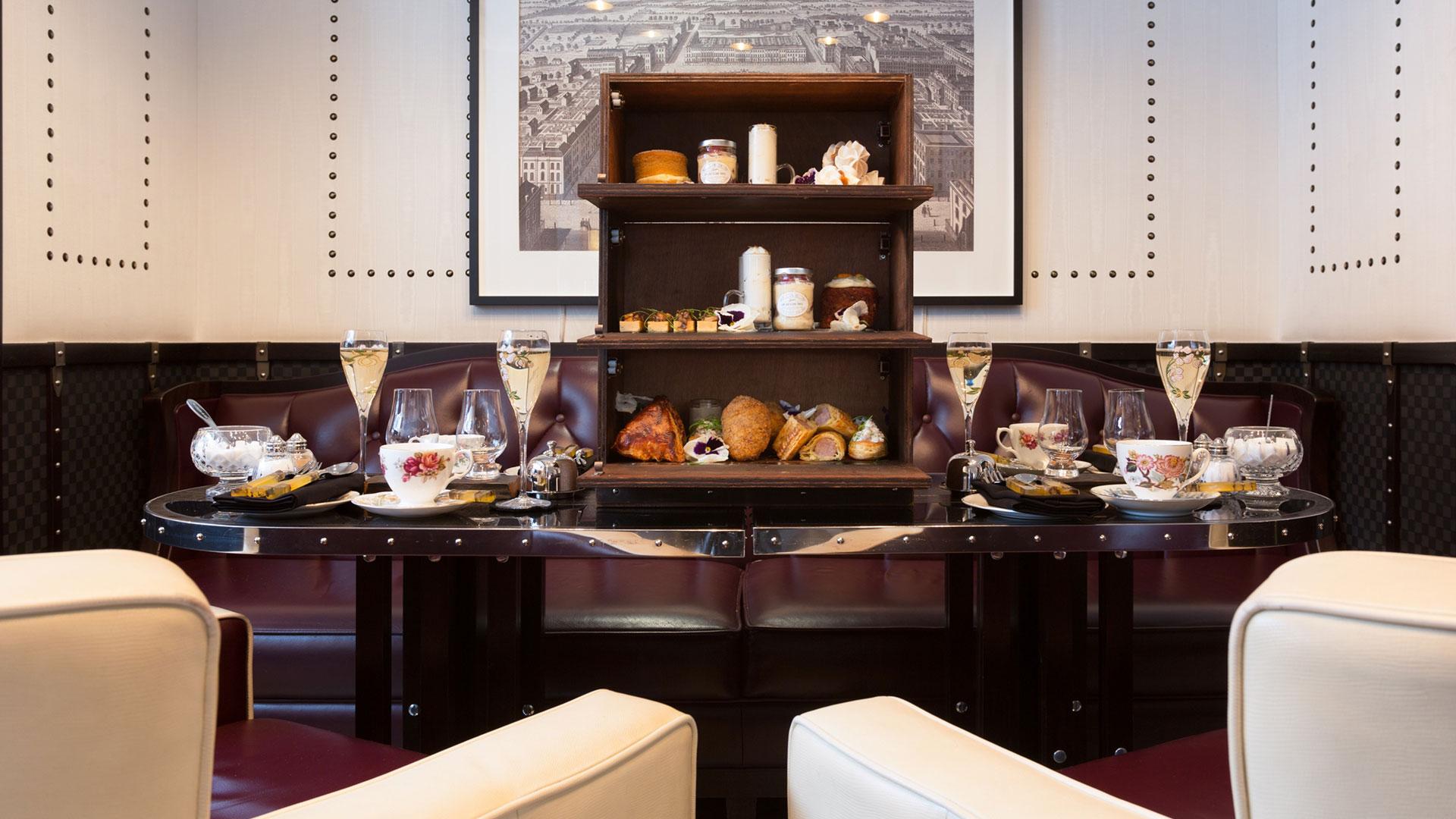 Smoked eel, horseradish and creme fraiche vol-au-vents; Devonshire wild boar sausage rolls; Tiptree Tawny marmalade-infused carrot cake; the items on the afternoon tea menu at Mayfair's The Luggage Room may sound traditionally British, but it's got its own American speakeasy twist inspired by the bar's heritage – not least when it comes to the Rum Syllabub. It's brewed from The Luggage Room's limited-edition rum, Plantation.
Ma' Plucker
75 Beak Street, W1F 9SS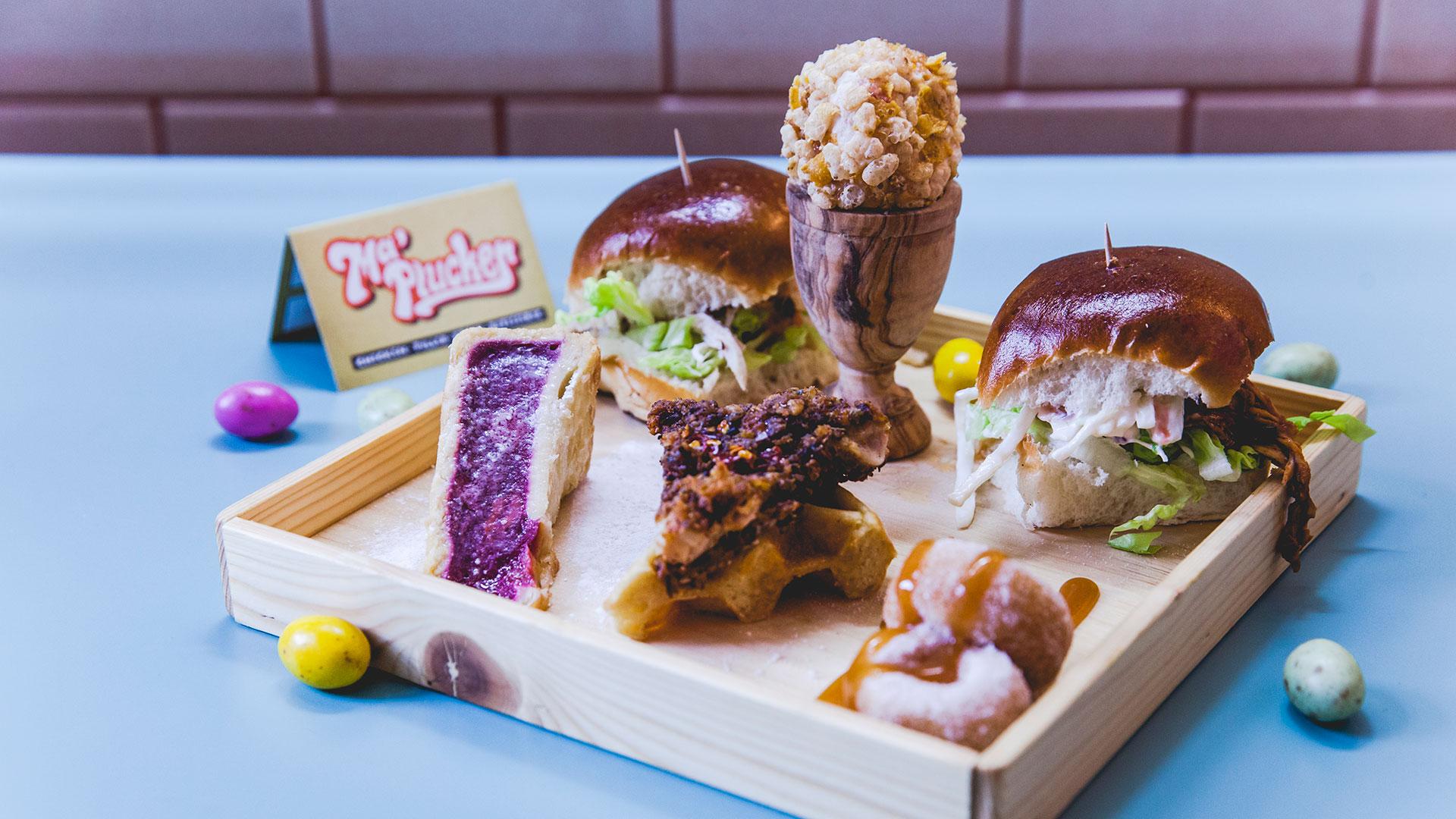 American Deep South cuisine and classic British afternoon tea may sound like an unlikely pair, but at Ma'Plucker they come together for a buttermilk-fried, chipotle-flavoured feast that just works. You've got Ma'Plucker's succulent, crispy chicken with brioche buns; the scoffle (a Southern twist on the scone); waffles with cream and strawberry jam; mini doughnuts with caramel sauce; and – wait for it – Ma's chocolate and cornflake Scotch egg. Yes, that is a thing, and this is the place to try it – all washed down with boozy iced tea, of course.
The Modern Pantry
47-48 St John's Square, Clerkenwell, EC1V 4JJ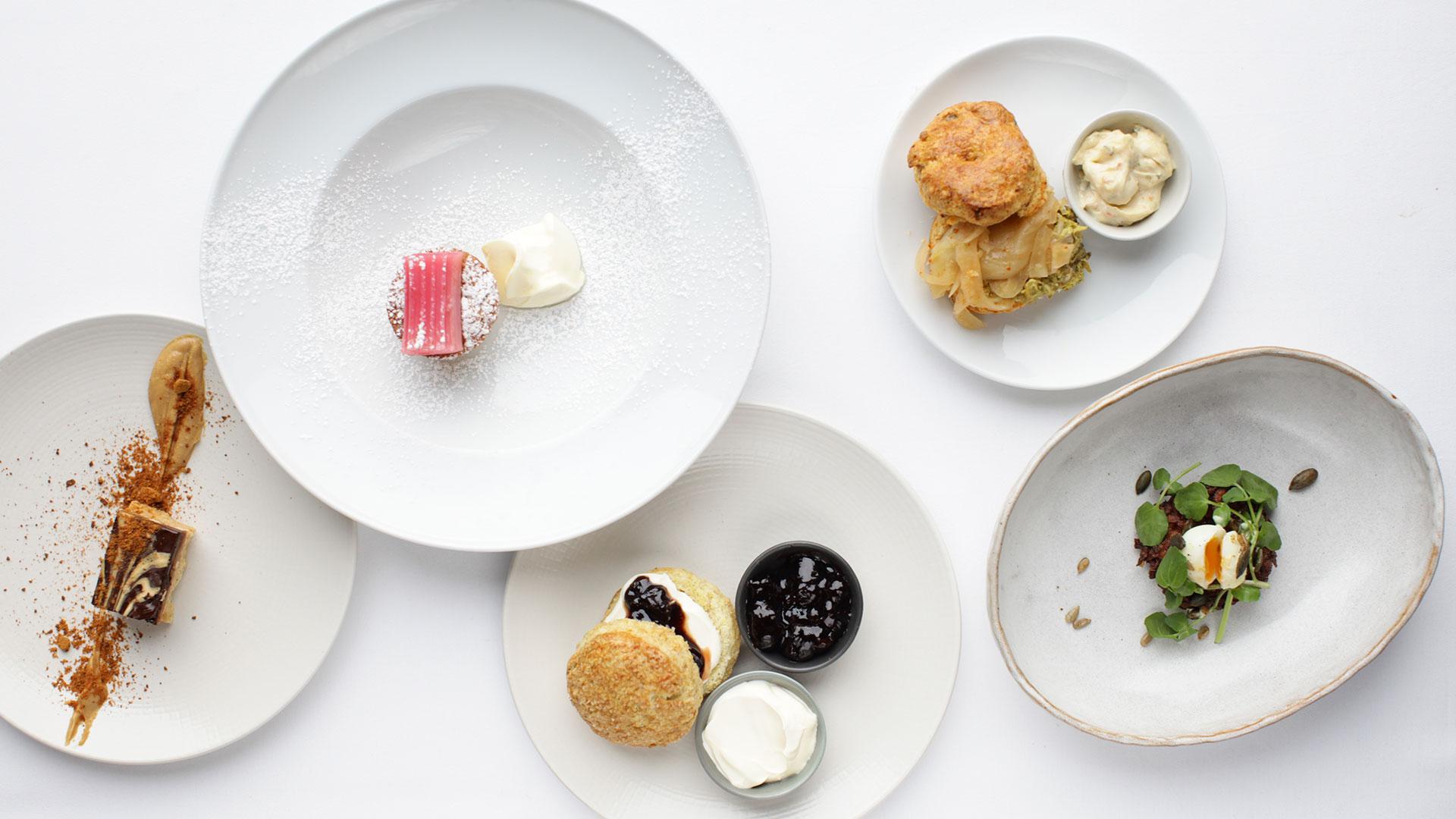 When you're indulging in afternoon tea at a restaurant from a chef renowned for her fusion cuisine, you expect to get some pretty out-there flavours, and Anna Hansen and her head pastry chef at The Modern Pantry's Finsbury Square outpost don't disappoint. There's a Tea-smoked salmon, avocado and yuzu mayonnaise club sandwich; a whipped black garlic & umeboshi butter Lemon & ajowan scone; and a Strawberry & pandan custard tart, among other utterly delicious things, and it's all paired with a selection of small-batch Lalani & Co tea. Or, and here's the best bit, craft beers like the coffee-flavoured Ace of Spades from Walthamstow's Wildcard Brewery. You'll never look at finger sandwiches and traditional scones the same way again.