Regent Street's wide boulevards and majestic facades are something of a London icon. All the way from its beginnings as a street dedicated to shopping to its twinkling Christmas lights make it a central point for any Londoner – so it makes sense that it boasts places to eat and drink aplenty.
But before we get onto the delicious bits, take a seat and sharpen your favourite pencil: it's time for a history lesson about this landmark area.
Regent Street originally came to life in 1819 – so it's now officially old – and under the vision of legendary London architect John Nash (also responsible for Regent's Park and much more of the city besides). It was London's first purpose-built shopping street, a reputation it maintains today with plenty of fancy fashion shops like Burberry and Coach.
We know you're not here to get yourself a new outfit, though: no, you're here because you want to know where to eat and drink on Regent Street. And you're in luck, because there are loads, and we mean loads of places to get some seriously good grub around here.
What's more, Regent Street is just a stone's throw from Covent Garden, Carnaby Street, Oxford Circus and the theatres of Piccadilly, making it an ideal dining destination whenever you're in Central London.
Regent Street's restaurants are worth a visit in their own right, whether you're after Gordon Ramsay's cooking at Heddon Street Kitchen, or low-waste cooking at cult new(ish) restaurant Fallow.
Here's where to eat and drink in and around Regent Street, as picked by the Foodism team...
Regent Street's must-visit restaurants
Heddon Street Kitchen
3-9 Heddon St, W1B 4BE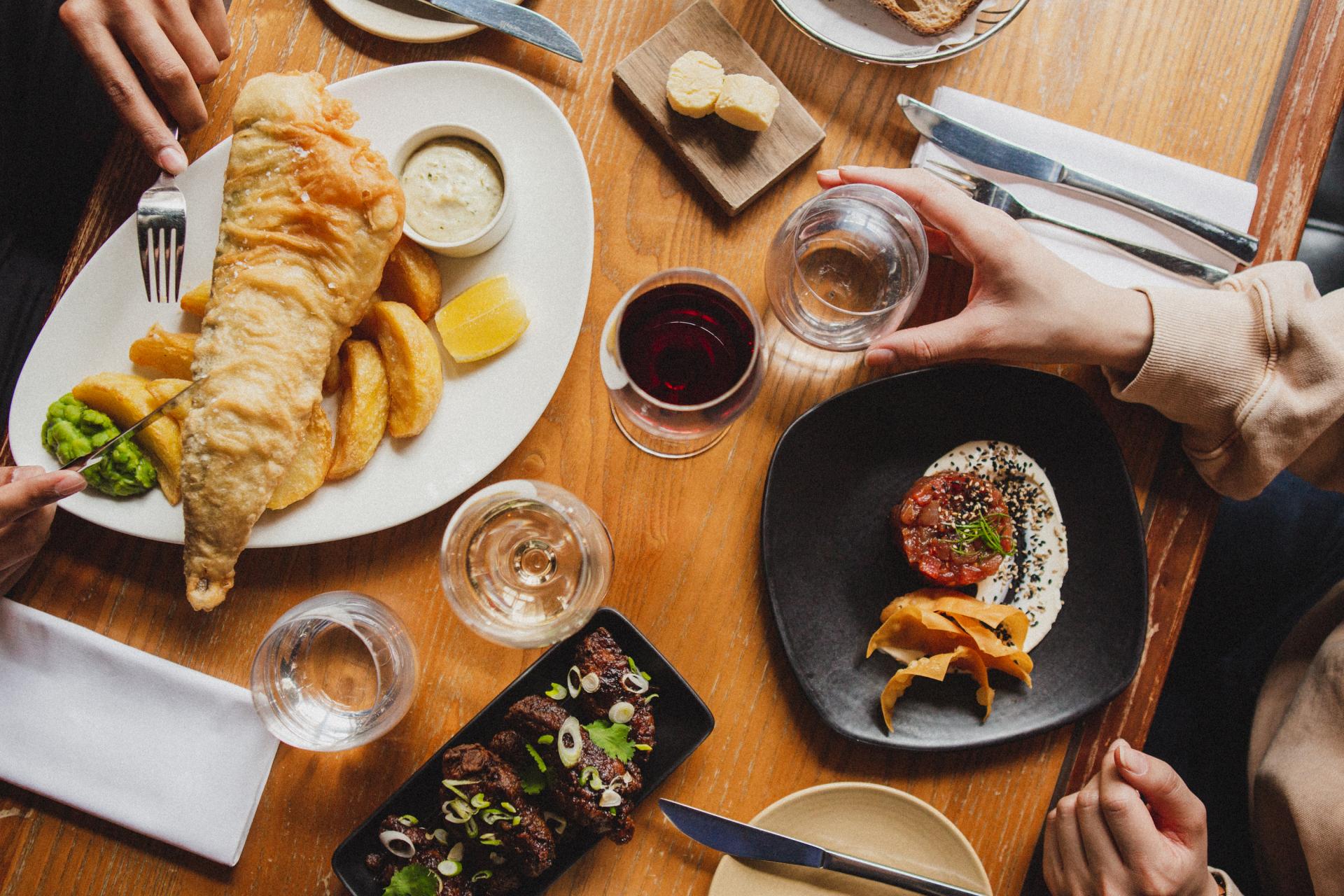 Part of Gordon Ramsay's stable, Heddon Street Kitchen brings together all-day fine dining and fine drinking, with big glass doors that fold back to open out onto the street. Industrial-chic design and booths nod to New York, while food is largely European-inspired with flourishes from around the world – think grilled spatchcocked chicken with a grassy chimichurri sauce, and you've got the right idea. There's a decent breakfast menu, too, as well as an ice cream bar, and underground bar Hidden Heddon for when you want to take things down a notch. Bring your credit card as it ain't cheap, but if you're looking for somewhere to eat around Regent Street, Heddon Street Kitchen is bound to tick a lot of boxes.
gordonramsayrestaurants.com/heddon-street-kitchen
Sabor
35-37 Heddon St, W1B 4BR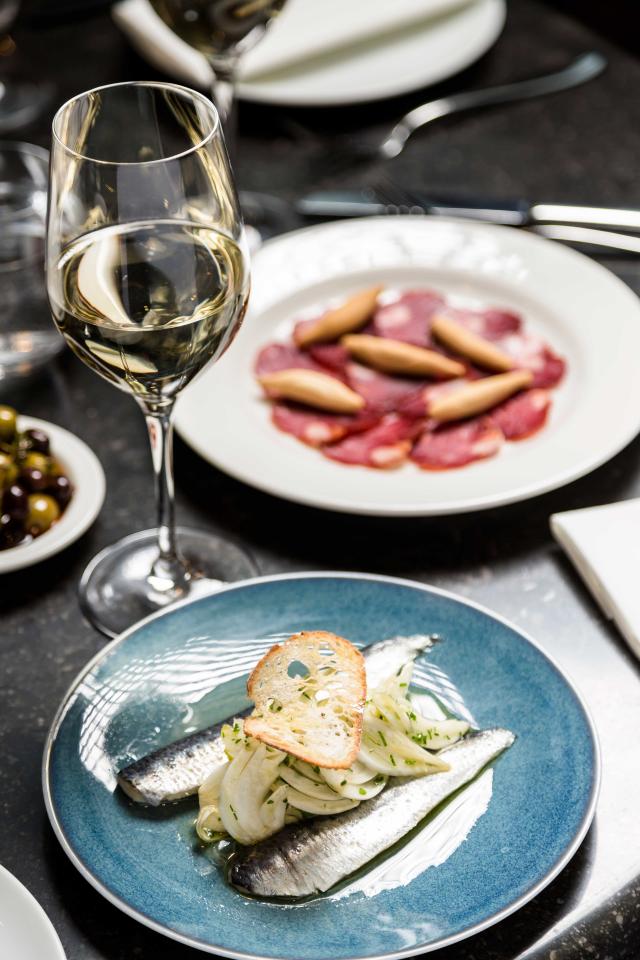 Spanish restaurant Sabor on Heddon Street has a focus on cooking true traditional Spanish food that respects the country's traditions. And that means a hell of a lot more than just tapas. On the ground floor the menu revolves around Galician-inspired seafood, and while upstairs at the Asador it's all about wood-fired cooking. The must-have dish? Segovian suckling pig, cooking according the true Spanish way – in a wood-fired oven.
Brasserie Zédel
20 Sherwood St, W1F 7ED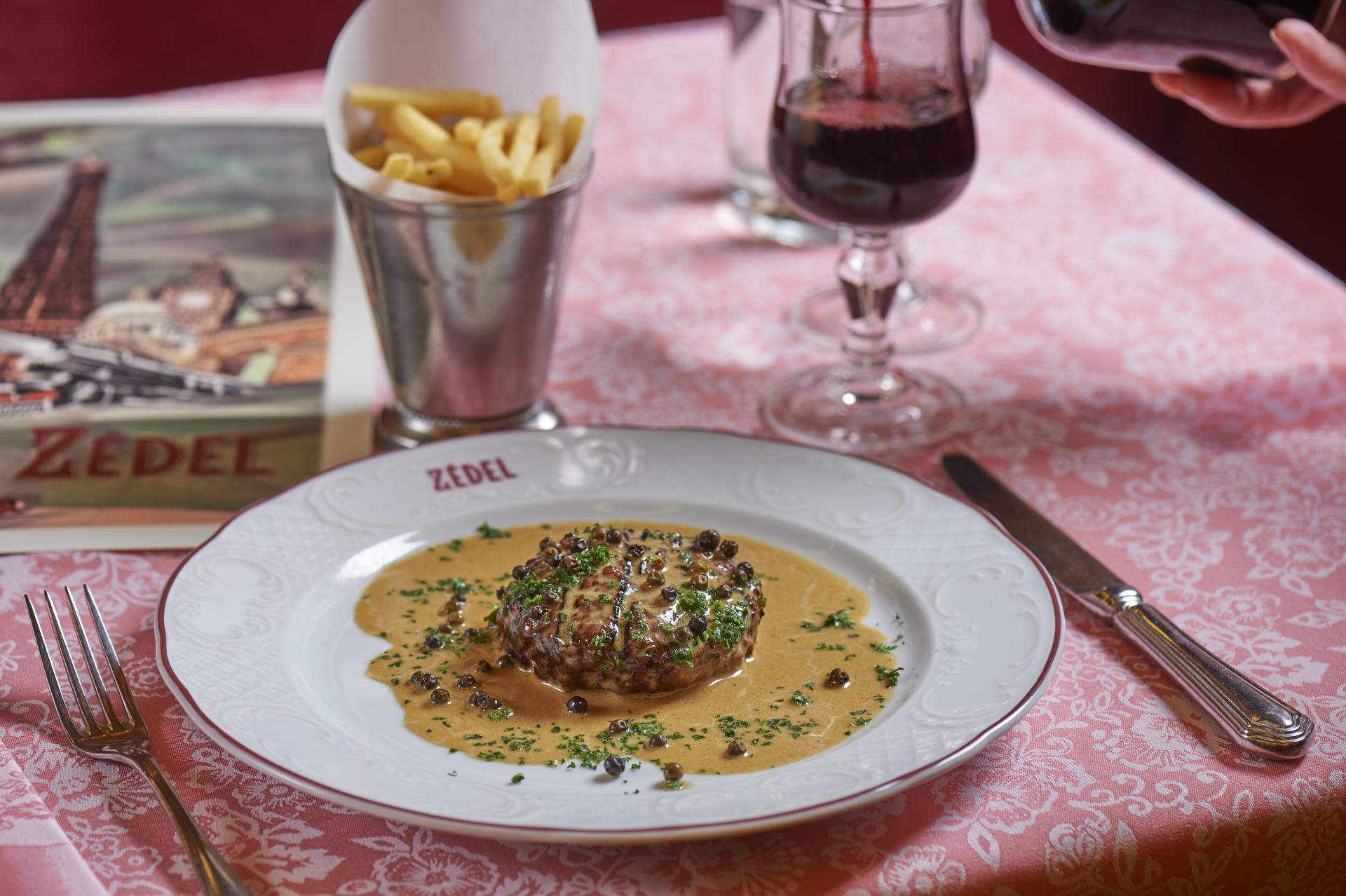 Ooh la la! Sure, you're on Regent Street, but take a trip to Paris thanks to Brasserie Zédel, which is far from bijou. This large and loud location makes for one hell of a meal: the space is cavernous, housing a café, a cocktail bar and a cabaret venue in its gilded halls. But for all its central premises and flash personality, you can still get a steak haché and chips, plus dessert, for under a tenner. If you know, you know.
Heddon Yokocho
8 Heddon St, W1B 4BU
Not all noodles are created equal, and nowhere is this more evident than at recent Regent Street opening Heddon Yokocho. For all Regent Street's finery, this ramen joint keeps things pared back with the kind of cheap (but purposefully so) menu with photos of the food. There you'll find a menu with nine different types of ramen, detailing every different type of broth, the thickness and the curl of the noodles, and what kind of toppings you're getting. But alongside oodles of noodles, you'll find the juiciest chicken kara-age, octopus croquettes and crisp pork gyoza. And for drinkers, there's plum wine and sake. Not bad going for a meal that won't cost you more than £20 a head. Plus, shoutout to all the vegans: there are two vegan ramen options, too.
Bentley's Oyster Bar & Grill
1-15 Swallow Street, W1B 4DG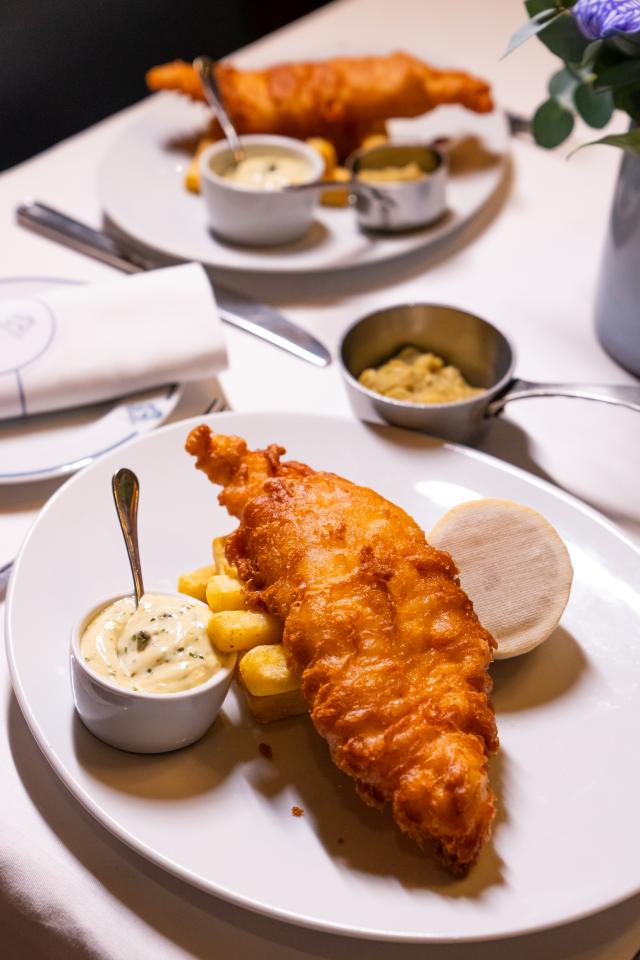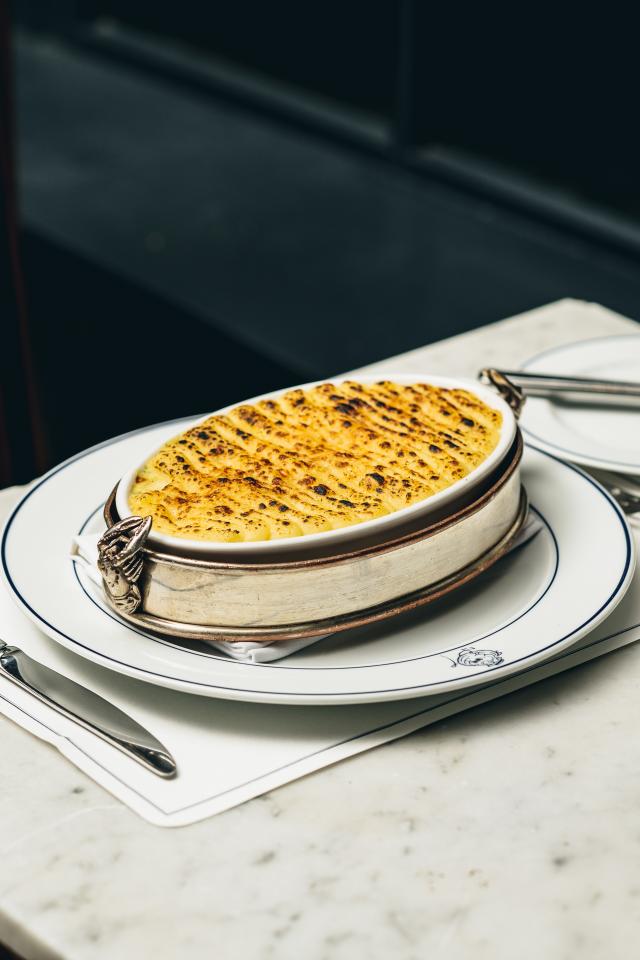 Bentley's has been serving its fish and chips for over 102 years, and has been under the control of Michelin star chef Richard Corrigan for the past 12 years. So, yeah, needless to say there is a strong selection of seafood at this Piccadilly restaurant, with everything from comforting fish pies to newer-school dishes like Dover sole with sea kale and citrus flying out of the kitchen. It's not all stiff upper lip British takes, either: dishes such as the Goan spiced mussel and sea bass prove Bentley's is just as capable of doing the business on other cuisines too.
Fallow
10 Heddon Street, Mayfair, W1B 4BX
At risk of sounding like the Oxford dictionary, to 'fallow' is to leave arable land for one or more vegetative cycles to restore its initial fertility. With such a moniker, it's unsurprising that this restaurant has a sustainability focus. With their zero-waste philosophy, chefs Will Murray and Jack Croft are breathing new energy into ingredients that are typically destined for landfill: think chicken scratchings, veal tail and cod's head. Sounds weird? Tastes delicious. With a focus on British and Irish produce, and plenty of vegan/vegetarian options on its ever-changing menu, it's an outdoor terrace that will certainly warrant a regular revisit. P.S. The Fallow burger has near-legendary status, so it's well worth a try.
Hawksmoor Air Street
5A Air St, W1J 0AD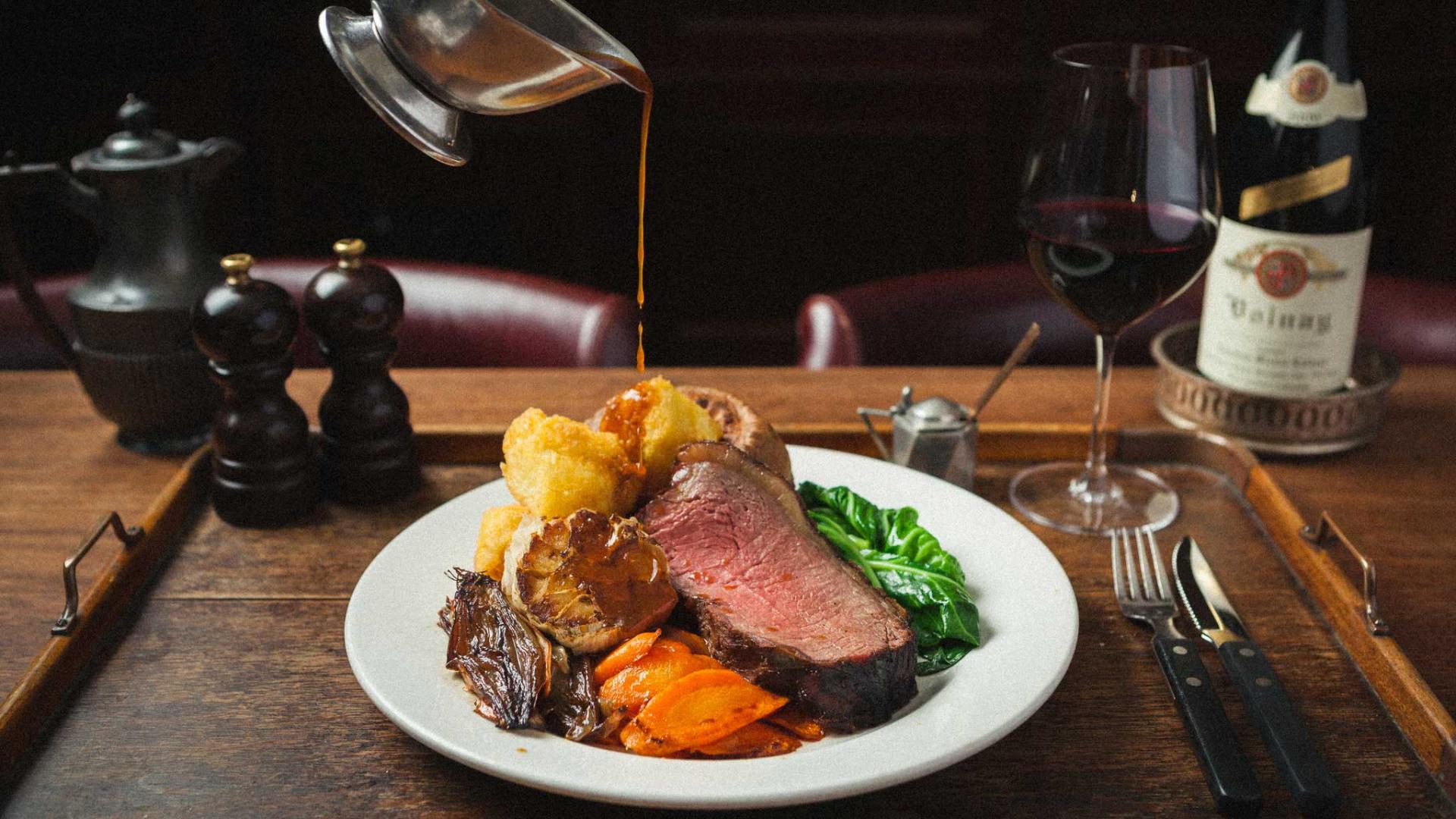 Hawksmoor's format needs little introduction: top-quality, dry-aged beef, sourced from British farms that use traditional methods, and follow the restaurant group's specific guidelines around the quality of the animal's life – some of the best you'll find anywhere in the world. Seafood comes from Brixham market, masterminded by Mitch Tonks of vaunted restaurant The Seahorse, while veg is also seasonal, local and sustainable. The Hawksmoor group has even won awards for its cocktails, so if you're looking for a restaurant that ticks all the boxes and then some, this is one for you.
Ziggy Green
1 Heddon Street, Regent Street W1B 4BD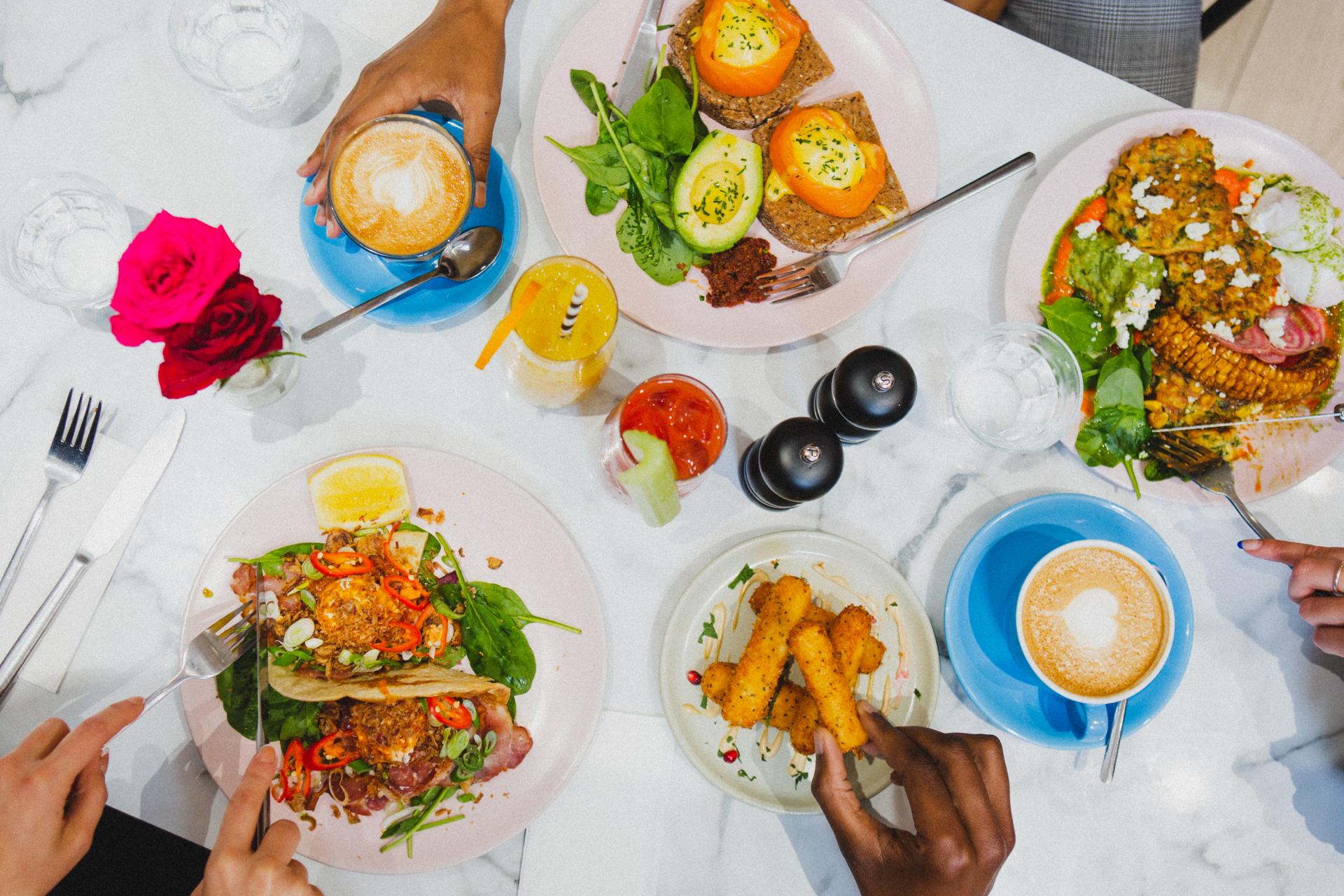 Ziggy Green is fun from start to finish. Popcorn prawns? Fun. A smorgasbord of tacos? Fun. Watermelon margaritas? FUN. Chuck in a DJ and tropical vibes, you've got a meal that's a much-needed dose of sheer escapism. Being an Aussie-inspired spot, Ziggy Green is also big on brunch, particularly the bottomless kind – and we can promise you this is a bottomless brunch done well. Yes, we will wash down a plate of chipotle burnt ends with hibiscus sour cream, and our steak made with beef from HG Walter with plenty of prosecco, how kind of you to ask.
The Wigmore
15 Langham Place, W1B 3DE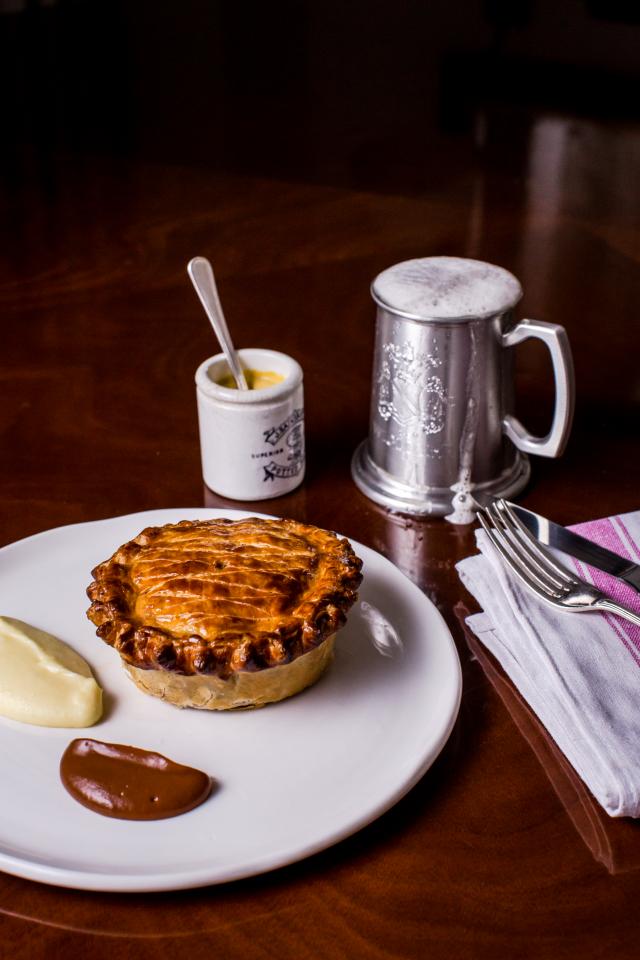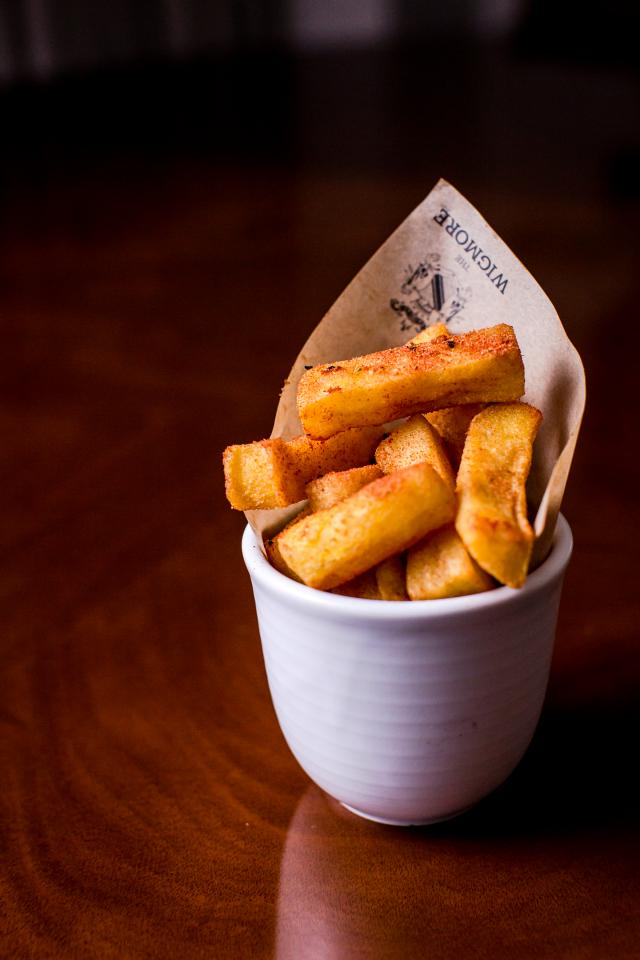 The Wigmore is a modern pub. Which means it's found adjacent the hallowed halls of The Langham Hotel and does a seriously, seriously good pie – as you'd expect from a menu overseen by Michel Roux Jr. Marrying traditional English boozer with refined Langham polish, it serves brews like its own saison, made in partnership with Yonder brewing.
Regent Street's best places for a drink
Aqua Kyoto
240 Regent Street, Oxford Circus, W1B 3BR
Rooftop bars just never get old, and there's a reason for that: even the most jaded cynic can't help but sit and drink in the view. Or plenty of cocktails, especially when sat at Aqua Kyoto for a sundowner. But look beyond the panoramic, and this restaurant – which has an old-school, opulent Japanese vibe to its interiors – more than delivers. A sushi bar dishes up bites like Scottish salmon and Orkney scallop maki rolls and black cod gyoza (yes, please). Top tip: grab a bento box at lunch time, when you're more likely to get a seat on the terrace, and the price is a bit more wallet-friendly than the dinner menu. Or if you want to go in all guns blazing, the boozy weekend brunch is bound to be a winner.
Artesian at The Langham
1C Portland Pl, London W1B 1JA
This opulent spot has achieved iconic status, thanks to being regularly named among the best bars in the world. It's currently under the helm of Remy Savage and Anna Sebastian, formerly of Little Red Door and The Beaufort Bar respectively, and we can promise you'll be in very good hands. Our order? The lockdown-inspired Banana Bread 1933, made with Woodford Reserve Rye whiskey, oloroso sherry, banana bread syrup and Discarded Banana Peel Rum.
The Nest at Treehouse London
14-15 Langham Place London W1B 2QS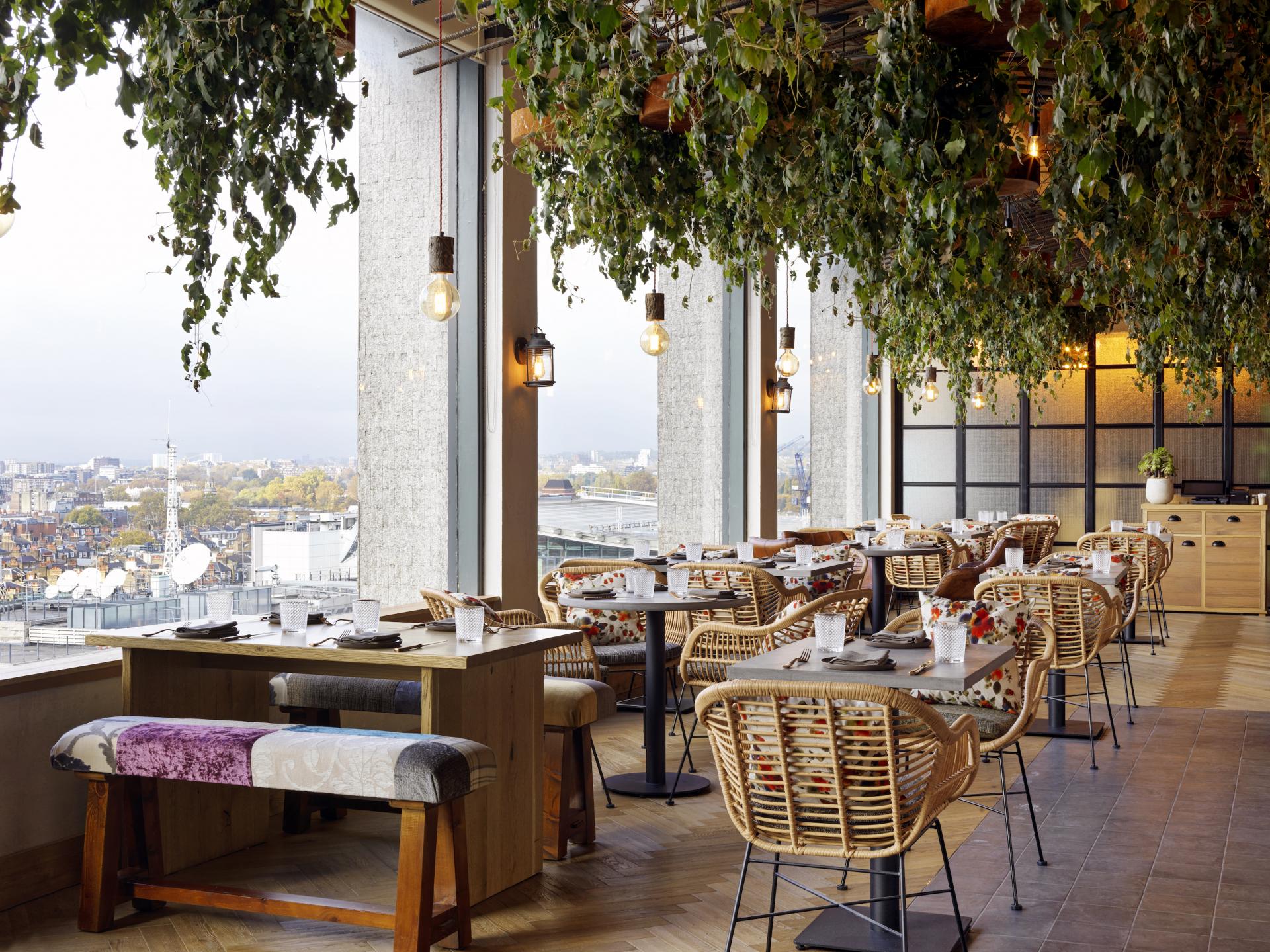 Bedecked in lush greenery, The Nest in the Treehouse hotel feels like a proper hideaway (even if thinking about watering all those gorgeous plants is enough to make us wince). In fact, the whole bar is so gorgeously yet comfortably decorated that it feels like a home away from home – or what we'd want our home to look like, in any case. Perch on one of the plush armchair, sip a cocktail made with market-fresh produce and let your worries fly away...
Kwant
25 Heddon St, London W1B 4BH
From the crab-stuffed bourek to the flawless cocktails to the next-level design (it comes from Mourad Mazouz, also of Sketch, so that would be why), Kwant is a feast for the senses. Drinks hail from Eric Lorincz of The Savoy's American Bar, with both all-time classics like negronis and gimlets, and heavy-hitting numbers like a dry martini made with a 1980s vermouth that'll cost you no less than £145.
The Windmill
6-8 Mill Street, W1S 2AZ
An iconic London street requires an iconic London boozer, and The Windmill more than lives up to the promise. Bone marrow straws, hot soused mackerel and turbot sit alongside a selection of cask ales from local breweries for a meal that feels unsurprisingly British, but sure as hell tastes good. It's a place for an after-work pint that turns into a delicious dinner.
Regent Street's best places for a coffee and a treat
Hagen Mayfair
27-29 Swallow Street, W1B 4DE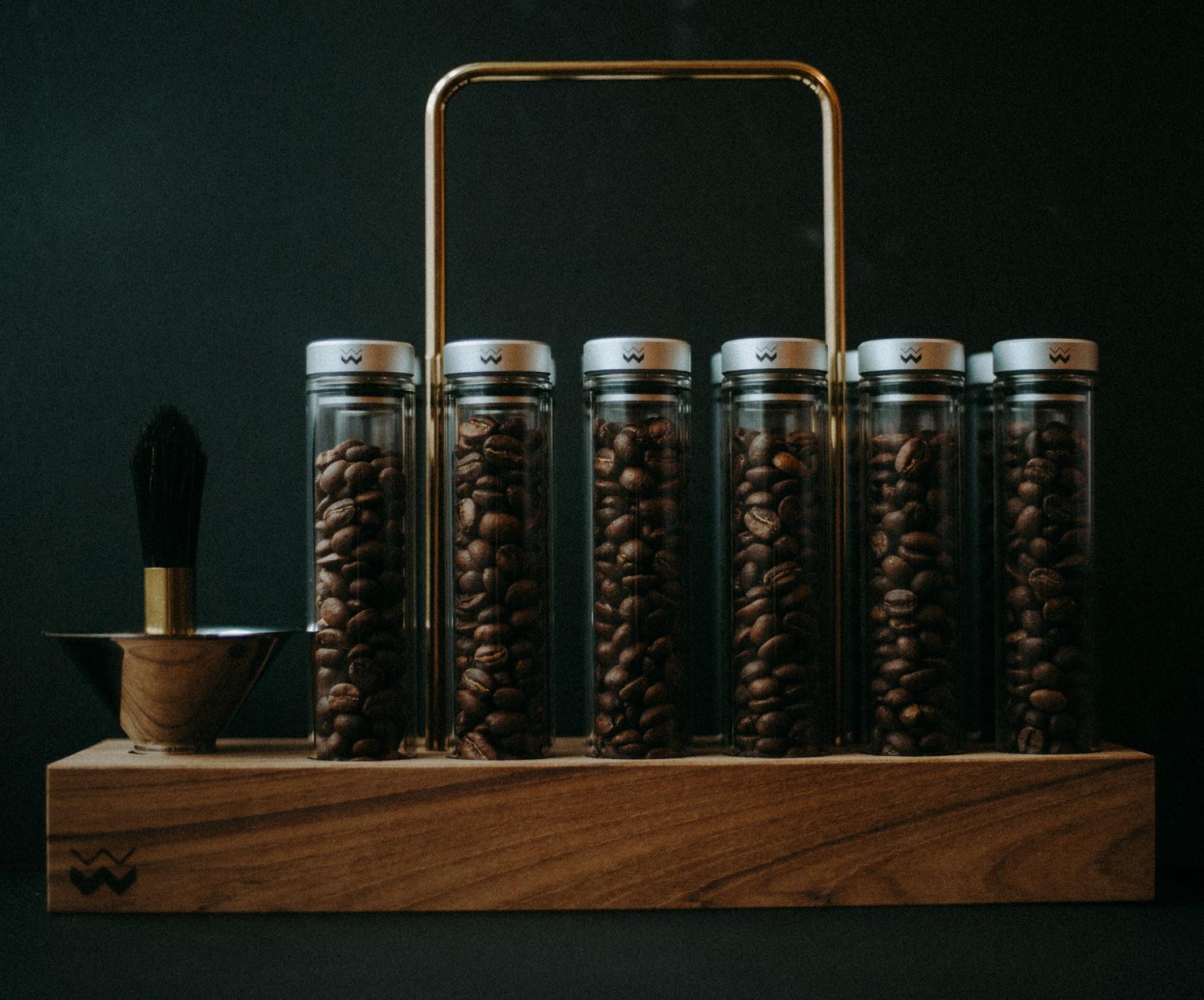 The Hagen Project's Bean Cellars
If you're in need of a bit of heart-warming hygge (a Danish word that doesn't have a direct translation but means something a bit like the warm fuzzies), tuck yourself up with a cup of frankly excellent coffee at Hagen Mayfair. These guys take coffee seriously – they even sell a 'coffee bean cellar' so you can store your beans in a way that only exposes them to the air once, maximising flavour. That's dedication right there. The Hagen Project also sells coffee beans, ground according to your preference, so you can take some of that hygge home with you.
Grom
16-18 Piccadilly, W1J 0DF
We've got a serious thing for gelato around here, we've got to hand it to Grom: its ice cream is some of the best. The store sells gelato, sorbets on a stick, granita, shakes, seriously indulgent hot chocolates, pan gelato (ice cream stuffed inside a little bread) and gelato sandwiches – plus our ultimate achilles heel, affogato. At the time of writing, the gelato of the month is salted caramel, studded with chunks of toasted almonds. We promise we didn't lick our laptop screen…
Läderach
254 Regent Street, W1B 3AA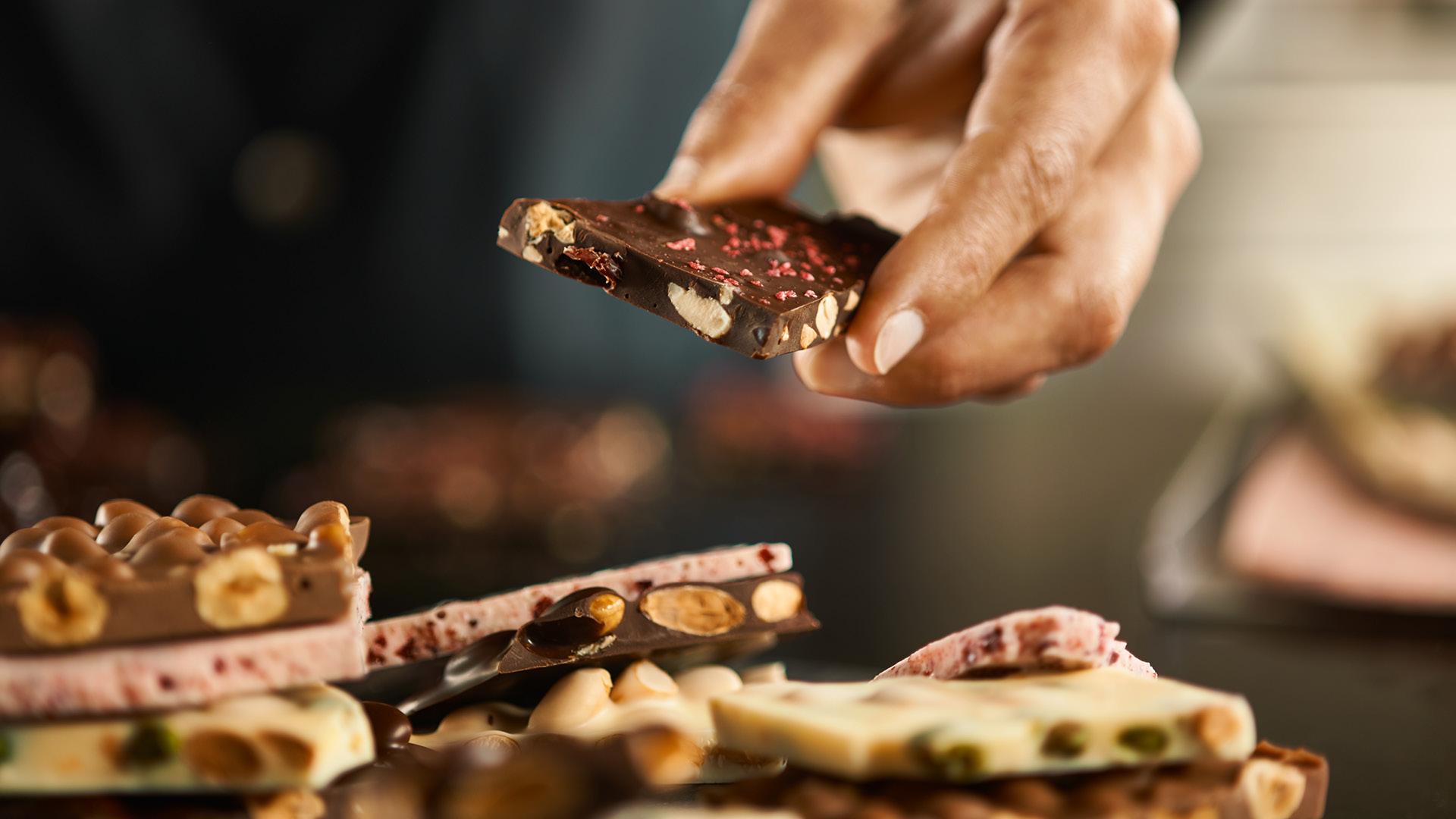 Chocoholics: look away now. Läderach is the kind of old-school Swiss chocolatier that creates the creamiest, meltiest chocolate you could hope for. But there's more than sweet dreams around here: since 2012, the company has been producing its own cocoa mass, which means it can guarantee sustainability and quality all the way from bean to bar.
Cakes & Bubbles
70 Regent Street, W1B 4DY
Frivolous in name, far from frivolous in premise: Cakes & Bubbles is the restaurant at the historic Hotel Café Royal, headed up by none other than Albert Adrìa. Bubbles then, is a nod to sparkling wine, but also to his pivotal role at his brother Ferran Adrià's restaurant El Bulli, the birthplace of molecular gastronomy, and you'll find more than just cakes and bubbles on the menu. No, instead you'll find warm duck lyonnaise salad; burrata and avocado on toast; chargrilled poussin; and The Albert Adrià Cheesecake, made with Baron Bigod cheese, hazelnut and white chocolate. Bold, and we're here for it.