Make José Pizarro's grilled red chicory, clementine and goat's cheese salad
Who says salads are for summer? This dish from tapas king José Pizarro uses seasonal ingredients for a fresh yet satisfying meal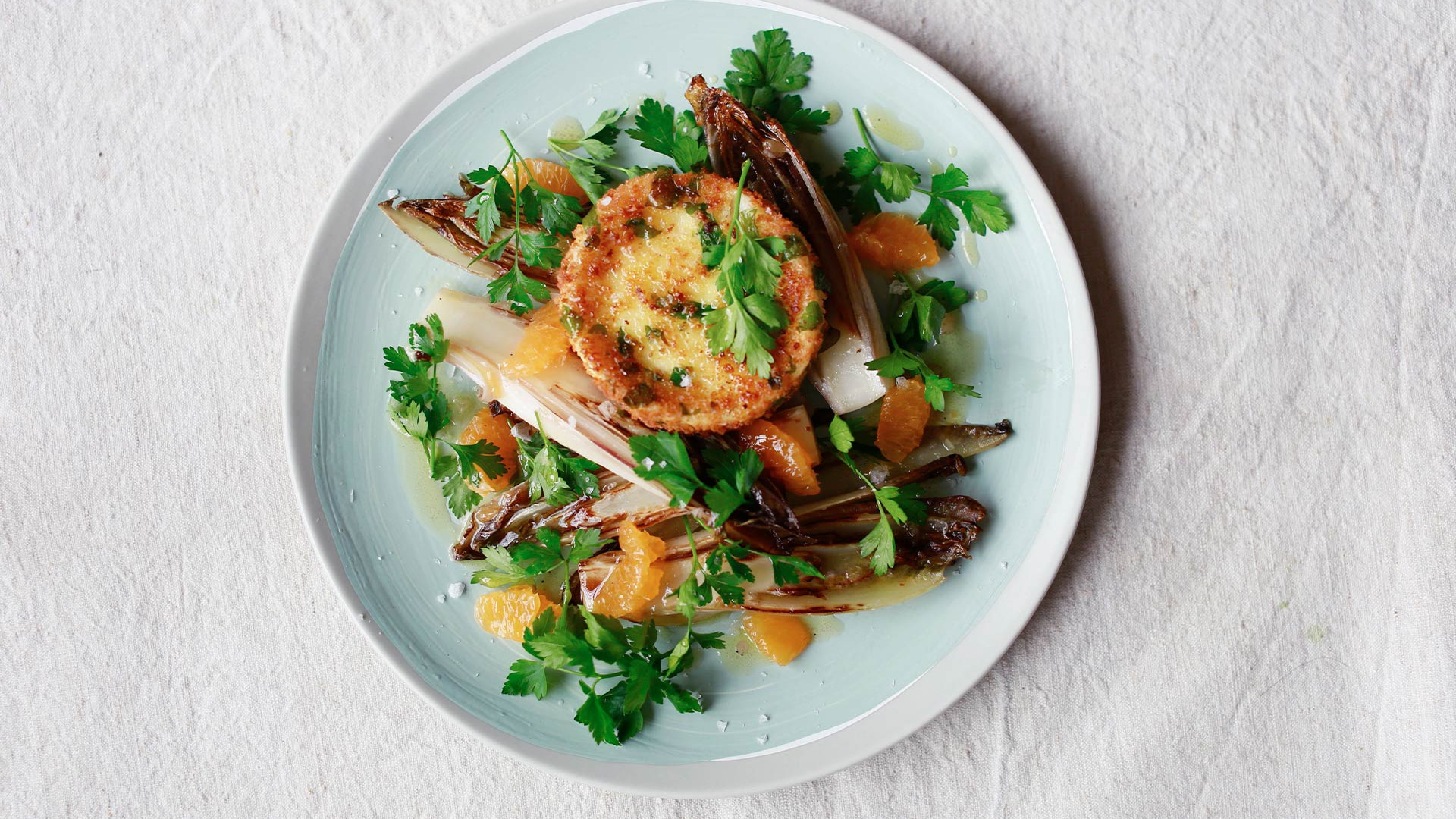 Serves 4
Preparation time 10 mins
Cooking time 15 mins
Creamy goat's cheese is offset by bitter chicory and sweet clementine wedges in this seasonal winter salad recipe.
Ingredients
3 clementines
1tsp red wine vinegar
3-4 tbsp extra virgin olive oil
4 x 100g firm rinded goat's cheese rounds
Plain flour to dust
1 egg, beaten
100g panko breadcrumbs, mixed with 1tbsp finely chopped fresh oregano
Olive oil to fry
4 large red chicory, quartered
Handful of parsley stalks, leaves picked
Method
Take the clementines and use a sharp knife to remove the skin and segment them into a bowl. Squeeze the juice from the pith into a small bowl and whisk with the red wine vinegar and plenty of seasoning. Whisk in the extra virgin olive oil and set aside.
Dust each of the goat's cheese in flour then dip in egg, and then in the breadcrumbs and oregano.
Heat a good layer of oil in a non-stick frying pan and fry the goats cheese until golden on both side. Set aside on kitchen towel.
Meanwhile, heat a griddle pan (or frying pan) to high, brush the chicory in olive oil and sear until charred and tender.
Arrange the chicory onto plates, scatter with the clementine segments and the parsley leaves. Drizzle with the dressing and top with a crispy golden goats cheese. Serve straight away.