Pizarro's recipe for wild mushroom and blue cheese tart
Whether it's a big starter or a small main, you won't find a more impressive and opulent vegetable tart than this one from Pizarro's pastry masters, just in time for spring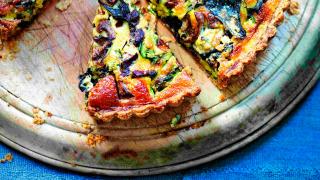 Serves 6
Preparation time 50 mins
Cooking time 35 mins
Ingredients
300g mixed wild mushrooms
2 tbsp olive oil
40g watercress leaves
100g Picos Blue cheese, crumbled
300ml double cream
4 large free-range eggs
50g walnut pieces
225g plain flour, plus extra for dusting
65g chilled butter, cut into pieces
65g chilled lard, cut into pieces
Method
Preheat the oven to 200°C. Roast the walnuts for 7–8 minutes and leave to cool. Add them with 50g of the flour to a food processor and grind until the nuts are finely chopped. Add the rest of the flour and half a teaspoon of salt, along with the butter and lard, and blend until it resembles breadcrumbs. In a bowl, stir in 2 tsp of water until the mixture comes together into a ball, and knead it on a floured surface until smooth. Roll it out thinly and use to line a lightly-greased 23cm flan tin around 4cm deep. Chill for 20 minutes, then line the pastry case with foil and a thin layer of baking beans, slide it onto a baking tray and cook for 20 minutes.
Remove the foil and beans and return to the oven for 5 minutes until the pastry is lightly golden. Lower the oven to 190°C.
Clean the wild mushrooms with a pastry brush to remove excess dirt, heat 1 tbsp of the olive oil in a large frying pan over a high heat, add half the mushrooms and some seasoning and fry briskly for 1 minute until soft. Tip onto a plate and repeat.
Scatter the mushrooms, watercress leaves and blue cheese evenly over the base of the pastry case. Beat together the cream and eggs with some seasoning, pour the mixture into the tart and return it to the baking sheet. Bake for 30–35 minutes until set and lightly golden. Serve warm, cut into wedges.