If there's one thing we've learned about London's drinking and dining scenes, it's that as soon as you think you've got something figured out, it changes before your eyes. So, when you factor in a rapidly accelerating pace of technology, it's a little difficult to predict what the state of eating and drinking in the capital will be in ten years or so.
Which is precisely why we didn't try. Instead, we thought we'd leave it to the insiders: luminaries of everything from the burgeoning English wine industry to street food, coffee, kitchen tech, craft beer, restaurants and more. We asked them to look into their crystal ball at what's been brewing over the last few years, and try to pick out some of the innovations and advances they're predicting over the next decade or two. Don't hold them to it, though: after all, it can all change in an instant...
Coffee
Kerttu Inkeroinen
Marketing director at Union Hand-Roasted
Consumers are paying more attention than ever to where their coffee comes from. What's driving this change?
People in general are more interested and aware of provenance of their food and drink, and coffee is no exception. It seems there's a growing desire to know that the supply chain is fair and ethical: more and more brands are making their supply chains more visible, and this is in turn making consumers more aware, interested and critical of what they buy – think of speciality gin, craft beer, natural wines and now coffee. A range of bean varieties and post-harvesting processing methods means that coffee is perfectly placed, with a new and knowledgeable trade behind it, one that Union Hand-Roasted has been a leader in. Our founders, Steven and Jeremy, have been shouting this message for years, so it's great to hear their calls being heeded by customers.
Read more about coffee's journey from bean to cup
What are some of the more experimental projects Union has been involved with, and what are the plans for the future?
From a supply chain point of view, we have always pushed the boundaries to see how we can go further in our relationships, particularly with our Union Direct Trade model. One of the exciting projects we are currently working on is the Yayu Wild Forest Project in Ethiopia, where we work with the Royal Botanic Gardens at Kew to protect one of the few remaining wild coffee forests in Ethiopia, the birthplace of the highly regarded Arabica coffee. We want to be part of building and protecting the future of coffee, and this is one of our initiatives to do that. Coffee quality in the UK has risen dramatically over the 15 years that we've been in business and we're excited to see speciality and single-origin coffee become more mainstream.
We have also looked into some innovative ingredients like cascara – the husk of a coffee cherry and a byproduct of coffee production – to see how they could be used in drinks. Cascara is currently waiting for EU approval for use as food stuff, but we think it's an exciting way to use a waste product to create a delicious drink.
Caffeine cravings kicking in? Find out where to get your speciality coffee fix in London
What are some innovations in coffee you're expecting over the next 10-15 years?
Pods are driving the home coffee category at the moment, but they have limitations and there are environmental issues. We're expecting there to be a 'next-generation' convenience solution for home consumers who want to make a high-quality coffee at home, easily and conveniently.
Home cooking
Samm Swain
Buying director at homeware store Lakeland
Does the involvement of top-level chefs and better technology mean consumers are becoming more capable of cooking at a high level at home?
With so much information available online and on-screen, we now have access to more information than ever before. This is especially true of food and cooking-related content, but today's hectic pace of life means that we perhaps don't have as much time as we'd like to devote to cooking.
With more and more developments in the world of cooking technology, we are able to achieve better cooking results more easily. Electrical appliances and digital devices – multi-cookers, steamers, air fryers, predictive digital thermometers and more – combine convenience with user-friendly features to make cooking at a higher level possible for many of us who otherwise wouldn't achieve it. And technology is developing at such a rate that this can only benefit someone cooking at home who at times lacks the confidence to try something new. Put simply, a connected home is a budding chef's best friend.
What part can the internet and smart technology play in shaping our kitchens?
We've already seen app-linked coffee machines, weighing scales and fridge monitors, and given how much we all depend on our smartphones, it's likely we will continue to see yet more technological innovation to cater for digital-savvy and time-pressed consumers who want to eat well.
Smart technology already exists in some homes – in our TVs, fridges and heating systems – but it has not yet reached its full potential, by any stretch. Food forms such a fundamental part of our daily routine that the way we prepare, cook and eat it is a natural area for development. The kitchens of the future will doubtless be designed and built to take full advantage of whatever new technology is available. They'll be a place where technology supports us, but where the environment encourages a social, happy, sharing place. We expect the kitchen to remain the hub of our home. It will be a space that we love, that we're proud of, and where we spend more and more time with family and friends.
English wine
Mark Harvey
Managing director at English winemaker Chapel Down
The English wine revolution is in full swing. What's driven its growth?
While sparkling wine overall is faring well, English in particular is leading the trend and experiencing record levels of growth. Cool-climate wines are in vogue – consumers understand the challenges of producing wines in these conditions and appreciate the consistent high quality these regions deliver, and they're prepared to pay a premium. Historically, champagne has been the shining example, but now England is delivering world-class wines, too.
In the UK alone, more than 30 million bottles of champagne are sold annually, so the headroom for growth for our nascent industry is massive. The biggest challenge for English winemakers will be meeting demand.
What are some of your plans for the next decade or so?
At Chapel Down, we strive to push the boundaries of English wine production through innovative ways of thinking – whether that's through blending new and traditional winemaking techniques, or creating different styles of wine (including England's first orange bacchus, and England's first single-varietal albariño). We want to continue to lead the charge.
Do you think English winemakers' still wines will grow to match the quality and abundance of our sparkling?
Sparkling wine will be the priority for growth in England, but still wines will have an important role to play, too. Our still wines are typified by aromatic characters and a vibrancy of fruit – from crisp, clean white wines to delicate rosés and elegant light reds. England is increasingly becomingly known for whites made with bacchus, a grape that's considered England's answer to Marlborough sauvignon blanc.
At Chapel Down, we produce five different expressions of the grape, from crisp and vegetal to rich and tropical. I can only speak for us, but we're always experimenting with new varieties and winemaking styles, like our late-harvest Nectar and, as I mentioned, England's first albariño. Our Kit's Coty Chardonnay won a Platinum 'Best in Class' at the Decanter World Wine awards recently – a humbling accolade that signifies the level of quality England is capable of.
Spirits
Dawn Davies
Buyer at The Whisky Exchange
What are some of the major trends you've noticed in spirits buying in the last decade?
The obvious one is the gin revolution that's swept the country. The premium-isation of the whisky category is also a strong trend over the last four years, driven by investment potential and an interest in countries like Japan – all things Japanese are very hot right now. For bars, vermouth and the aperitivo moment is still growing but we're not drinking this at home just yet – with the exception of the spritz.
What do you think some major innovations will be over the next 10-15 years?
Keep an eye on non-alcoholic spirits. Seedlip was the first to get into this, but investment in them by Diageo shows the potential of this category, and more contenders will appear on the market soon. I also predict we'll see more spirits that make use of waste products. Bars have been getting behind this idea, and it won't be long before a spirit brand really gets into this field. I also think, if producers can get the quality right, pre-mixed cocktails could make a comeback.
What are you predicting is the next spirit to really take off over the next decade?
Rum and bourbon are vying for that top place – sales are on an upward trend and bars are getting behind both categories strongly. Rum needs to embrace a system of categorisation so the consumer can understand what they're buying and drinking. Japan's popularity will continue to grow – sake is seeing an uplift and Japanese gin has great potential – but I'd put my money on Canada: they have a culture of craft production and are starting to release some real quality liquid into the market, be that beer, wine, whiskey or gin.
Bars
Stephen Thompson
Co-owner of TT Liquor
Now more than ever, customers want to interact with their drinks. Why do you think this is?
Training staff to a higher standard has led to an increase in new, experimental ways that drinks are created and served, which has encouraged guests to enquire about products, drinks or advice. It's all formed a much more interactive experience between the customer and the bartender. Interacting is about learning and experiencing new things to broaden your knowledge and, of course, your palate.
At TT Liquor, our entire company is focused on hands-on interactive experiences and enlightenment, from the liquor store to the interactive cocktail classes and tasting journeys. It all gives guests the ability to truly learn and understand techniques of the cocktail and spirit world.
What do you think will change about the way we drink in bars?
The well-educated bartender and connoisseur of drinks has been relatively niche up until recent years. There has always been an outstanding bar scene in the UK, but the volume of bars serving high-quality, accessible cocktails has previously been low – they've historically offered more simple drinks designed for speed of service and high profit.
Recently, though, people are looking for bar experiences with far more quality, and these people are also happy to pay for this experience, which means ambitious businesses can survive and prosper. For us, we think there has been a movement away from the 'lager generation'; innovation and creativity is the driving force that we see continuing for the long-term in the bar and drinks industry; and as long as the it continues to innovate and offer something, this can become a strong, cultural change – not just a trend.
How else can the customers get involved in what they're drinking?
The independent off-licence is on the rise and so are independent distillers, brewers and producers. There's scope for these locations to become hubs that offer tastings and education around new and interesting products. This is one of the main reasons we have always wanted to add a retail experience to TT Liquor: we offer free tastings several times a week and are putting a lot of effort into building a community here at our liquor store.
Street Food
Jonathan Downey
Co-owner of Street Feast and London Union
What's changed in London to accommodate such a groundswell in street food?
None of this could have happened without the dozen or so new street-food pioneers and entrepreneurs brave enough to prep food in their kitchen at home, stand behind a stall in a market or in a car park, and try and sell food they love. Talented traders like Lisa from Yum Bun, Ben from Lucky Chip, Zan from Bleecker, David from Smokestak and more, and then the KERB crew. Then there were the two or three of us who wanted to bring it all together in one place and create a vibe and a community – Petra at KERB and Dom at Street Feast. Add in a generation not interested in fine dining or the ceremony of (s)wanky restaurants and you've got the world's best and most diverse street-food scene.
It's always changing, though, and that's what makes what we do so exciting (and exhausting). In the last week alone I've been looking at sites in Bermondsey, Wood Green, the City, Waterloo and Manchester, as well as Williamsburg, Manhattan and Miami. Some will happen, some won't.
What are the biggest changes you think we'll see in street food over the next few years?
I think (and hope) we get to see many more professional chefs making a move into street food – giving up 70 hours a week in a basement to focus on fantastic food outdoors or under cover. We're definitely going to see more US-style food halls, offering great choice and good quality in a more conventional setting. Not as exciting as the real street, maybe, but more variety than the same old chains.
streetfeast.com; londonunion.com
Beer
Sam Millard
Brand manager at Beavertown Brewery
Why do you think craft beer has proven so popular?
Part of the step into the mainstream is driven by locality and provenance, and that's spilled over into what people drink. The craft beer scene is drawing in new drinkers, who want to step away from the faceless, mass-produced and fairly bland lagers brewed by the multinational beer brands they started on in their teens, to something with a bigger, more complex flavour. And the more people try, the more they want to explore.
It's also down to choice: the huge range of craft beer in today's market means that all breweries have to be on their A-game, all the time. That level of competition keeps us all honest, always pushing ourselves, and the industry as a whole moving upwards. If one improves, we all improve, and that is an exciting place to be, both for us and for the drinker.
There's also the accessibility and inclusivity factor: a lot of craft breweries have a taproom, like we do, where you can come to the source, see the place and get a feel for it and the people who work here, while having a beer. Everyone wants to be part of the vibe and we love welcoming them into our world and getting to engage with them on a personal level.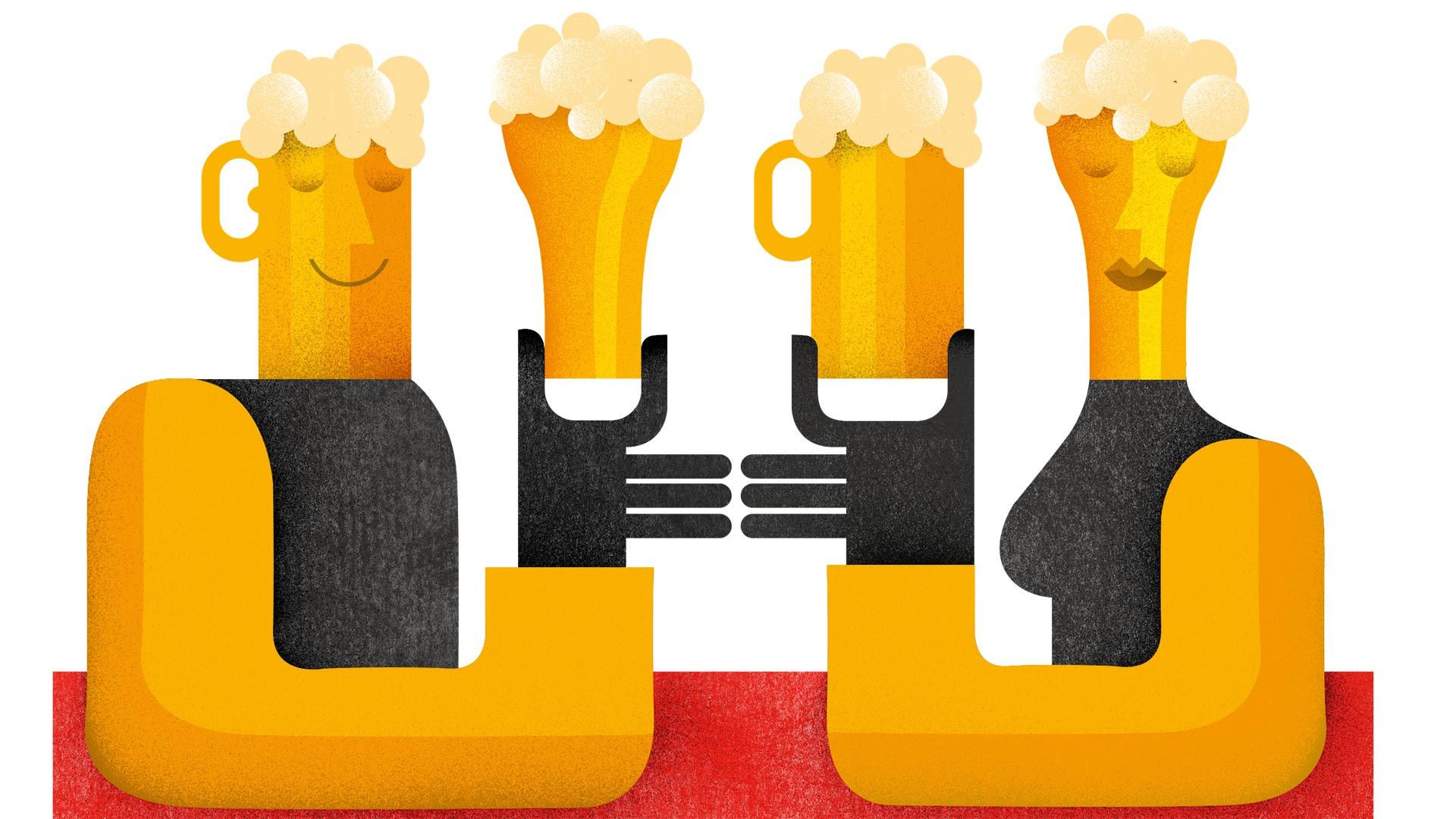 Illustration by Maria Corte
How are you expecting the craft beer industry to develop over the next decade?
Expansion in the industry is inevitable: there will be more beer out there for more drinkers and I think more pubs, gastropubs, bars and restaurants will start taking a risk and going independent, stepping away from being tied and giving their customers more choice. Restaurants will spend as much time curating their beer list as they do their wine list, and the idea of beer and food pairings will be the norm.
Discover the best places to drink craft beer in London, according to the experts
The move into cans for hoppy beers will continue. The drinker is used to it now, and it's a better vehicle for the beer so the idea that it isn't 'classy' will die out. The variety of styles will keep growing, and the appreciation of sour styles in particular will become more mainstream. Consumer education will come on in leaps and bounds – it's a big part of what we and other breweries are trying to do. Elsewhere, more breweries will keep adding to the market and the drinker will be able to get super fresh, high-quality craft beer in every off-licence and local pub. After all, 'well-made and meticulously crafted' doesn't need to imply 'rarity'.
Sensory Dining
Jozef Youssef
Founder of research project Kitchen Theory
With the rise of development kitchens and projects like yours that explore the psychology of flavour, is the diner now playing a bigger part in menu creation?
Definitely. Chefs are now cooking with emotions in mind, but unlike their predecessors it's not their own emotions that they're engaged in satisfying; it's those of their guests. The science of gastronomy has emerged from the kitchen and taken a keen interest in the dining room. We think it's now the time for what we call gastrophysics and multisensory gastronomy. If molecular gastronomy was all about exciting the guest through use of novel textures, flavours and cooking techniques, multisensory gastronomy is about exciting the guest by engaging them on every sensory level.
What are some key discoveries that you've made during your research into flavour?
No two people can physically or mentally perceive taste and flavour in the same way. From differences in the pH of your saliva and your age (related to your sense of smell) to the personal associations, memories and emotions we each have linked to food.
Having said that, we're all human, so it's fascinating to see how our research at Kitchen Theory has shown that there are significant correlations in how people will associate particular colours and tastes (red is sweet, green is sour), shapes and tastes (sweet is round, sour is angular) and even sounds and tastes (most will associate white wine with a high-pitched instrument like a violin, while red wine is associated with deeper instruments, like cellos). The most important thing overall, though, is that flavour is a construct of our minds – not just what happens in our mouths.
How big a part will all this play in the creation of menus in the future?
In today's gastronomic landscape there is an appreciation for, above all else, creativity; nowadays, the menu stands for more than just being about great ingredients and flavours. We think the research and development by projects like ours will inevitably trickle down into more casual and even fast-food experiences.