Weekends are for fun. Weekends are for friends. Weekends are for fitting in as many activities as you can possibly cram in over such a brief – but enjoyable – period of time. Our favourite way to spend our days off is, of course, by eating great food and drinking great drinks. Living in a city like London, you'll never be lacking for a range of ace and tasty events running over the weekend. But choosing which ones are worth your precious presence (and, moreover, worth the Google Calendar invite) is a bit more difficult.
After all, there's nothing worse than spending your Saturday and Sunday at an event with limp burgers and weak cocktails. To help you make the most of your time off work and away from your glass office, we've created this handy little weekend round-up of the best food and drink events going on across the city. Anything you think we missed out? Well, feel free to be in touch with the events that you think we should be covering next week!
From pizza festivals to photography workshops, here are the events that you should be pencilling into your calendar and putting on your radar this weekend:
1. Cheers to Aperol's 100th birthday at the Big Spritz pop-up
23 May-1 June; Electric Light Station, Coronet Street, Hackney N1 6HD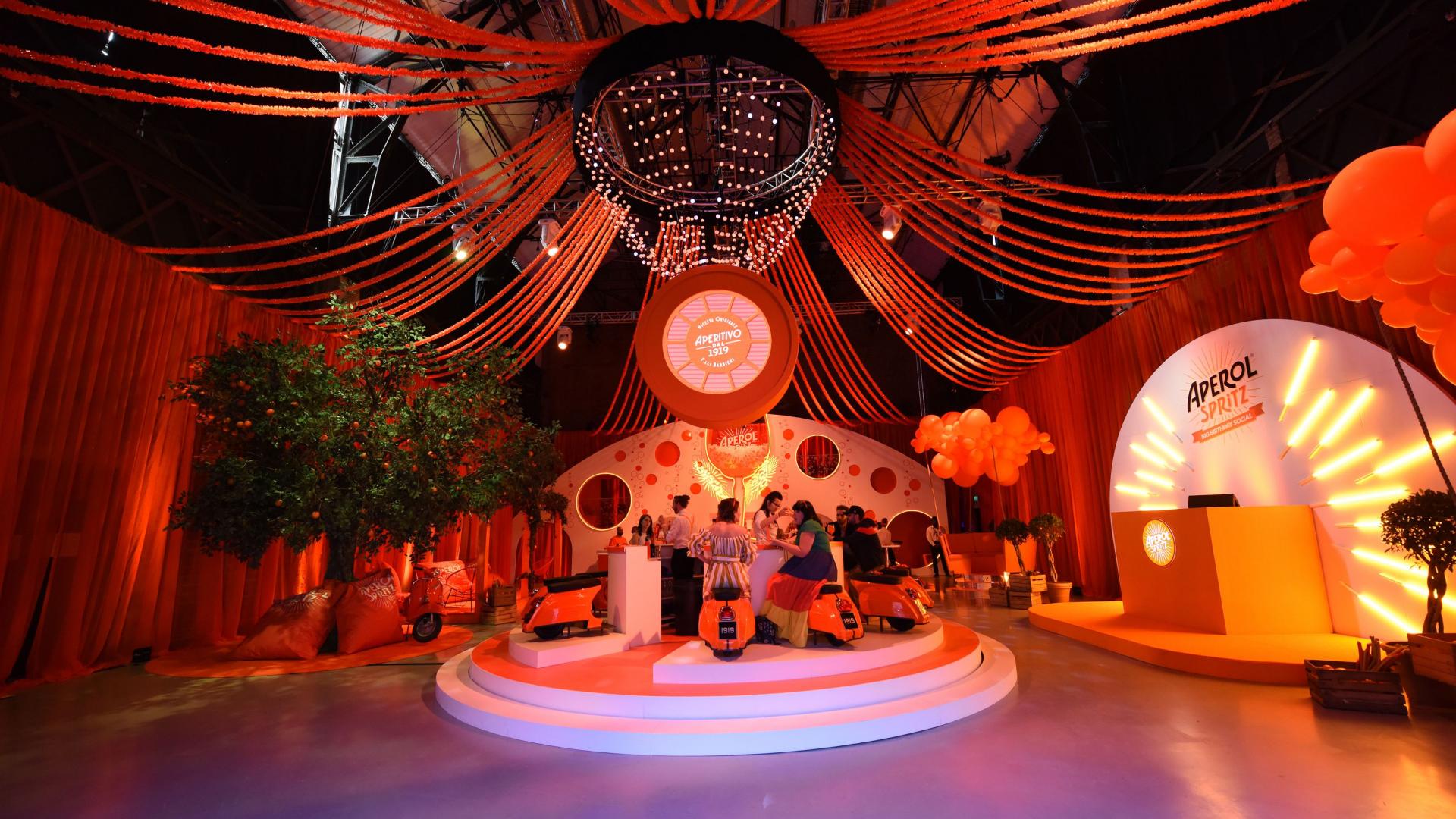 Picture the scene: you're sipping on an ice-cold Aperol Spritz, sitting on a Vespa, spinning around an orange-themed bar in central Shoreditch. To your left sits a swimming pool, complete with orange slice float and cascading waterfall and to your right, an (all-orange) ball pit for adults. Not an Apprentice pitch or a rather Donald Trump-coloured dream, but one of London's newest pop-ups, built to celebrate 100 years of Aperol Spritz in all its glory. To get in on the fun, head across to Shoreditch's Electric Light Station. The Big Spritz is open until Saturday 1 June, with tickets at £10 for two drinks and some tasty aperitivo snacks, too. Things to do this weekend, sorted.
2. Sample Star City Double IPA at Fourpure's First Chance Friday
31 May; Fourpure Brewing Co., 22 Rotherhithe New Road, SE16 3LL
This new brew collab between Fourpure and Mothership is a beer with a mission; a mission to rocket your taste buds to another flavour planet. Celebrating Helen Sharman – the first Brit to go to space – this Double IPA is a great example of what you can achieve if you're not afraid to reach for the stars. Liberally hopped with Enigma and El Dorado, it's a beer that showcases all that's good about juicy, space age IPAs. Visit Fourpure's brewery on 31 May for your chance to sample some Star City while Mothership's head producer Jane Frances LeBlond joins in to chat about how the inspiration for this bev came about. Spots are super limited so sign yourself up now and reserve your free 2/3 pint of Star City.
3. Eat a double bacon naan at Dishoom
31 May; Various locations
Just when you thought breakfast at Dishoom couldn't get any better, the clever folks in the kitchen have gone and upgraded the whole shebang. It should come as no surprise to you that we're talking about the genius introduction of double bacon naan rolls. Yep, the cult bacon naan rolls are now available with double the amount of first-rate smoked streaky bacon, crisped and piled high in freshly baked naan, with cream cheese, chilli tomato jam and fresh herbs. Because, as we all know, more always = better. And, when it comes to more, you can't get a much heftier feed to start the day than the Wrestler's Naan Roll – a dench naan sandwich stuffed with streaky bacon, peppery sausage and a runny egg. Don't worry if you're not much of a meat person, either. New vegan options like the vegan sausage naan and soy keema no eedu are just as filling and fantastic.
4. Try Shack Shack's new limited-edition Chipotle Cheddar menu
31 May; Various locations


Shake Shack is spicing things up this summer with a brand-new limited-edition Chipotle Cheddar line-up. The new menu – available across all UK Shacks beginning 31 May – includes a range of burgers, hot dogs and fries with an added chipotle punch. We'd recommend taking the Chipotle Cheddar Burger out for a test drive. It's a cheddar cheeseburger topped with chipotle cheddar cheese sauce, pickled red onion, fried jalapeños, and chipotle ShackSauce. Drooling yet? Us, too, buddy. Us, too.
5. Dance the night away with Disco Noir at 12th Knot
31 May-1 June; 20 Upper Ground, South Bank, SE1 9PD
On Friday 31 May and Saturday 1 June, the rooftop bar at Sea Containers London will be hosting the launch of the world's first sub-zero Espresso Martini nitro tap from Grey Goose. With things kicking off at 8pm, guests can expect a selection of ice-cold Grey Goose Espresso Martinis in a range of banging flavours as well as sparkling cosmopolitans and cocktails to keep the night going until 2am. With that much caffeine and alcohol pumping through your system, we doubt you'll have any trouble staying till close. Sharing plates from the 12th Knot kitchen and a massive glitterball are also going to be around for the party. Don't eat the latter, obvs.
6. Take a food and photography workshop at Narroway Studio
31 May-1 June, Narroway Studio, 422a Mare Street, E8 1HP
Issy Croker and Emily Ezekiel are firmly bedded into the London food and drink community, having styled and photographed food for loads of chefs and publications. These days, they're helping keen amateurs turn their passion into more than just a hobby, with regular workshops at their studio space in Hackney. At the next one – Summer Food Photography and Styling – takes place across Friday 31 May and Saturday 1 June, 10am-5pm, and will provide you with a massively hands-on lesson in cooking, styling, lighting and more. As you'd expect, lunch will be provided, as well as snacks and drinks.
Buy tickets at billetto.co.uk
7. Chill out with Feel Good Festival at the Geffrye Museum
1 June; 136 Kingsland Road, E2 8EA
Enjoy a relaxed weekend of good food and good vibes at the Geffrye Museum this weekend from 10:30-16:00. This summer festival at Geffrye's beautiful gardens is all about instilling a sense of well-being while also keeping you happily fed. Build up an appetite with some Tai Chi before chowing down on a range of dishes from Turkey, Cyprus and Vietnam. After stuffing yourself with as much edible goodness as possible you can even try your hand at origami, Turkish marbling or simply treat yourself to a restorative foot massage. Pho and a foot massage? Sounds like a combo from heaven to us.
8. Make a day of it at All Points East
31 May-2 June; Victoria Park
All Points East is an eclectic (and fairly electric) music festival held over two weekends once a year in London's Victoria Park. Not only will there be dirty, dirty tunes on the Saturday and Sunday – thanks to headliners The Chemical Brothers and a rogue's gallery of bass thumping DJs including Maribou State, Joy Orbison, Jon Hopkins, and Peggy Gou – but you can still expect a great range of food traders and a wide variety of bars serving beer, wine, spirits, cocktails and soft drinks. All Points East is a feast for your ears and your stomach.
9. Fill your boots at West Norwood Feast
2 June; Norwood Road, SE27
Whether you're a keen food lover, committed to supporting local produce, or simply fancy a bite to eat in South East London, the Food Fair at West Norwood Feast has got a little bit for everyone. Hit up Hao Hao Chi for homemade jiamos and dumplings; Pochi for enviable Japanese street food; Brett and Bailey for some seasonal sweet goods; Volcano Coffee Works for hot caffeinated goodness; and Souvlaki Street for...well...souvlaki. Your Sunday afternoon is absolutely sorted, my son.
10. Take to the sky with Sunday Sessions at London In The Sky
2 June-15 July; Peninsula Square, Greenwich Peninsula, SE10 0DX
From 2 June until the end of its run in July, London in the Sky – the pop-up at The O2 that sees drinkers and diners taken 100ft in the air to eat, drink and party – is launching Sunday Sessions. There'll be all-day party vibes at the bar and Gin Garden every Sunday, with live musicians, cocktails, brunch, lunch and cocktail flights all day, and a line-up of international DJs to be announced soon – all backed by the best views of London around. It's the most unique all-day party in London, and it's only at London in the Sky at The O2, right next to North Greenwich Underground.
11. Become a pizza judge at London Pizza Festival
2 June; Borough Market, 8 Southwark Street, SE1 1TL
You like pizza, right? You like passing judgment, right? Well, boy, do we have the event for you. Make your way to Borough Market on Sunday to consume and compare six pizza slices cut from six of the nation's most talented pizzaiolos before placing your vote on the slice that's most deserving of the London Pizza Festival Championship. This year's contenders include London favourites Theo's Pizza, L'Antica Pizzeria da Michele, 50 Kalò, Gloria Trattoria, The Dough Shack, as well as wildcard Welshmen from Ffwrnes Pizza. What's on a Welsh pizza, you ask? Fior di latte mozzarella, sage leaves, sobrasada, soft goats cheese, fresh basil, and raw Welsh honey. Iechyd da.