Sealed inside what looks like a giant, smoked-glass art deco fish tank, Harrods' new coffee roaster is a thing of ruggedly functional beauty. Capable of churning through 85kg of roasted coffee every hour, the German-made Probat machine is a hulking, whirring matte-black unit so big the store's doors needed to be taken off to get it in – but this is Harrods, so its fittings are mirror-polished brass and piano-black, and the floor it sits on is carrara marble.
Sizeable though it is, the roaster is part of something much bigger – namely, a comprehensive two-year project to reimagine and renovate the Knightsbridge department store's iconic food halls. Phase One of what they're calling the Taste Revolution – the Roastery and Bake Hall – opened in mid-November, with a David Collins Studio-designed interior where restored original features like the marble floor, ornate cartouches, and panelled ceilings combine with a slick, modern aesthetic.
Three more phases will launch between now and 2020, by which time – according to the man spearheading the project, Alex Dower, Harrod's director of food and restaurants – they will have created "one of the finest food emporiums in the world". But if that description makes it sound like a foodie theme park, the reality is quite different. "Our intention from the outset is to provide a food hall that local foodies will keep coming back to, and one that meets the everyday needs of a customer doing their weekly shop," Dower says.
head to the Coffee Bar and kick back with an espresso negroni
Admittedly, we're talking a pretty rarified weekly shop – we're in Knightsbridge, after all – but a key part of the offering is the availability of familiar staples like Heinz tomato ketchup alongside more unusual treats including honey harvested from treetop hives in Zambia.
Elsewhere, you'll find plenty of theatre to go with your shopping. Along with the roastery, where coffee beans will be roasted, ground and blended on site, there's a from-scratch bakery, a tea tailor, a patisserie, a gourmet grocery and a coffee bar. Set in the middle of the hall – with aged-brass rails, embroidered leather stools and a swooping marble bar – it makes a strong visual statement (and an even stronger espresso martini).
Just as important as the bits you can see, though, are those you can't, like the 150 in-house chefs working behind the scenes, and the product developers and buyers who have spent more than a year scouring the globe for ingredients and inspiration. Harnessing their skills and putting them front and centre is key to capturing the imaginations of food and drink-loving Londoners, by creating and selling produce that's as good as it possibly could be, whether it's freshly baked sourdough bread or custom-blended teas.


As Dower puts it, creating a place where locals go for their food shopping is exactly where it all began for the store. "Harrods began as a wholesale grocer and tea merchant for Londoners in 1834," he explains. "This is the heart of our brand and our aim is to ensure we remain the destination of choice for local foodies."
The Bakery Master Baker Lance Gardner is the man at the helm of the bakery, which dominates an entire wall of the hall. Preparing the bread and pastry offering has been a lengthy process for Gardner and his team – perfecting the croissant recipe alone took a year, and the sourdough starter has been nurtured for months – but the result is, they hope, some of the best baked goods you can buy in London.
rich, treacle-like Zambia organic honey is harvested from treetop hives
There will be 15 varieties of bread in total, including seasonally changing specials, and they'll be baked throughout the day. A board on the bakery wall lists the bread, pastries, cake and biscuits due to emerge next from the high-tech ovens – though if you miss that, you certainly won't miss the bell that rings to announce each fresh arrival.
As a neat touch, it's possible to get your loaf of sourdough personalised. Up to three initials can be inscribed on the top of a white sourdough loaf, which will be baked in front of you in around half an hour, so you can take it home while it's still warm.
If you're strapped for time, the all-new Roast & Bake café – outside the store on Basil Street – is a great place to pick up viennoiserie and coffee fresh from the Roastery and Bake Hall, plus sandwiches, salads and snacks.
There is, as you've probably gathered by now, a lot to take in, so here's our guide to navigating the Roastery and Bake Hall, from customised sourdough to cocktails made with beans roasted just metres from the bar:
The Roastery & Coffee Bar
All the coffee you'll drink at the Coffee Bar is freshly roasted and ground in the hall, and Master Roaster Bartosz Ciepaj has poured his knowledge and experience into creating the signature Knightsbridge roast. Made with four different types of Arabica beans (Brazilian, Colombian, Sumatran and Costa Rican), each with different, complementary characteristics, the blend is available in the Coffee Bar, at Roast & Bake, and throughout the store's restaurants. It's also available to buy – along with a variety of other roasts and blends – in the Roastery and Bake Hall.
Our tip, though, is to head to the Coffee Bar after a tough day and kick back with an espresso negroni – it's the bittersweet Italian classic as you know it, but with an extra injection of rocket fuel.
The Tea Tailor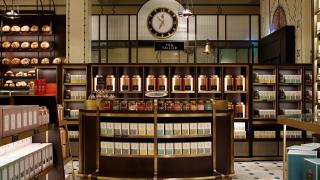 If you're a tea lover, this is something approaching heaven. A dedicated tea tailor will work with you to create your perfect blend from a huge selection of black and green teas, herbs and spices, and other aromatics.
You needn't be an expert in tea, though it obviously wouldn't hurt if you were – the tailor will use your favourite flavour characteristics (smoky, citrusy, earthy, for example), or the effect that you want to achieve (something to relax you; something to get you up in the morning), as the basis for a tea that's mixed in a bowl right in front of you. Once your custom blend has been finalised and packaged up, the ingredients are recorded in a book, so you can come back and reorder at any time.
The Gourmet Grocer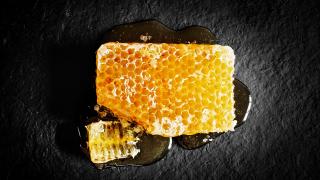 Once you've picked up your warm, personalised loaf of sourdough, you'll need something to put on it at breakfast, and we'd point you straight towards the gourmet grocer's spectacular selection of honeys. These range from delicate, aromatic nectar from Cotswold bees to a dark and rich, almost treacle-like organic honey harvested from hives placed high in the tree tops of Zambia.
Elsewhere, keep an eye out for granolas and nut mixes created by Harrods' chefs, a vast range of herbs, spices, oils and vinegars, chocolates and biscuits, and a few storecupboard essentials like Heinz baked beans, pasta from Pastificio Di Martino, and cookie mix from US icon Williams Sonoma.
For more information: harrods.com