"We truly come from the heart and soul of a craftsman and his wife, and that's very real," says Rob Samuels, managing director of Maker's Mark, and the eighth generation of the Samuels family to produce whisky.
"My grandparents had this beautiful complementary vision: they reimagined what bourbon could be. So my grandfather lit the family's original recipe on fire, and chased his own dream."
Whether in the context of 1953 – when Bill Sr. and Margie Samuels decided to pave their own way in whisky-making – or in the present day, there's no doubting that the Maker's Mark story is truly remarkable. It's a story of dedication, creativity, entrepreneurship, and above all, family. And it's no surprise that this heritage has resulted in one of the world's leading whiskies, celebrated for its smooth mouthfeel and vibrant, complex finish.
From the original Maker's Mark to the Cask Strength expression, Maker's Mark 46, or one of the specially made Private Selection bottlings, Bill Sr. and Margie's vision remains at the core: to create a rich and flavourful bourbon that's full of character, and always with a keen sense of its rich heritage distilled within it. Here, Samuels shares his family's remarkable story, telling us what sets Maker's Mark apart – and why being purposefully inefficient is sometimes a very good thing...
How did Maker's Mark begin?
My family has been making whisky for hundreds of years. We actually first distilled in Scotland as far back as the late 1500s. When they upped and moved to America, first in Pennsylvania, they brought their knowledge of distilling with them, making rye whisky for almost a century.
In fact, during the Revolutionary War, we made whisky for George Washington's Revolutionary army. Eventually we ended up in Kentucky, where we continued the distilling business. After Prohibition ended, 160 years after we got there, my grandparents Bill Sr. and Margie Samuels decided to break with tradition. They simply weren't inspired by the thought of making whisky that was viewed as a commodity. They knew it could be better – that it could be elevated and appreciated.
How did they go about doing that?
When my grandparents made that decision, they explored different potential flavours by baking loaves of bread in the family kitchen. They decided to use soft red winter wheat instead of rye, used a natural water source and crafted the bourbon in small quantities – ageing it to taste, never time.
What about the iconic bottle?
While the very first barrels were ageing in the warehouse, it was my grandmother Margie who started to think about the bottle that would celebrate the vision for a handmade bourbon. She suggested my grandfather had gone to greater lengths than any whisky maker in the world to produce a handmade bourbon and he should "make his mark". It was her idea to print and tear every label by hand at the distillery, hand-dipping every bottle in red wax. We still do it that way today, and I'm fairly certain we have the most inefficient bottling line in our industry.
Margie later became the first ever female from a distillery to be inducted into the Kentucky Bourbon Hall of Fame, and Fred Minnick, a well-known whisky writer, described her as the most underappreciated figure in the history of whisky.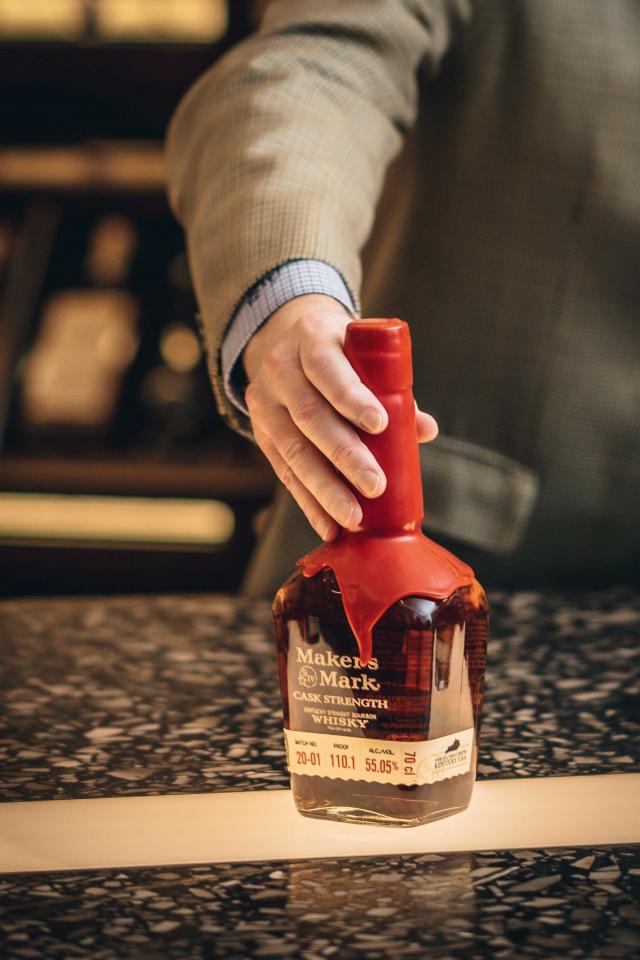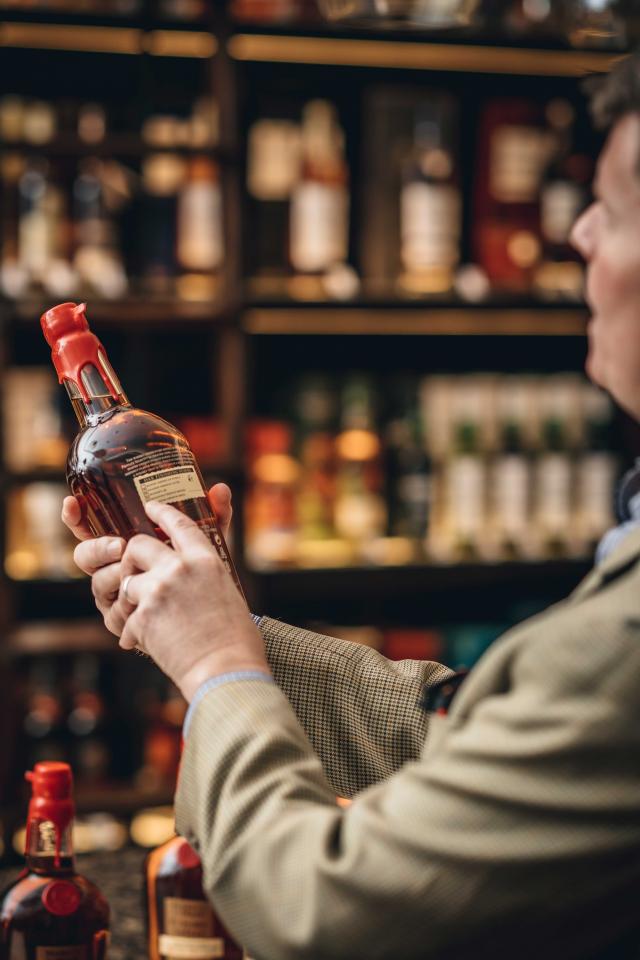 What is it that sets Maker's Mark apart from other American whiskies?
While 96% of bourbon is made in Kentucky, I believe we're the only distillery that actually owns its own water source. We have a 14-acre spring-fed lake, which is the water source for every drop of whisky that has ever been made on-site at our distillery. We're the only distillery in the world that hand rotates barrels through the ageing process and, ultimately, we bottle to taste, not time – which is about six and a quarter years. And for 60 years, we made only one product, our original Maker's Mark, which is very unusual for a distillery. My father's legacy was that he chose to expand Maker's Mark following our founding principles, and so 10 years ago, we launched Maker's 46.
We source all of our corn and soft red winter wheat from within 60 miles of the distillery, which sits on a working farm
How important is the family story to the brand today?
The power of my grandparents' founding vision is still the North Star for everything we do, from the innovation of the whiskies we make to the experiences at the distillery to how we tell our story. It's in our DNA.
As a brand with so much history, how do you think about the future?
Sustainability and planning for the future is really important to us. We have our water sanctuary that preserves 6,000 acres of land, but beyond that we're doing industry-leading research on the genome of American white oak to ensure its resiliency, creating the most substantial repository in America and trying to understand the regional influences on flavour.
Elsewhere, we source all of our corn and soft red winter wheat from within 60 miles of the distillery. The distillery sits on a working farm and we grow 400 acres of wheat ourselves. We're trying to understand the influence of sustainable, regenerative farming on flavour, and the two seem to work together, which is really exciting.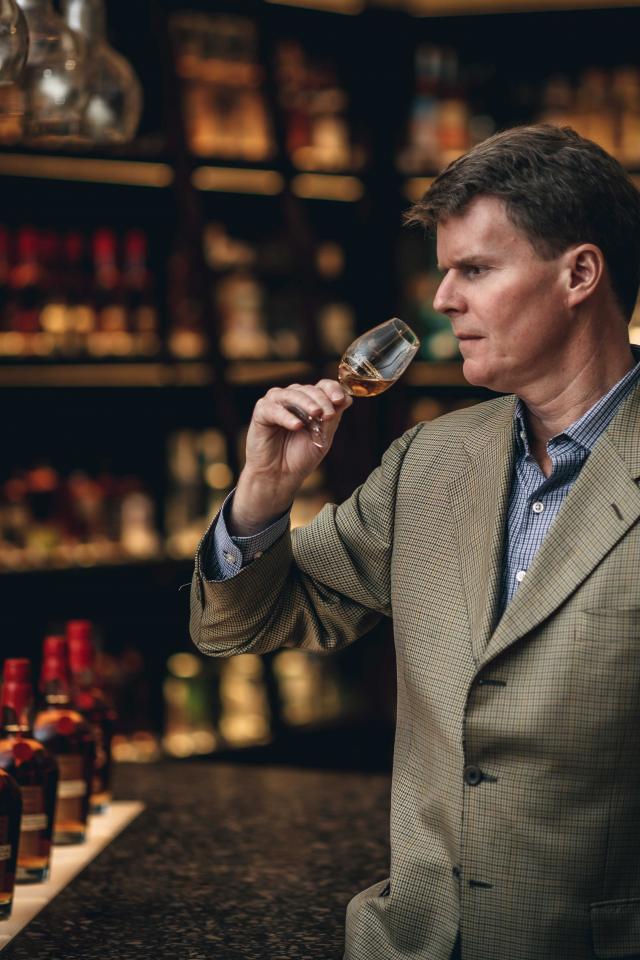 What about the other expressions of Maker's Mark?
Along with Maker's Mark Cask Strength, we have Maker's Mark 46: a bigger, bolder, spicier take on our original bourbon. This was my father's legacy. He wanted to accentuate the flavours of baking spices that live in Maker's Mark, which we achieved by aging it first in American oak, then finishing it for an additional nine weeks with 10 French oak staves inserted into the barrel. We didn't realise, but French oak is much more temperature-sensitive, so we ended up having to dig into the limestone shelf at the distillery to create a naturally temperature-controlled cellar.
Then we have our Private Selection, where we partner with key customers and they choose their own finishing staves for a whisky that's unique to them. In London, we've partnered with places like Balthazar, Scarfe's Bar and The Whisky Shop.
How do you drink it?
I love a Maker's Mark Cask Strength just over a block of ice. I'll leave it for about 10 minutes and come back to it. But I'm always impressed by the way bartenders use Maker's Mark, and it's due to the support we've had from the hospitality industry that we are where we are today. 
Find out more at makersmark.com