Once, in my early twenties, I won some money at a friend's birthday bingo. I got a line and a full house. The next day, we woke up and drove to Brighton and spent the winnings on lunch at a café-grocer we were into at the time. We had lavish cooked breakfasts and extra coffees and passionfruit pavlova milkshakes, and it was the future, guys, it really was.
Well, we called it, because there are now 80 iterations of that particular café-grocer. Only now there's nothing grocer-y about them; they just do rubbish burgers and grissini. They're the same in the name I've carefully not mentioned and nothing else.
There are bad chain restaurants and that's nothing new. But to see them go bad before your eyes makes you think: how do the good ones do it? The ones you're relieved to see when you run out of steam at the shops. The beloved restaurants that morph into small, subtle chains so seamlessly you barely notice it happening. So I spoke to some of the best.
The beginning
Some begin with world domination in mind and some don't. Most restaurateurs I spoke to for this feature said they didn't, but then accidental success makes for a better story.
Shamil Thakrar, one of the founders of Dishoom (which now has four locations in London and one in Edinburgh) told me that he thinks "proper chains" start completely differently to how Dishoom did.
"When you're in the headspace of chains, you're creating a thing and then trying to get the most bang for your buck with that thing – which is very sensible", he says. "But we did the reverse. We created a thing, and now every time we look at a new location, we do more work, not less. Our mantra is 'deepen, don't dilute'. So, it's a philosophical difference".
there are bad chains and that's nothing new. but how do the good ones do it?
On the other hand, Thomasina Miers and Mark Selby of Wahaca (now at 25 locations) always intended to go big. Even back in 2007, when Wahaca was just one Covent Garden hotspot, they had plans. Selby says, "We always intended there to be more than one Wahaca, but we wanted a business with a sustainable soul that would still be going in 30 years. So, Tommi and I agreed we wouldn't open a second Wahaca unless we knew we'd be able to maintain the quality and passion. Ultimately, we believed in the magic of Mexican food, and wanted the whole country to eat it. That's still the business vision."
This makes sense – if your gameplan is to shake things up across the country, you're creating a chain. If your business vision is to create a special restaurant, maybe you're not. David Wolanski from Chick 'n' Sours says of his burgeoning empire (two Chick 'n' Sours, one Chick'N), "We want to change fried chicken for good, and you don't do that with just one store." Stay tuned to see if he'll go Wahaca-sized.
The place
Making the next move is a big deal for businesses trying to expand "consciously" (to coin a Gwyneth). When choosing a new location, there are all sorts of things to consider, but in London there is also only one: budget. Beyond that, people speak of something a little vaguer: "a feeling of community", or a ready-made pool of food lovers open to the idea of a new place to hang out.
Mark Rosati is culinary director of Shake Shack. He told me that when Shake Shack looks for new locations, they have a brief in two parts: "People want the same experience that they might've had back when we just had one Shake Shack in Madison Park, but they also want something local.
"When it comes to opening in a new place, our goal is to create a community gathering spot that feels comfortable, with the right vibe, and good food."
The mood
We're getting vaguer still, but let's think about that idea of 'vibe' for a second. Thakrar says: "When you walk into a new Dishoom, you'll experience a very different mood. In King's Cross, you get old-school industrial glamour, while the Shoreditch veranda suggests summer even when it's not, and in Carnaby (which is set in the 1960s), you'll feel like Don Draper. Therein lies the secret to new Dishooms – creating different emotions".
Everyone I spoke to for this piece spoke about architecture. Unlike the chains that came before them, these ones seem intent on celebrating the subtle differences in their outposts, rather than creating an easy-to-replicate template they can roll out in any building. Selby and Miers wanted every restaurant to "have a Wahaca feel" but also to "look different and have its own character, dictated by architecture and locality". He says that at the time they did this (ten years ago), they were setting "an industry first". Look at us now; we're writing trend pieces about it!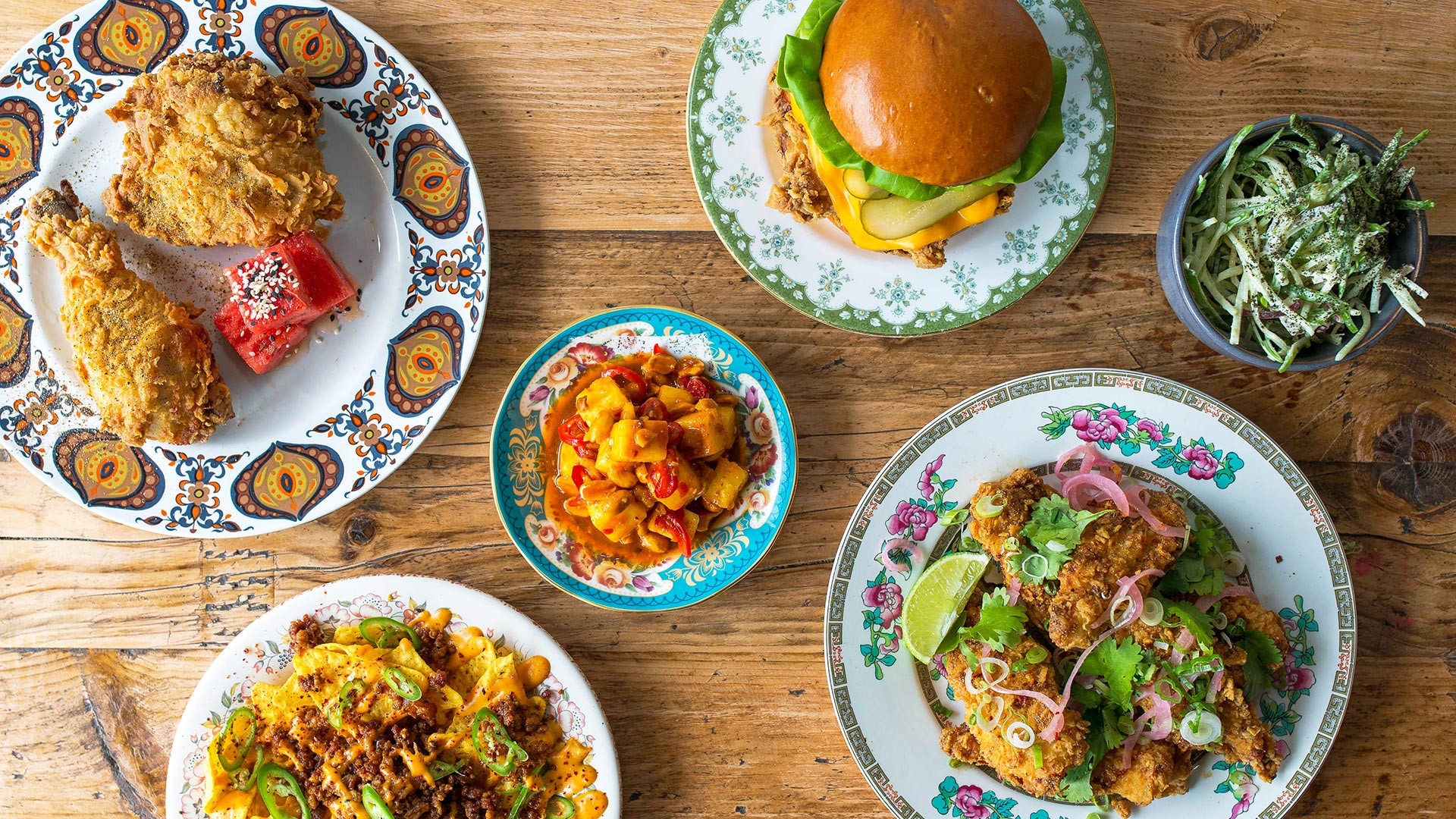 The food
For most restaurants, keeping the food consistent is the central goal and biggest challenge. Shake Shack likes to go one better; it's Mark Rosati's job to 'localise' the menus. So, when they first came to London, that meant sourcing cattle from Scotland and getting it delivered every day, like they do in NYC. And the more fun-sounding part of his job involves the menu's frozen custard section.
He designs location-specific 'concretes' (frozen custard blended with mix-ins, on the off-chance you're not au fait), like Seoul's Gangnam (vanilla custard, marshmallow sauce, strawberry, shortbread, soy bean powder) and Istanbul's Pistachios in the Park (chocolate custard, pistachios, fudge sauce).
He describes arriving in Tokyo and not having a clue where to begin: "Google 'Tokyo desserts' and you get loads of green tea, but is it really popular or is it just a tourist's impression?" So, he did what any one of us would do. And after five or six days eating in Michelin-starred restaurants, fusion joints, and joining queues at the fish market at 3am, he started to form a real impression.
"I fell in love with black sesame purée. It's got this tahini, peanut butter-ish flavour but it's naturally sweet. I tried it in a couple of concretes, but I wanted it pure, so I put it into a milkshake. It's a bestseller!"
Dishoom King's Cross is based around the idea of a 'godown' (warehouse) in which working people and commuters feel comfortable meeting, eating, drinking and lingering. Its food specials reflect that – the nihari is a generously spiced lamb stew traditionally served to labourers "for strength and protection against faintness of heart".
The people
Restaurants are nothing without their people, and if a chain is going to live by an ethos, they need everyone to be on board. At Wahaca, they talk about a "mission" to show people how amazing Mexican food is – they take every new general manager and head chef out to the markets of Mexico so they can see what it's all about. They run one or two of these inspiration trips a year. Selby says, "If people aren't full of passion and excitement after that trip, we know they aren't right for us".
The answer, then? More tacos, less grissini. But that's obvious.