London's love affair with gin is nothing new, but what might be more surprising that the gin revolution is showing no sign of stopping, or even slowing.
Small-batch distillers are continuing to crop up in the capital more frequently than you can say "I'll have a G&T" on a hot summer's day, and bars' gin selections are growing apace. We're certainly not complaining – who says no to delicious, craft drinks becoming more readily available? 
But if you're after some extra direction on the best places to drink gin in London this World Gin Day on 12 June, we've got you covered.
From sprawling gin palaces in sophisticated surrounds to nano bars with their own small-batch craft gin, there's something for everyone at this lovely lot. 
They've got creative cocktails, they've got straight-up G&Ts, they've got tasting flights, masterclasses and distillery tours. If you're a gin fan, these are the bars you need to visit, pronto.
Punch Room
London EDITION, 10 Berners Street, W1T 3NP
In many ways, the Punch Room takes care of pretty much every hallmark of London's world-leading bar scene: it's small, it's underground, it's in a beautiful hotel and, above all, it serves an incredible menu of carefully crafted cocktails, including the A La Romaine, one of its signature punches, made with Plymouth Gin, dry curaçao, lemon foam, whole-leaf green tea and Ruinart champagne.
The Resting Room at The Distillery
186 Portobello Road, London, W11 1LA
Yes, The Distillery is a gin bar. But it's also a hotel, a restaurant and a, er, distillery. The site is also home to The Ginstitute, which is a gin-blending experience where you can learn to make your own. But to just sit and sip, go to The Resting Room, where you'll find a glorious terrace just calling out for an ice-cold G&T (or one of the other inventive cocktails), and a menu of classic British dishes made with local ingredients. And we're going off-brief, we know, but The Distillery now also has The Malt Room, dedicated to whisky. You might as well while you're there, right?
The Gin Palace
Unit 18, Ravenswood Industrial Estate, Shernhall St, London E17 9HQ
Walthamstow is known mainly for its wetlands. But now it's known for craft gin too, thanks to the Mother's Ruin micro distillery under the railway arches (where else?), which turns into bijou bar The Gin Palace at the weekend. 'Mother' distills her gins in three tiny copper stills, Ruth, Naomi and Cecilia, using home-grown or wild-foraged British botanicals. The Gin Palace is fresh from a lockdown face lift, with a lovely little menu of cocktails and G&Ts. The wetlands are great, too, by the way.
City of London Distillery
22-24 Bride Ln, EC4Y 8DT
Sipping a G&T in a historic distillery overlooking the copper stills your drink was made in makes for a heady mix – although that could just be the gin vapours lingering in the air. Either way, an evening at this sleek bar brings exquisite cocktails made with the distillery's selection of eight gins, ranging from Murcia orange to rhubarb and rose. The distillery's gins pay homage to London's gin history, with names like the Christopher Wren gin, Square Mile gin and more.
Holborn Dining Room
252 High Holborn, WC1V 7EN
Think you know gin? Well, here's a true test: try and name all 400 of the ones available from Holborn Dining Room's new gin bar. If you manage it, we'll be extremely impressed. The collection is London's largest, and you'll be able to sample each and every one of them with selection of 27 tonics, or even the one made in house according to a top-secret recipe. This means the possibilities are endless. Well, almost – the bar worked it out as 14,035 possible gin pairings. It might take you a while to get through all those, then. Gins to look out for are Forest Dry: Spring, an eco-friendly brand making its spirits with seasonal botanicals grown at its distillery, and the cognac-based Pink-Pepper gin if you like your G&Ts with a kick.
Graveney Gin, Tooting
Tooting Market, Unit 22A, 21 - 23 Tooting High Street, SW17 0SN
Tucked away in Tooting market is Graveney Gin's nano bar, which also just happens to be a distillery that produces three different gins: Grove Fever, inspired by Tooting's St George's hospital with juniper, rosemary and thyme; Graveney, a citrussy serve with notes of pink grapefruit; and the newest bottling, Figges Marsh, which combines founder Victoria's love of Old Tom-style and Sipping gin, and is loaded with sweet fig flavours. Can't make it into the bar Graveney Gin also offers a 'Take' service, with cocktails available for collection or delivery within a three-mile radius.
East London Liquor Company
221 Grove Road, Bow Wharf, London, E3 5SN
There's not much more East London than a former glue factory-turned-distillery, bar and restaurant, but this is a time when stereotypes are very much a good thing. East London Liquor Company has made a bunch of brilliant gins, each one as delicious as the last, and there's nowhere better to drink them than in situ in the industrial-chic distillery bar. Even better, there's food too – and from Leroy's rotisserie chicken spinoff Royale, no less. So Shoreditch, but so good.
Portobello Star
171 Portobello Rd, W11 2DY
This public house in Notting Hill is a gin powerhouse: first and foremost, it's an excellent boozer, but it also blends its own gin – aptly named Portobello Road – as well as running The Ginstitute upstairs. It's essentially a tiny museum paying homage to London's beloved spirit, but you can also take part in masterclasses and create your own unique gin recipe.
The Trading House
89-91 Gresham St, EC2V 7NQ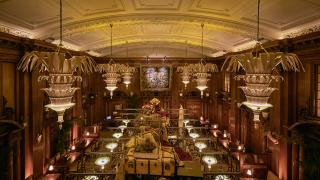 Housed in the old Bank of New Zealand, The Trading House recently broke the world record for the largest gin tasting ever held, albeit across multiple venues. The grand, wood-panelled venue is an homage to British eccentricity, with taxidermy curios and ornate chandeliers hanging from the stuccoed ceilings, making it the perfect place to sample its extensive gin list.
214 Bermondsey
214 Bermondsey St, SE1 3TQ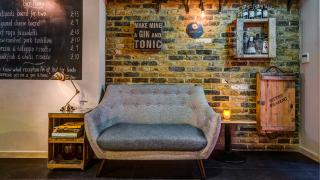 There are 80 gins on offer at 214 Bermondsey. That's right, 80. No matter how much a gin-lover you are, we strongly recommend against sampling them all at once, and suggest that you enlist the help of the bar's friendly staff to guide you when it comes to making a choice. 214 Bermondsey also makes its own tonic water, btw. It's called, er, BTW.
The Ivy
5 West Street, WC2H 9NQ
If you want to sip on cocktails built around the best-known alcoholic export of this historic city, it makes sense to do so in one of London's oldest and most iconic restaurants. The Ivy's bar has been frequented by drinkers great and good across its century-long history, so why not stop by to prop up its marble bar and sip the likes of the Martinez Dispenser (pictured), a Plymouth Gin cocktail that comes in a giant blown-glass vessel with its own tap.
Searcys at The Gherkin
30 St Mary Axe, EC3A 8EP
Whether you work in the City or not, this magnificent bar at the very top of one of the most iconic skyscrapers of London's skyline is always going to be an impressive destination for a cocktail. Grab a friend (or a date), ride up the 39 floors to Searcys and bag a table that looks out onto across the city, while drinking one of its signature serves.
Nightjar
129 City Road, EC1V 1JB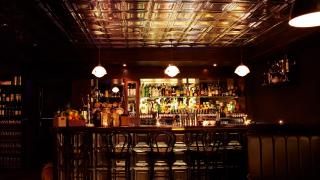 There are a lot of reasons that the almost unassuming Nightjar (accessible only by an unmarked door on City Road) climbed to its highest position of third on the World's 50 Best Bars list, but the most obvious is this: its drinks are some of the best and most creative in the city. If you can get a table at the bar, do so, and watch the bar staff work their magic on the Prohibition-themed menu.