Sometimes, you just want to sit somewhere impressive and drink great cocktails. If there's gin involved, even better...
Holborn Dining Room
252 High Holborn, WC1V 7EN
Think you know gin? Well, here's a true test: try and name all 400 of the ones available from Holborn Dining Room's new gin bar. If you manage it, we'll be extremely impressed. The collection is London's largest, and you'll be able to sample each and every one of them with selection of 27 tonics, or even the one made in house according to a top-secret recipe. This means the possibilities are endless. Well, almost – the bar worked it out as 14,035 possible gin pairings. It might take you a while to get through all those, then. Gins to look out for are Forest Dry: Spring, an eco-friendly brand making its spirits with seasonal botanicals grown at its distillery, and the cognac-based Pink-Pepper gin if you like your G&Ts with a kick.
Portobello Star
171 Portobello Rd, W11 2DY
This public house in Notting Hill is a gin powerhouse: first and foremost, it's an excellent boozer, but it also blends its own gin – aptly named Portobello Road – as well as running The Ginstitute upstairs. It's essentially a tiny museum paying homage to London's beloved spirit, but you can also take part in masterclasses and create your own unique gin recipe.
Graphic
4 Golden Square, Soho, W1F 9HT


Now for the cool one: Graphic's modern and, er, graphic, interior brings gin bang up to date, refreshingly ignoring the verve for all things antique and displaying an impressive collection of ground-breaking urban art. That's all very well and good, but what about the gin? You'll be pleased to learn it doesn't take a back seat – the team have scoured the four corners of the earth to piece together one of the largest gin offerings in the UK.
Worship Street Whistling Shop
63 Worship St, EC2A 2DU


If you like your gin with a dose of Victorian-style glamour, head to Worship Street Whistling Shop's underground bar near Liverpool Street. The cocktails are anything but antique, though – the boys at the helm pride themselves on using all sorts of weird and wonderful techniques to infuse their delicious drinks with a plethora of unconventional ingredients. Though, of course, if gin's your thing, you can try their range of almost 70 gins. Make ours a double.
The Trading House
89-91 Gresham St, EC2V 7NQ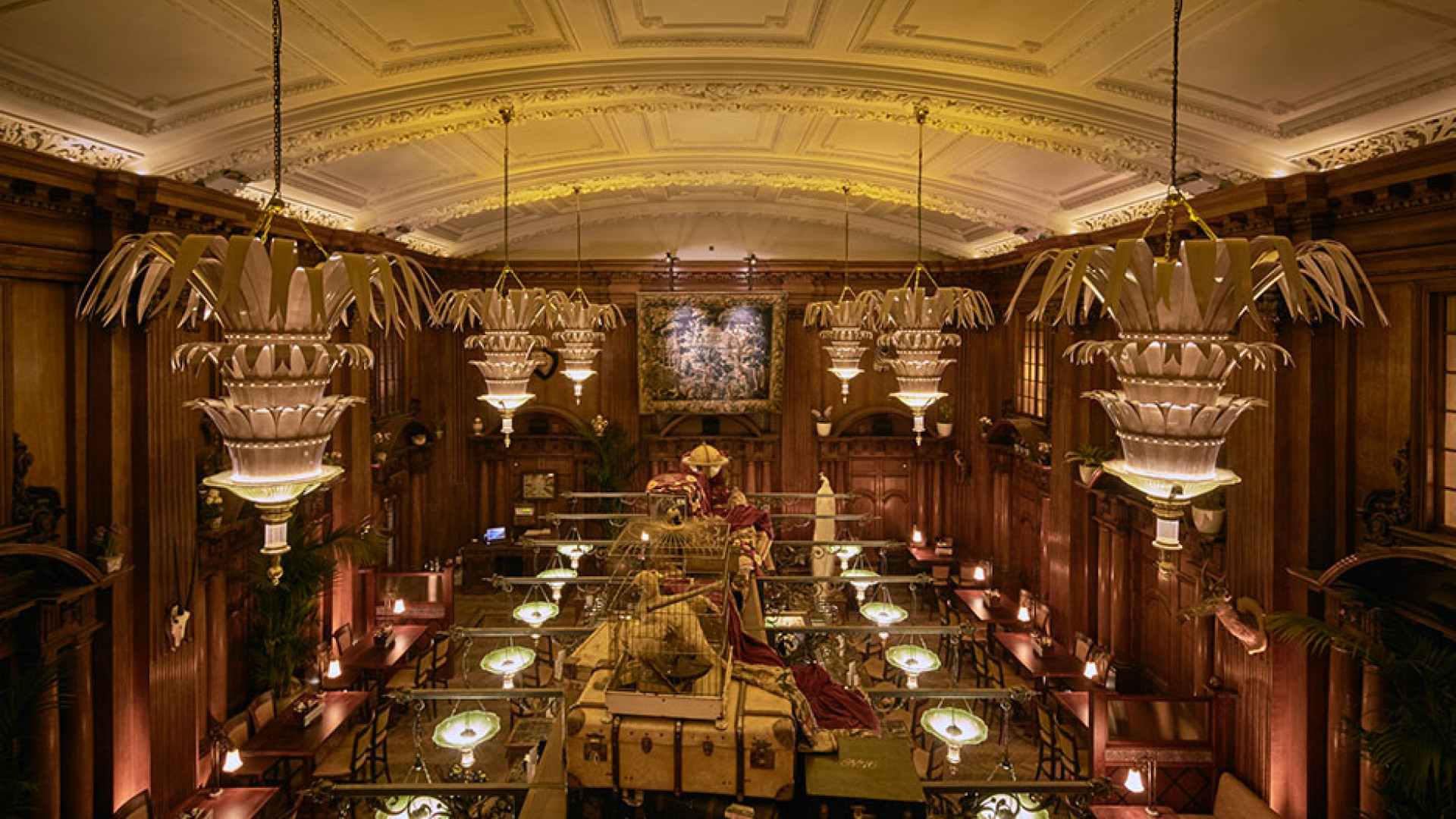 Housed in the old Bank of New Zealand, The Trading House recently broke the world record for the largest gin tasting ever held, albeit across multiple venues. The grand, wood-panelled venue is an homage to British eccentricity, with taxidermy curios and ornate chandeliers hanging from the stuccoed ceilings, making it the perfect place to sample its extensive gin list.
214 Bermondsey
214 Bermondsey St, SE1 3TQ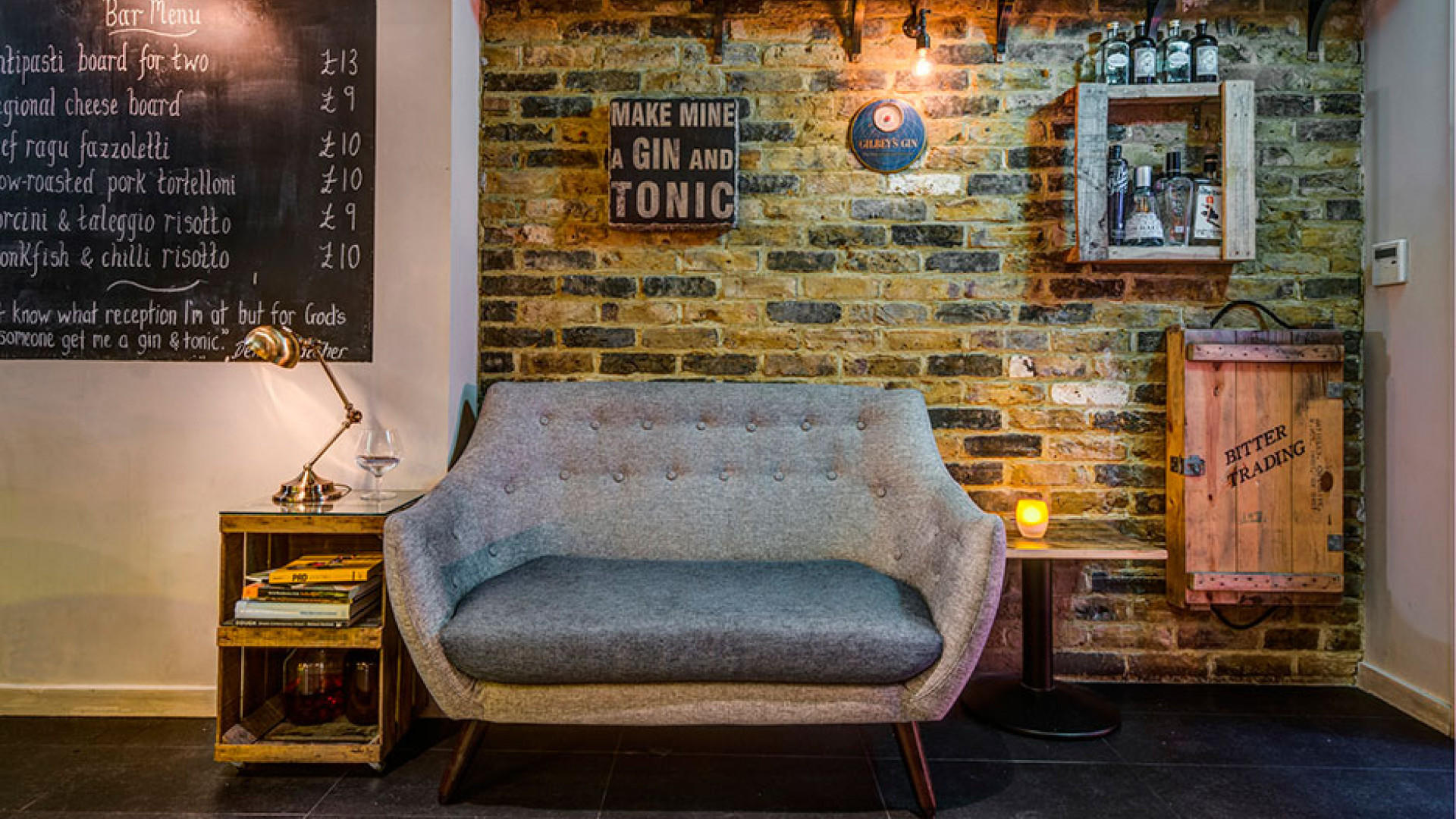 There are 80 gins on offer at 214 Bermondsey. That's right, 80. No matter how much a gin-lover you are, we strongly recommend against sampling them all at once, and suggest that you enlist the help of the bar's friendly staff to guide you when it comes to making a choice. 214 Bermondsey also makes its own tonic water, btw. It's called, er, BTW.
The Ivy
5 West Street, WC2H 9NQ
If you want to sip on cocktails built around the best-known alcoholic export of this historic city, it makes sense to do so in one of London's oldest and most iconic restaurants. The Ivy's bar has been frequented by drinkers great and good across its century-long history, so why not stop by to prop up its marble bar and sip the likes of the Martinez Dispenser (pictured), a Plymouth Gin cocktail that comes in a giant blown-glass vessel with its own tap.
Rivington
178 Greenwich High Road, SE10 8NN
As one of Greenwich's must-visit destinations, Rivington boasts a particularly well-stocked bar menu, which includes a range of bloody marys and an eye-watering list of gins. This summer, you can take it outside, too: it's hosting a dedicated, nautical-themed Plymouth Gin terrace, with its own menu dedicated to the historic British brand.
Punch Room
London EDITION, 10 Berners Street, W1T 3NP
In many ways, the Punch Room takes care of pretty much every hallmark of London's world-leading bar scene: it's small, it's underground, it's in a beautiful hotel and, above all, it serves an incredible menu of carefully crafted cocktails, including the A La Romaine, one of its signature punches, made with Plymouth Gin, dry curaçao, lemon foam, whole-leaf green tea and Ruinart champagne.
Searcys at The Gherkin
30 St Mary Axe, EC3A 8EP
Whether you work in the City or not, this magnificent bar at the very top of one of the most iconic skyscrapers of London's skyline is always going to be an impressive destination for a cocktail. Grab a friend (or a date), ride up the 39 floors to Searcys and bag a table that looks out onto across the city, while drinking one of its signature serves.
Nightjar
129 City Road, EC1V 1JB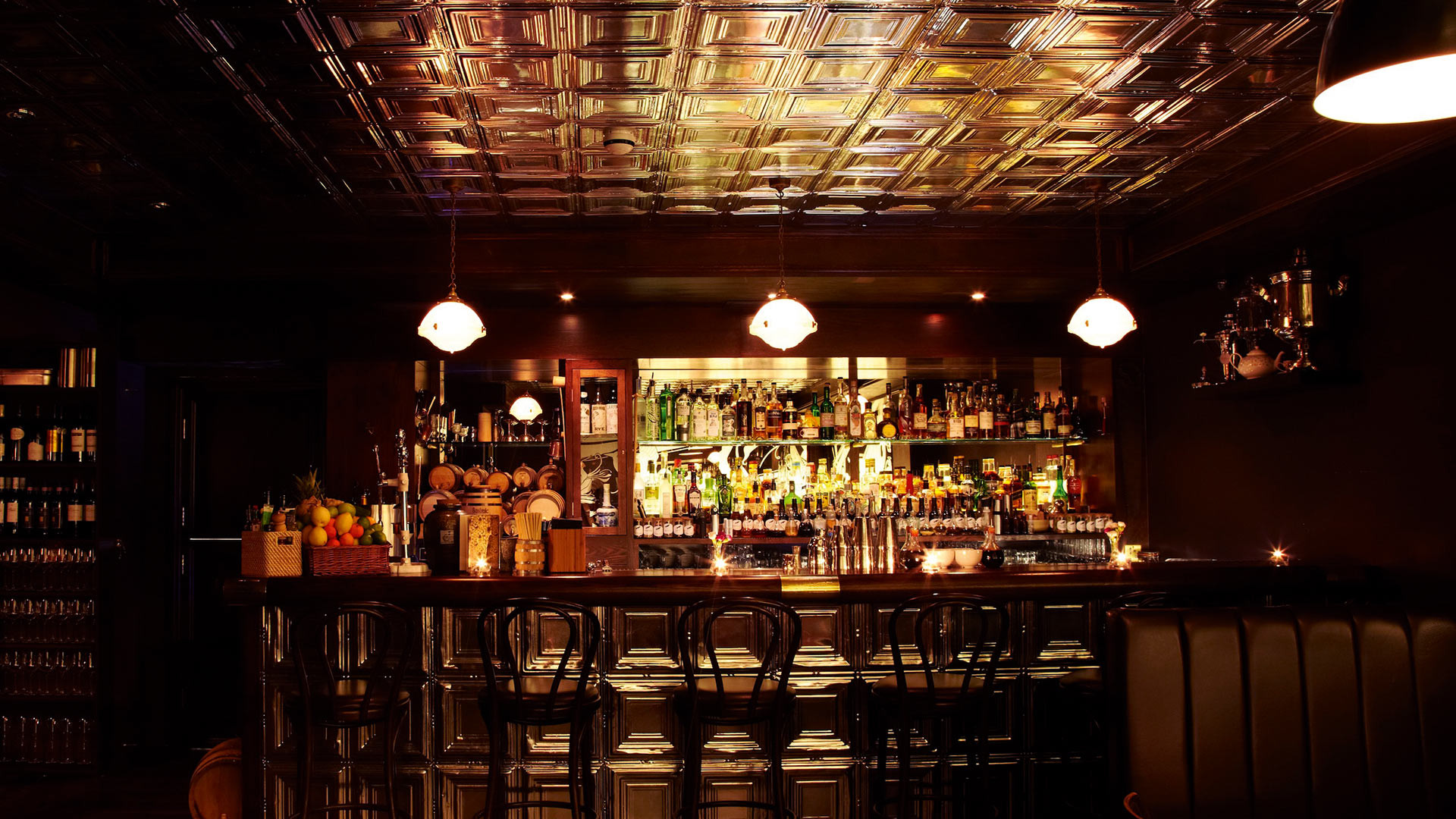 There are a lot of reasons that the almost unassuming Nightjar (accessible only by an unmarked door on City Road) climbed to its highest position of third on the World's 50 Best Bars list, but the most obvious is this: its drinks are some of the best and most creative in the city. If you can get a table at the bar, do so, and watch the bar staff work their magic on the Prohibition-themed menu.