Make Alex Head's grilled summer peaches
Slightly charred, warm and juicy, these grilled peaches make the perfect sweet end to a barbecue in the summer sun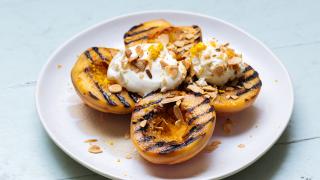 Serves 4
Preparation time 5 mins
Cooking time 10mins
Ingredients
4 fresh peaches
2 tbsp light brown sugar
½ tsp ground cinnamon
50g flaked almonds
Vegetable oil, for brushing
To serve
4 tbsp Coconut yoghurt
A good drizzle of honey
Method
Toast the flaked almonds in a dry saucepan on a low heat until lightly browned; this can be done in advance and set aside until serving. (tip: I'll often do a big batch at one time as they're also great for sprinkling over porridge or salad).
In a small bowl, combine the sugar and cinnamon.
Cut the peaches in half and remove the stone.
Brush the peaches with oil, ensuring the cut sides are well coated.
Place the peaches cut side down on your BBQ until grill marks form. Turn the halves over and sprinkle with the sugar and cinnamon. This will melt onto the peaches.
Grill until softened and well-marked. If you need to finish them off in the oven, cook them at 150°C fan for an additional 5 or 10 mins or until cooked through.
Serve on a plate with a spoonful of coconut yogurt, a drizzle of honey and a sprinkle of toasted almonds.
Enjoy hot or cold.