When it comes to home cooking, there are two camps. Those who do: the confident lot that have three generations at their backs, egging them on and letting them know exactly which spice will go with which herb. Then there are those who don't, really: the pasta perfectionists, the time-poor busybodies going in for the speedy chicken satay or instant ramen, who cosy up to the die-hard believers in "If M&S doesn't do it, it's not worth doing it at all".
No matter which camp you fall into, one thing's for sure: all of us could do with some of that good old insider knowledge, and a smattering of helpful hints and handy tips on how to take your home cooking skills from "Sorry, I'm busy. When is it?" to "You're cooking tonight?! I'll cancel all my plans right now, including that flight to my sister's wedding."
Which is where this guide comes in. We've spoken to some of the best cookery writers, chefs and general food scions in London to find out how you can take your home cooking to the next level and be a more instinctive cook. We're not saying that everyone will go to such lengths as cancelling a flight just to break bread over your unbeatable Moroccan-inspired tagine, but after reading this, a few just might.
How to master the non-alcoholic serve
Redemption Bar
Founders Catherine Salway and Andrea Waters on ways to get imaginative with non-alcoholic drinks
Being creative with booze-free drinks is our speciality. After all, why should socialising with friends always involves copious amounts of alcohol? We tend to use complex flavours to create non-alcoholic drinks for grown-ups inspired by our travels across the globe. Yuzu is a wonderful, distinctive Japanese citrus fruit with an aromatic rind, which we pair with fresh lychees (plus mint, ginger and coconut water) to make our lychee and yuzu 'martini'. Another idea is to pair rosemary and pomegranate and add alcohol-free sparkling wine (yes, it's a thing) to create a classy but booze-free version of a kir royale.
Our philosophy is 'spoil yourself without spoiling yourself', and we think it's really important that the experience delivers this in every way: gorgeous vintage glassware; colourful garnishes; copper barware; wonderful fragrances and even great music to go alongside your serves. When all this comes together, your brain's reward centre is enticed and satiated without the lows: no banging headaches or wondering what happened when morning rolls around.
Andrea Waters and Catherine Salway's book 'Redemption Bar' is out now
Easy ways to throw a flexi-friendly dinner party
Sabrina Ghayour
The chef and writer tells us how to embrace a flexitarian lifestyle
Cutting meat out of a meal is never an easy thing for a Persian or Middle Eastern cook to have to do. In many Eastern cultures, absence of meat represented times of poverty, war or famine, so when times had improved, being able to afford meat represented a turning point in life and meant that life was good.
I am no vegetarian and nor do I ever see myself as one – however, as I get older I find myself struggling when eating too much meat. We are globally guilty of meat-overload and that is why I try and cook less of it at home and only really eat meat when I crave it (and usually, when I can get well-reared meat).
People tend to get quite stressed if there is a vegetarian around and panic about what they should prepare. Instead of making something simple, they go out of their way to create something that is totally different to what the other guests are eating. I just think – why make your repertoire harder?
When faced with a group of diners who have mixed dietary preferences, to make life easier for myself, I put together a menu that everyone can eat so that nobody is singled out or feels like a burden. This is a really cultural thing for me: I feel that every individual guest must always be cared for and catered to with the same generosity as everyone else.
I like to serve up colourful, seasonal salads, adding nuts and fresh fruit into them for substance; spice-roasted vegetables finished with warm dressings and perhaps crumbled with feta; stews made with pulses and spiced sauces, frittatas of any and every description; lovely grains such as rice, bulgar wheat or freekeh (smoked young green wheat) tossed with olive oil, herbs, spices and dried chopped fruit, nuts and even pomegranate seeds... I mean, come on – even the most die-hard carnivores wouldn't be left wanting with a menu like that.
The one piece of advice that I would give you would be to not announce that your menu is meatless in advance. Sometimes telling meat-eaters up front that there is no meat on the menu can sow the seeds that perhaps they won't be satisfied. Instead, do what I do, and make 'good food' instead of 'vegan food' or 'vegetarian food', choose simple things with lovely fresh flavours, and do multiple dishes so there is colour and variety.
'Bazaar: Fresh, Flavourful & Deeply Satisfying Vegetarian Recipes for Every Occasion' will be published in April 2019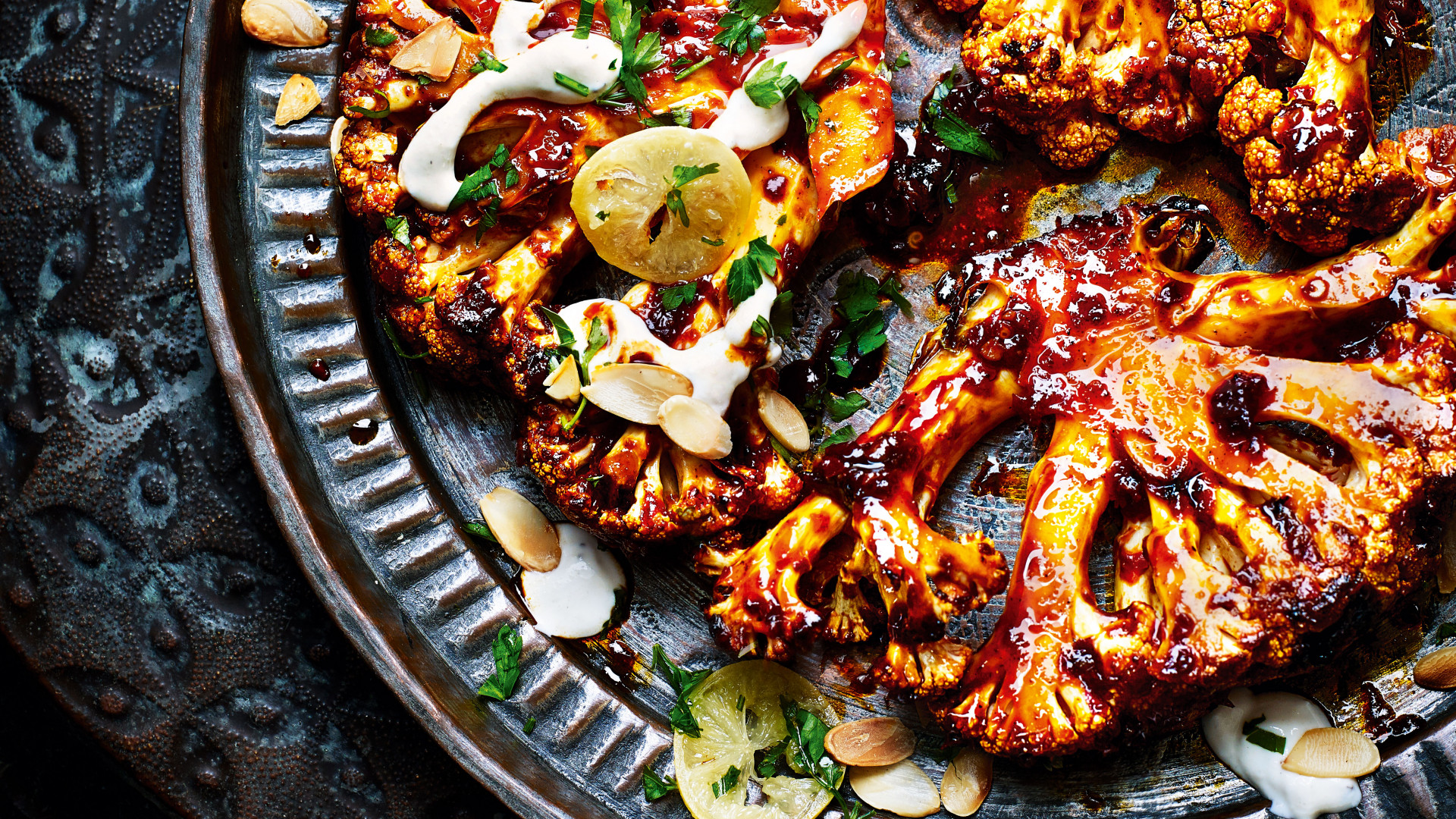 Quick tips for flavour-packed food
Mallika Basu
Kitchen shortcuts for time-poor home cooks from the author and columnist
Ambitious home cooking for the time-poor is basically the story of my life. I rarely ever get home from the office before 7pm, if not later, or am working from home, so easy shortcuts are absolutely integral to my life. Spices, of course, provide the most almighty shortcut for a flavour hit when time is of the essence. Combine with freshly frozen vegetables like spinach and store-cupboard ingredients such as chickpeas and tinned tomatoes for a quick-fix chana saag. Topping fish fillets generously with chilli powder and turmeric powder, lime juice and salt before grilling is another regular late-night spice hit in my home.
A well-utilised freezer is a boon. Curry leaves, fresh herbs such as coriander and mint, green chillies and fresh coconut can all be frozen for meals that transport you to more exotic climes after a long day's work. I am also a big fan of gadgets. My smoothie maker, for instance, often spends the night housing vinegar water to rid it of the aroma of whatever curry paste it has just blitzed for me. You can use this for marinades, curry sauces and even turn some of your frozen herbs and green chillies into explosive chutneys.
Mallika's book 'Masala: Indian Cooking for Busy Living' is out now
Hints and tricks for better bakes
Benjamina Ebuehi
Tricks for raising your home-baking game from the co-founder of The Sister Table and GBBO star
I love a more minimal approach to food presentation and believe you shouldn't have to add all the bells and whistles to make home bakes look impressive. A simple, stripped-back approach can be just, if not more, effective. A little dusting of icing sugar (which also hides any mishaps), a sprinkling of toasted flaked almonds or a generous pour of chocolate ganache can speak volumes.
You'd also be surprised at how switching up the shape of your tin can also take things up a notch. An intricate bundt tin comes in handy for turning even the simplest of sponges into a showstopper. Using a muffin pan without any liners gives an elegant twist (just ensure you grease and flour the cavities well).
When it comes to taste, I love taking basic trusted recipes to a new level by incorporating ingredients and spices that I'm currently obsessing over. Right now, I'm crazy for cardamom, with its fragrant, citrusy flavour. Try adding a teaspoon of crushed cardamom to your lemon drizzle for a fresh update on a classic, or play about with other spices like cinnamon which brings a welcome warmth to a chocolate cake. A dollop of tahini or any other nut butter swirled into your brownies adds an extra dose of indulgence, or try experimenting with texture by replacing some of the flour in a cake with ground almonds or ground hazelnuts. Little additions like these go a long way and can give your bakes a more professional feel with minimal effort.
Benjamina is co-founder of The Sister's Table; thesistertable.com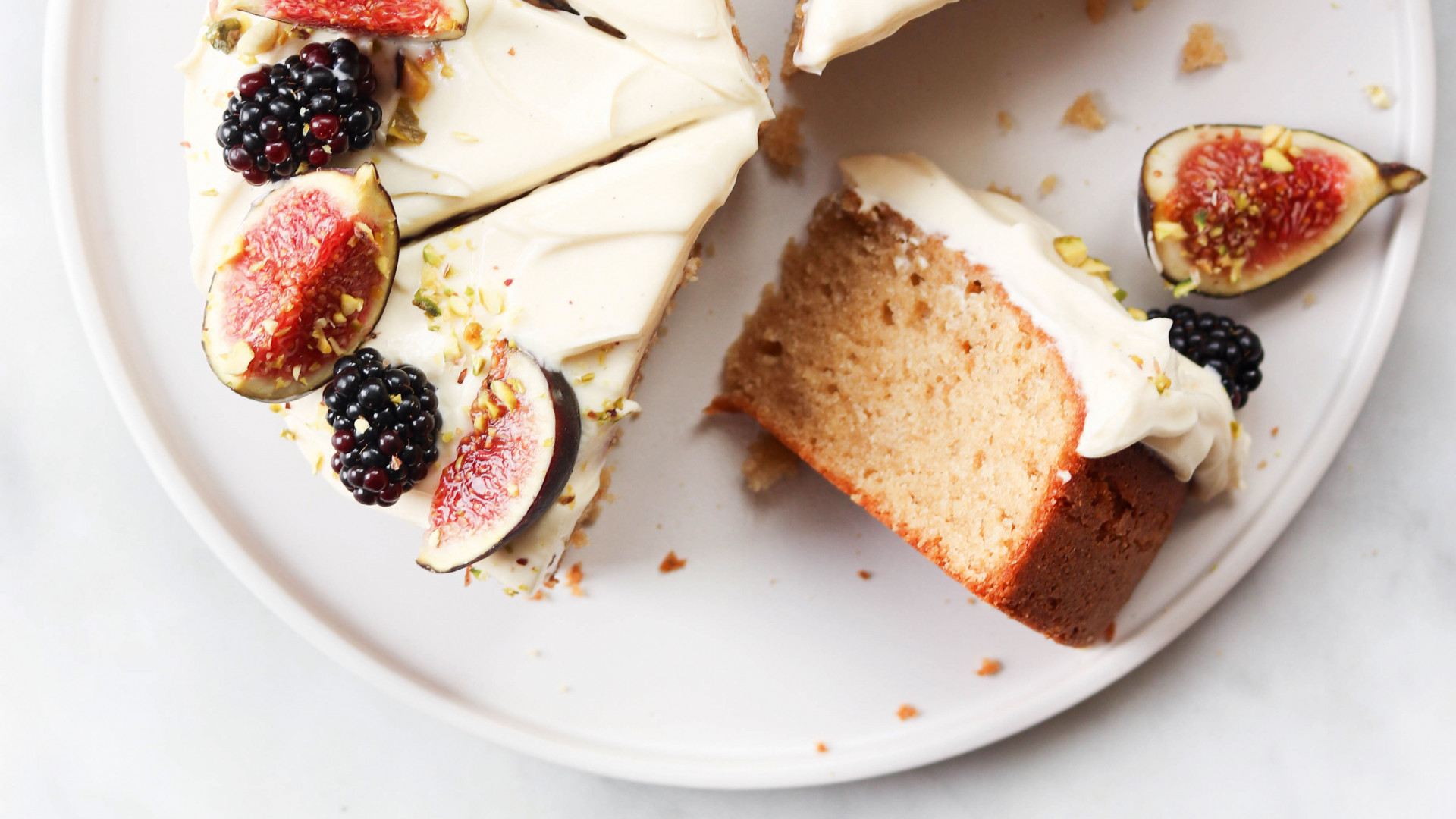 Why your instincts are your best culinary asset
Niki Segnit
The award-winning author explains how you can become a better cook by using your instincts
For as long as I had cooked, the Italian nonna – the principle of her, anyway – had been an exasperating presence at my shoulder. That stout, impatient matron, no longer young but foremost at the stove, arms folded and breathing soft, Cynar-scented disapproval on my neck. She cooked without written instruction. Seasoned by feel. Constructed a meal around a morning's market-haul of simple, perfect produce. Her instinct for food was marrow-deep, beyond thought, neurological. I hated her because I wanted to be her (culinarily, at least).
I taught myself to cook using recipe books. An ever-growing, crazily diverse collection of other people's knowledge. And it had made me into a recipe robot. An efficient one, admittedly, and one schooled in a vast breadth of cuisines, but for all the breadth, the depth was lacking. I was a superficial cook.
What I hadn't yet realised is that you can learn to be instinctive. Pick a dish and make it over and over again – until you no longer need the recipe. Once you've got the hang of it, start adapting the dish to your own tastes. Make it without scales. Make a few tweaks and turn it into a different dish. Embrace your mistakes: they're an indispensable part of the process. It's better to be a flawed Italian granny than a perfect robot.
Niki's new book, 'Lateral Cooking', is out now
How to make the most of your meat
Tim Wilson
The founder of The Ginger Pig suggests the best ways to store and cook meat at home
The first thing to do when you get meat home is to unwrap it before you store it in the fridge. If you have space, you ideally want to place the unwrapped meat on a plate away from cooked items and on the bottom (coldest) shelf. This allows air to circulate, preventing any bacteria from forming and prolonging shelf life. Never wrap meat in plastic (e.g. cling film), only ever use greaseproof paper if you have to wrap it.
The next key thing to remember is to take all meat out of fridge before cooking and bring it to room temperature. Not enough people do this and it's crucial to cooking and flavour as it relaxes the muscle – cold muscles are tense!
Once your meat is at room temperature, you're ready to cook, and when it comes to heat, the hotter the better. All meat, even for slow cooking, needs high heat for at least 20 minutes at the start. Heat seals the outer edges of the meat and stops the juices from running out – you want the juices in the middle of the meat to keep it succulent and full of flavour. For this reason, try to avoid grilling meat, as it just doesn't provide that hit of heat that you're after.
Don't mess around with the meat as you cook it. People tend to over-fuss and keep turning a steak or chop in the pan, but just let one side cook properly and then turn. It takes two or three minutes for a bond to form between the meat and the pan. After that time the fat will start to render and run out and then you can move the meat without tearing the surface.
Finally, don't underestimate the importance of fat in meat cooking. Never trim it off before you cook it, as it brings a wonderful depth of flavour and succulence that you otherwise won't get. If you aren't keen on eating it, you can always trim it off afterwards.
Family – the secret ingredient to all successful dishes?
Grand Dishes
Anastasia Miari and Iska Lupton on what we can learn from family recipes
Anastasia: Having spent the best part of this year cooking with grannies from all over the world, I've come to realise just how special it is for each of us to connect with our families through the special, time-perfected dishes of our grandmothers and their grandmothers before them.
My Greek Yiayia, the inspiration behind our cooking with granny mission, has always cooked from the heart. She'll spend hours in the kitchen, often preparing food the night before, to then welcome the children and grandchildren to devour it within minutes, before embarking on a shouty dispute across the table – pretty standard for a family dinner in Greece. For Yiayia, feeding our family is how she shows us she loves us and I have inherited this need to feed, to host and to share the special recipes that take me back to a place where I have felt most loved, at my grandmother's dining table.
Iska: Food and memory are intrinsically linked. Food has the power to stir emotion, bring great comfort and to ground us. My memories of my grandmother 'Lally' centre around food: from Marmite and cucumber on toast daily at 4pm and shiny fish and chips on Exmouth beach to the great Christmas Eve feast we have each year in tribute to my grandmother's German family. At this meal there are at least three varieties of German sausage, bratkartoffeln, sauerkraut and her famous red cabbage. It's served on a table with her own granny's white linen cloth and copious candles. The scents, sounds, textures and the anticipation associated with this meal will never leave me.
Every grandmother we've met cooks something with a history. They let us into their own memories so that we can share their stories and capture the recipes that risk being lost forever.
Pledge to the Grand Dishes' cookbook crowdfund at granddishes.com