Moderation is key. We know that. You know that. Even doctors know that (it's one of the many "secret tricks" they've been hiding from us). But you know what else? Sometimes moderation needs to be thrown out the goddamn window. Sometimes you need to throw caution to the wind and just live, man.
London is a city bursting at the seams with excess and indulgence, and to spend your entire life here without, at the very least, dabbling in the capital's decadence would be an absolute crime. Our favourite means of pushing the boundaries is, of course, via our stomachs. Specifically through the consumption of incredibly rich and over-the-top culinary delights. It's legal, it's delicious, and the worst thing you'll wake up feeling the following day is uncomfortably full.
Gluttony obviously shouldn't ever become a common occurrence in one's life but neither should calorie counting. Living in fear of fats and carbs is just a one-way ticket to getting yourself in a massive sad. Tucking into something louche for lunch is the antidote to that: both the perfect pick-me-up for when you've been socked in the face by a bag of lemons by Corporal Life and an equally ample way to celebrate those rare moments when Life's giving you lemonade on tap.
Velvety mash with a 50:50 butter-to-potato ratio, burgers that spill half their delicious innards all over your hands. Deep. Fried. Oreos. Food that errs to the side of "a bit too much" can sometimes hit the spot in a way that nothing else can. Without further ado, here are some of the most indulgent dishes you can get in London. For those days where you just don't give a damn.
Whole fry Sundays at Chick'n'Sours
390 Kingsland Road, E8 4AA; £25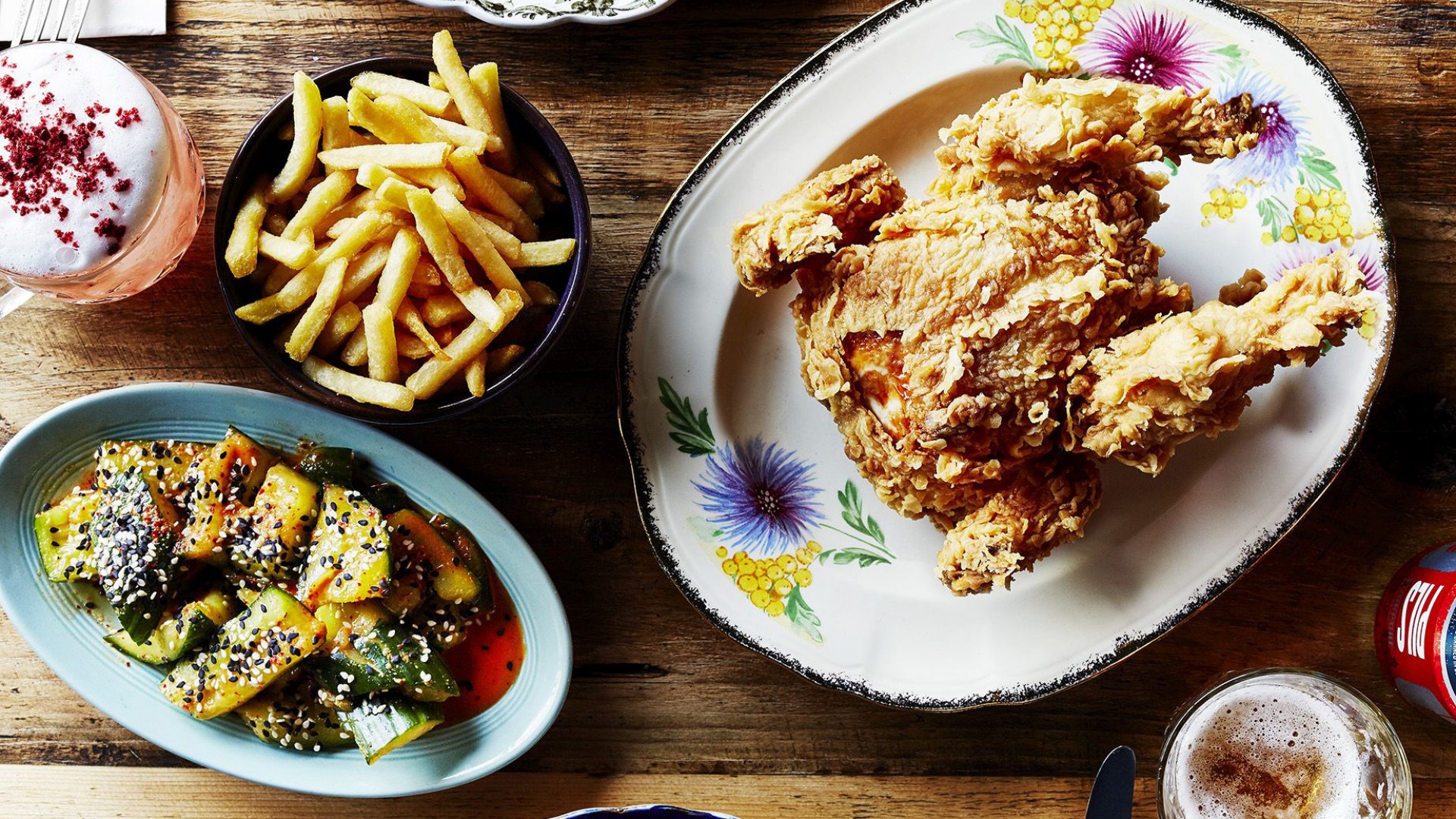 That's right, a whole fried chicken. An entire chicken deep fried. Just in case you weren't already sure that it was going to be delicious (which it is), let us also inform you all the chickens are free-range, herb-fed birds from Yorkshire. Which means they're fairly happy as chooks go. If you're feeling abstemious you can have your whole chicken naked, but what you should really do is have it with chilli vinegar, gochujang mayo and a side order of Chick'n'Sours' signature pickled watermelon salad.
Oreo doughnuts at The Blues Kitchen
40 Acre Lane, SW2 5SP; £6.50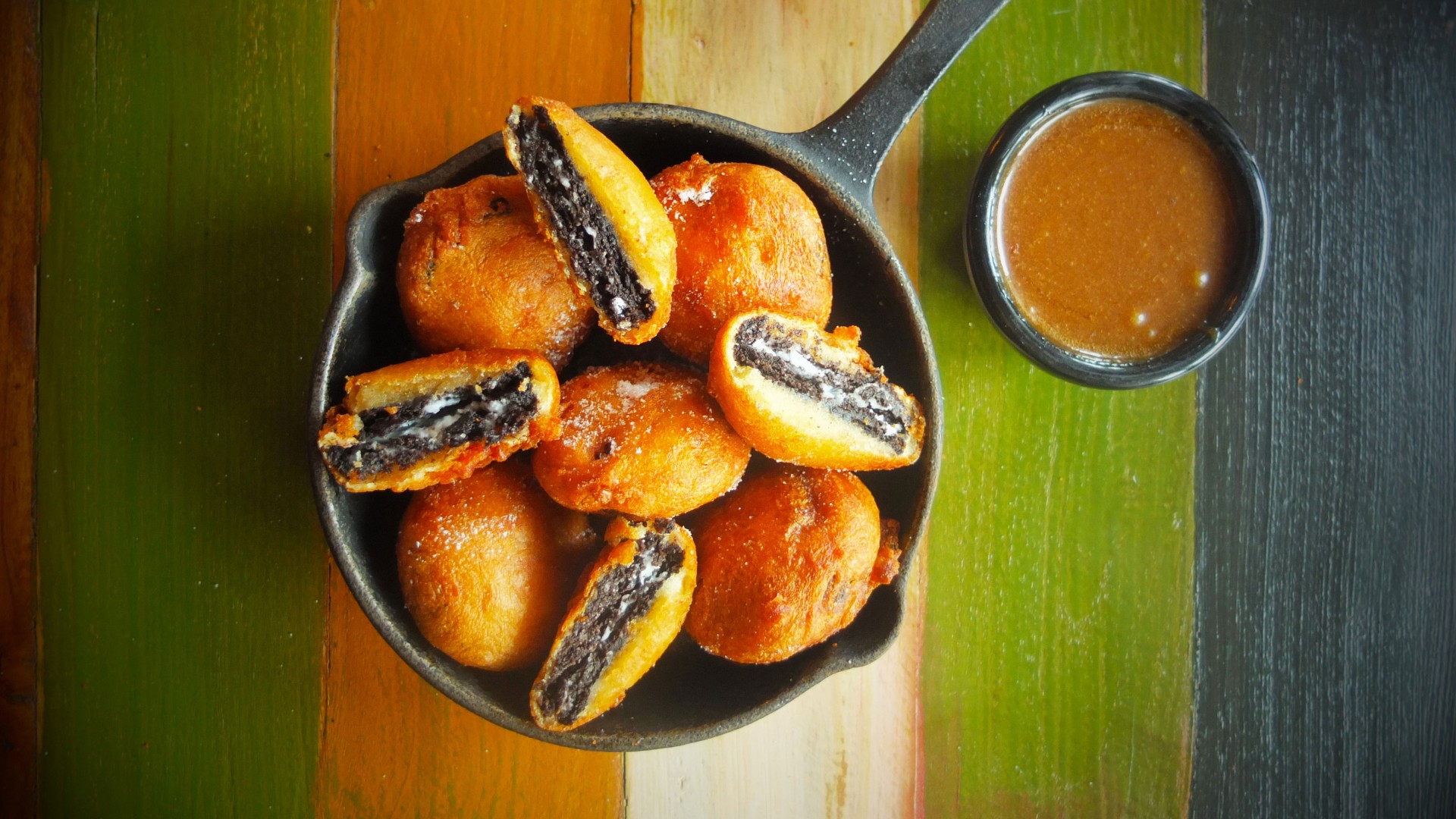 Just when we thought oreos couldn't get any better, The Blues Kitchen goes and deep fries them in batter to create wickedly delicious biscuit-sized bites. The kicker? They're served with a salted caramel dip. Double stuffed eat your heart out.
Deep-fried Mars Bar sundae at Mac & Wild
65 Great Titchfield Street, W1W 7PS; £7
Many think it's a shame that the battered Mars bar is one of Scotland's most well-known dishes. We think it's something of a testament to the nation, considering the dish's pure, artery-clogging genius. Scottish restaurant Mac & Wild takes that chip shop classic one step further by drowning deep fried Mars bar bites with Mackie's milk ice cream, whisky toffee sauce and topping them with candied bacon pieces. Filthy.
Dead Hippie Burger at MEATLIQUOR
79 Welbeck St, W1G 0BA; £8.50


MeatLiquor's signature burger is so well-known that it hardly needs an introduction – two mustard-fried patties and special Dead Hippie sauce, topped with stacks of lettuce, cheese, pickles and minced white onions. Chewing gum, anyone?
Hamish Macbeth Toastie at Deeney's
Various locations; £5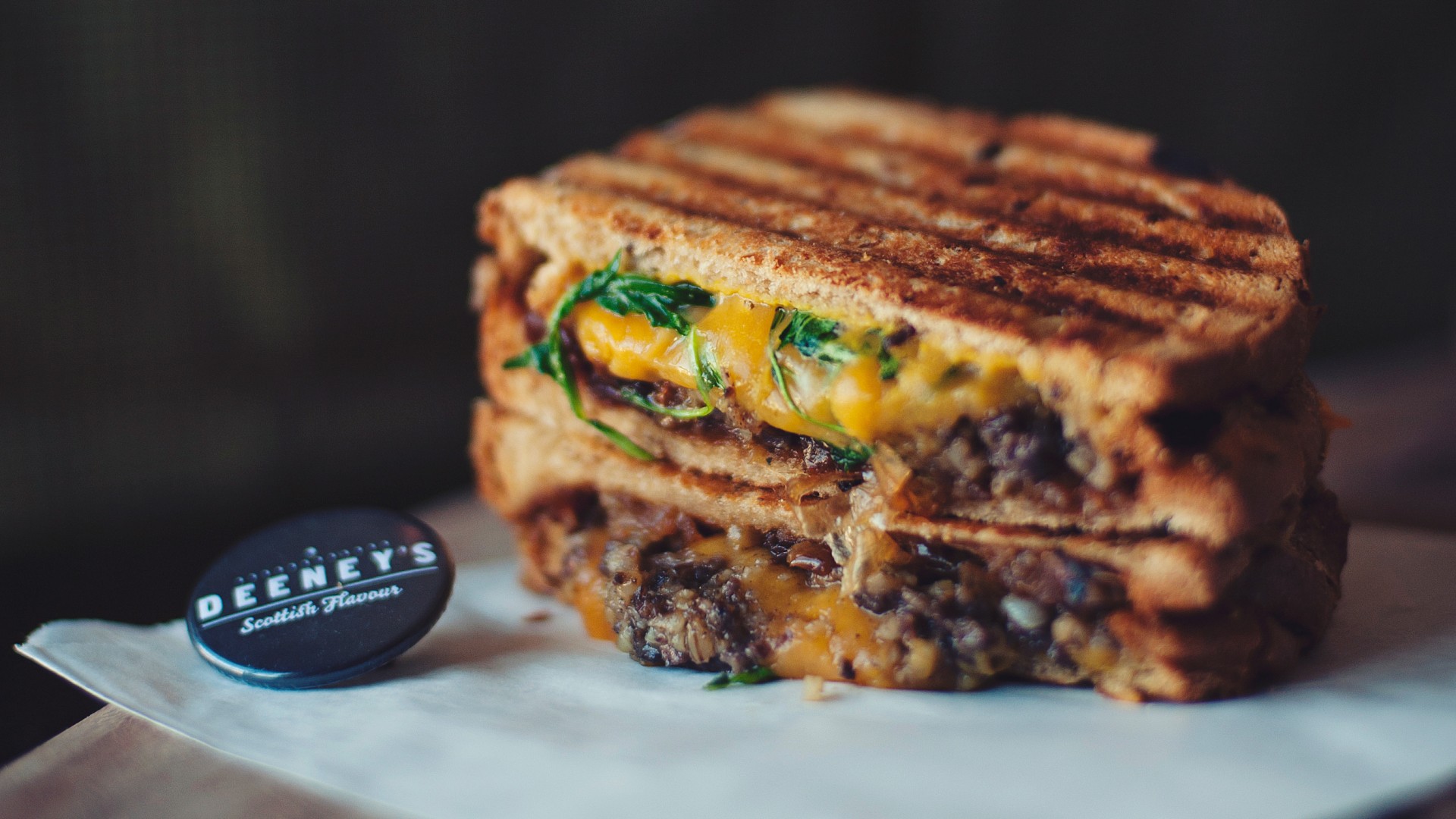 Turns out the Scottish are pretty good at this indulgent food stuff. Deeney's cult Macbeth toastie is made up of two thick slices of bread stuffed with haggis, cheese and greens and then fried until the cheese become a glorious golden, oozing mess that's just as likely to end up spilled down your front as it is in your mouth. Yum. Want more? Upgrade to the Hamish Macbeth with smoky bacon for an extra £3.
Belted Galloway mince on dripping toast at The Quality Chop House
88-94 Farringdon Road, EC1R 3EA; £22 for two courses
Ah, mince on toast. That well-known British classic. Well, sort of. Arguments about whether the dish is something that British people actually eat has made some pretty large rifts through London's food media. By which we mean some people got a bit upset about a headline online. What's not up for debate is that the Belted Galloway mince on dripping toast at The Quality Chop House is one of the richest, most decadent dishes in the city. Available as part of the main course section of East London institution's set-lunch menu, this meaty boy provides umami flavour to the max. Just thinking about it makes the back of our tongues start to well up in salivary excitement.
La Gran Carbonara at Gloria Trattoria
54-56 Great Eastern Street, EC2A 3QR; £16 per person
This ain't your gran's carbonara. It's bigger, better, and if an octogenarian were to actually try and eat a bowl of it, we're pretty sure they would go into immediate cardiac arrest. And die. Designed for two to consume, the home-made spaghetti chitarra is served and twirled at table side in a whole round of pecorino. It's the sort of pasta dish – dotted with crispy guanciale, egg yolk and a lot of pepper – that makes us pity anyone who adheres to the keto diet. Or any diet at all for that matter. Live and let live, is what we say.
Glazed Omelette 'Lobster Thermidor' at Kerridge's Bar & Grill
No.10 Northumberland Avenue, WC2N 5AE; £29.50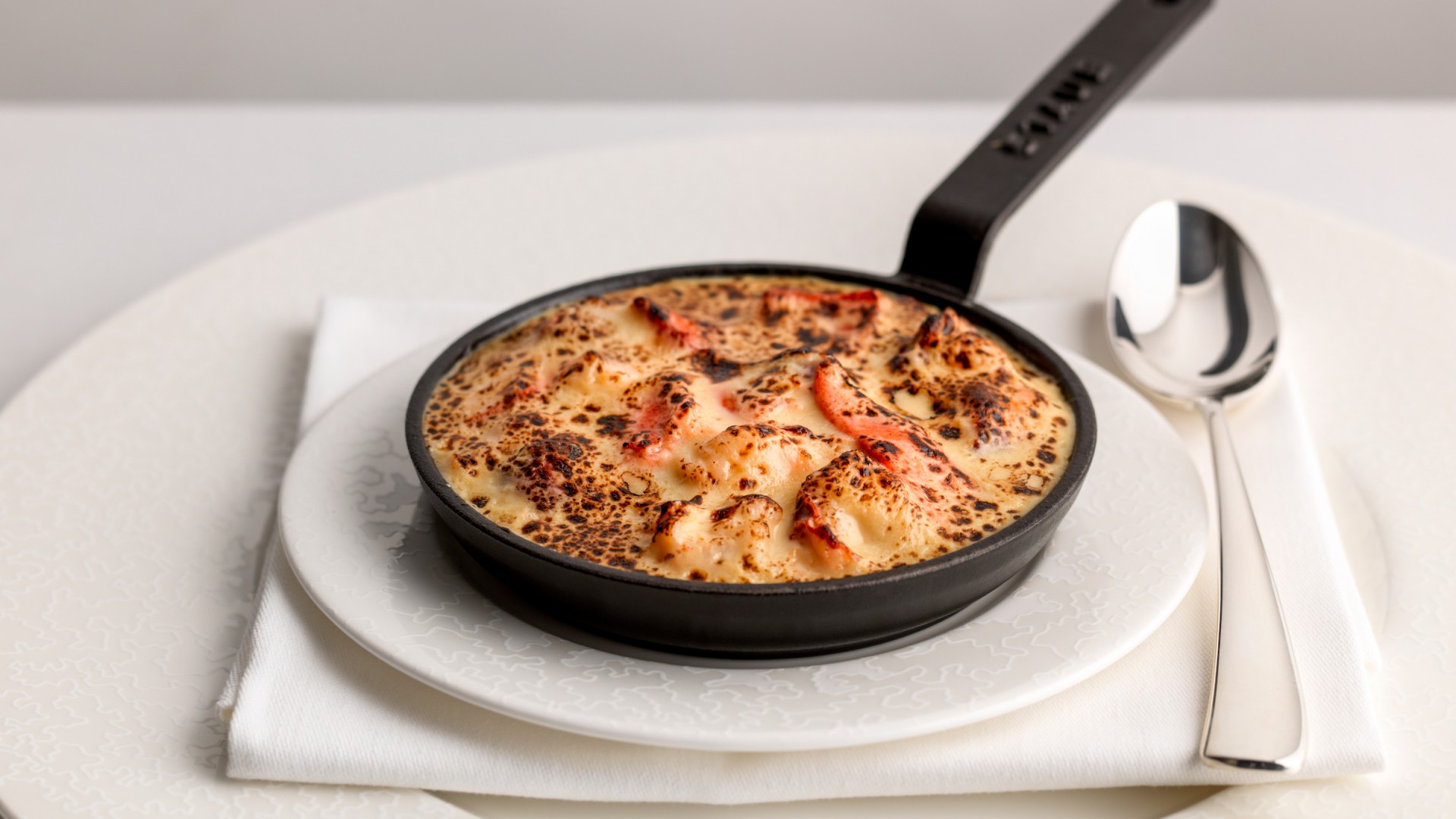 The Corinthia Hotel is already a pretty indulgent place that successfully delivers a fairly indulgent experience to anyone who eats there. But how does a place like that (with a chef like Tom Kerridge) go about making an omelette extra indulgent? Why, they simply add a whole lot of lobster to it, of course. The glazed lobster thermidor omelette at Kerridge's Bar & Grill is without a doubt the most 'grammed item on the menu. It's also the definition of the word unctuous and not just a pretty face.
Bone marrow mash at Pitt Cue
1 The Avenue, Devonshire Square, EC2M 4YP; £5
The grilled and smoked meats at Pitt Cue are simply fantastic. Each hunk of animal at the premises is kissed with just the right amount of char and flavour. So it goes without saying that the cured and smoked pig's jowl and beef neck are, in their own right, indulgent dishes. The real king of indulgence at this East London meatery, however, resides in the sides section. Pitt cue's bone marrow mash is hefty, pillowy, and beefy. Three adverbs we bloody love. Spoon it straight from the ramekin into the deepest recesses of your soul for a spiritual spud experience.
L'Oeuf de Poule at L'Atelier du Joël Robuchon
13-15 West Street, WC2 H9NE; £38
Indulgence ain't cheap. Eating a lot of decadent dishes can take a fairly hefty toll on your cholesterol levels and your wallet. The L'Oeuf de Poule at Joël Robuchon will do a number on both. But you won't care. Crispy soft-boiled egg is surrounded by a summoning circle of smoked salmon and a mountain of Oscietra caviar. The real challenge isn't convincing yourself it's worth the money, it's trying to prevent your eyes from closing in bliss as you indulge in the dippy egg of your dreams.
Lobster thermidor tart at Holborn Dining Room
No. 252 High Holborn, WC1V 7EN; £18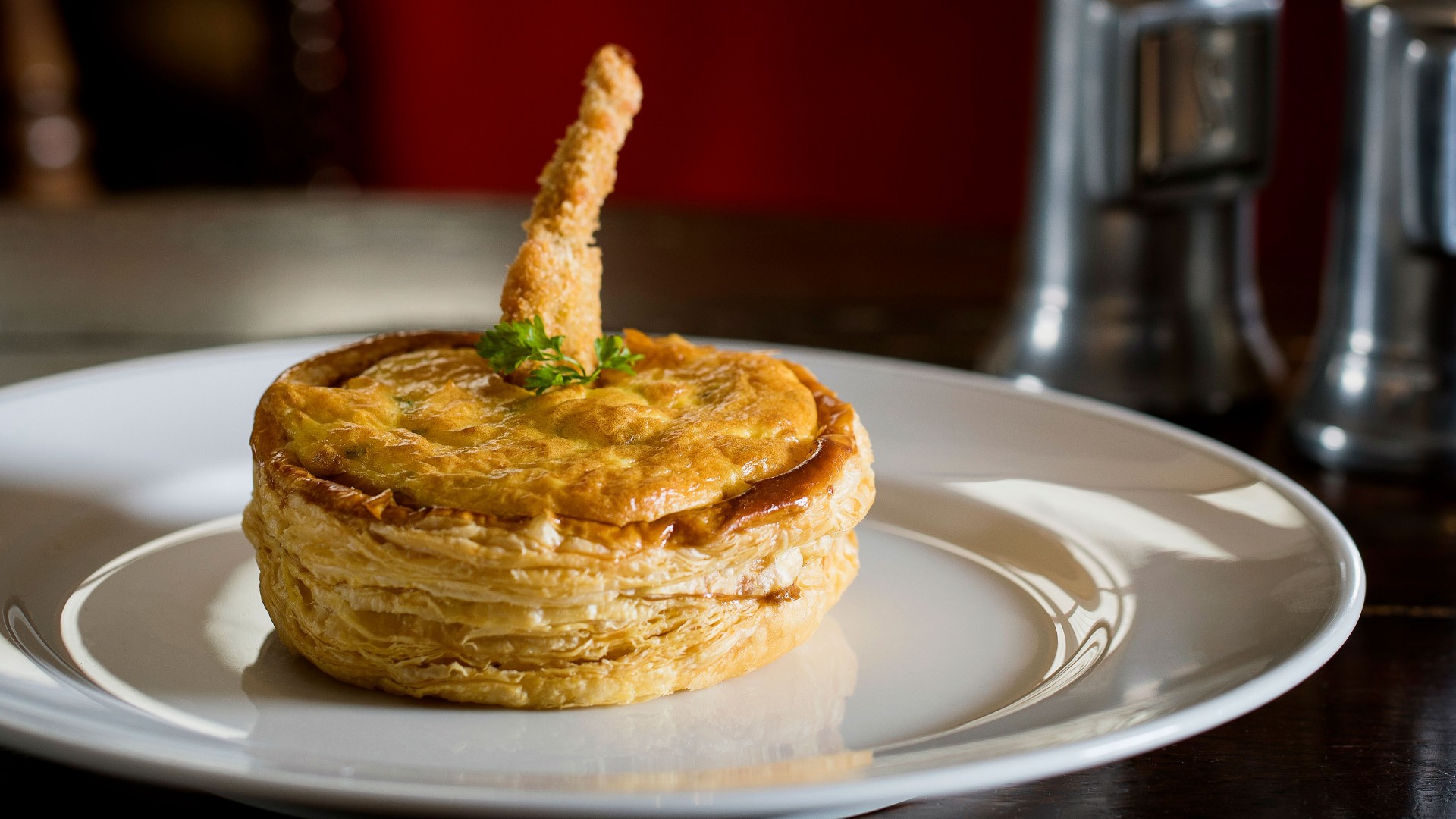 A flaky-as-your-unreliable-best-mate pastry crust surrounds a smooth, rich and bisque-y tasting interior that practically blooms with chunks of soft lobster. The claw mast in the middle? That's just the crustacean cherry on top. No, this isn't a rustic tart. This isn't a homely pastry baked by your mother that causes you to well up with feelings of love and affection. This is pure, unadulterated lust.
Cronut at Dominique Ansel Bakery
17-21 Elizabeth Street, SW1W 9RP; £4.50
What do you get if you cross a doughnut with a croissant? A cronut. What do you get if you eat a cronut? Satisfaction. Dominique Ansel's signature pastries are about addictive as desserts come, yet still light and flaky enough that you won't feel weighed down after eating one. Which means you might as well have two. Is that a dangerous way to live? Possibly. Are we going to do it anyway? You betcha.
Knickerbocker Glory at The Colony
8 Balderton Street, W1K 6TF; £9.25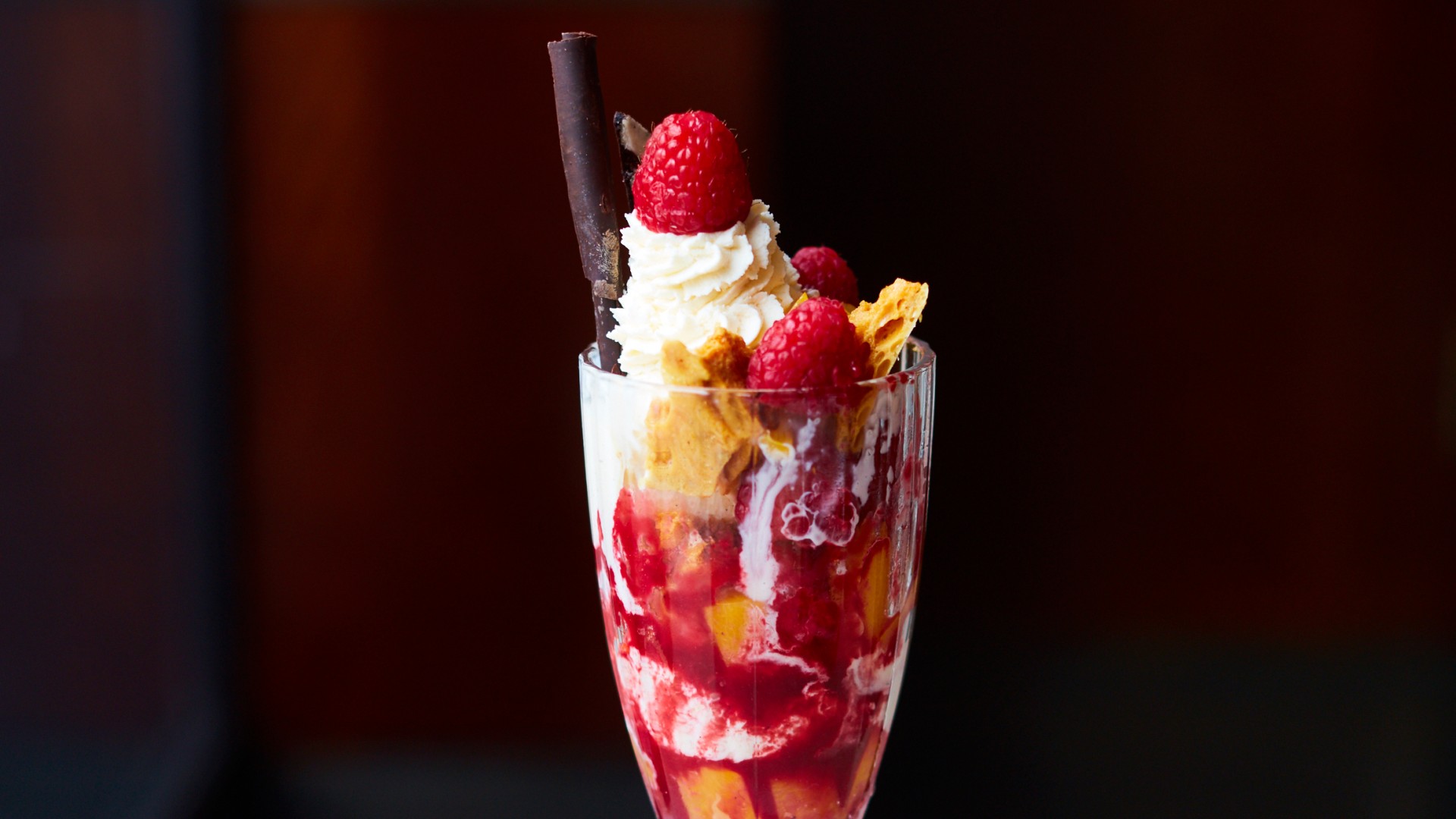 Desserts don't get much more British than a knickerbocker glory. And knickerbocker glorys don't get much better than the version of the iconic conical sundae they've got at The Colony. Although the restaurant's 'Damn Good Chocolate Tart' is, well, damn good, the experience of excavating fruit, ice cream, honeycomb and other goodies in the blind hope of attaining the perfectly balanced spoonful is hard to top.
Potted beef and bacon with Yorkshires at Hawksmoor
Various locations; £9.50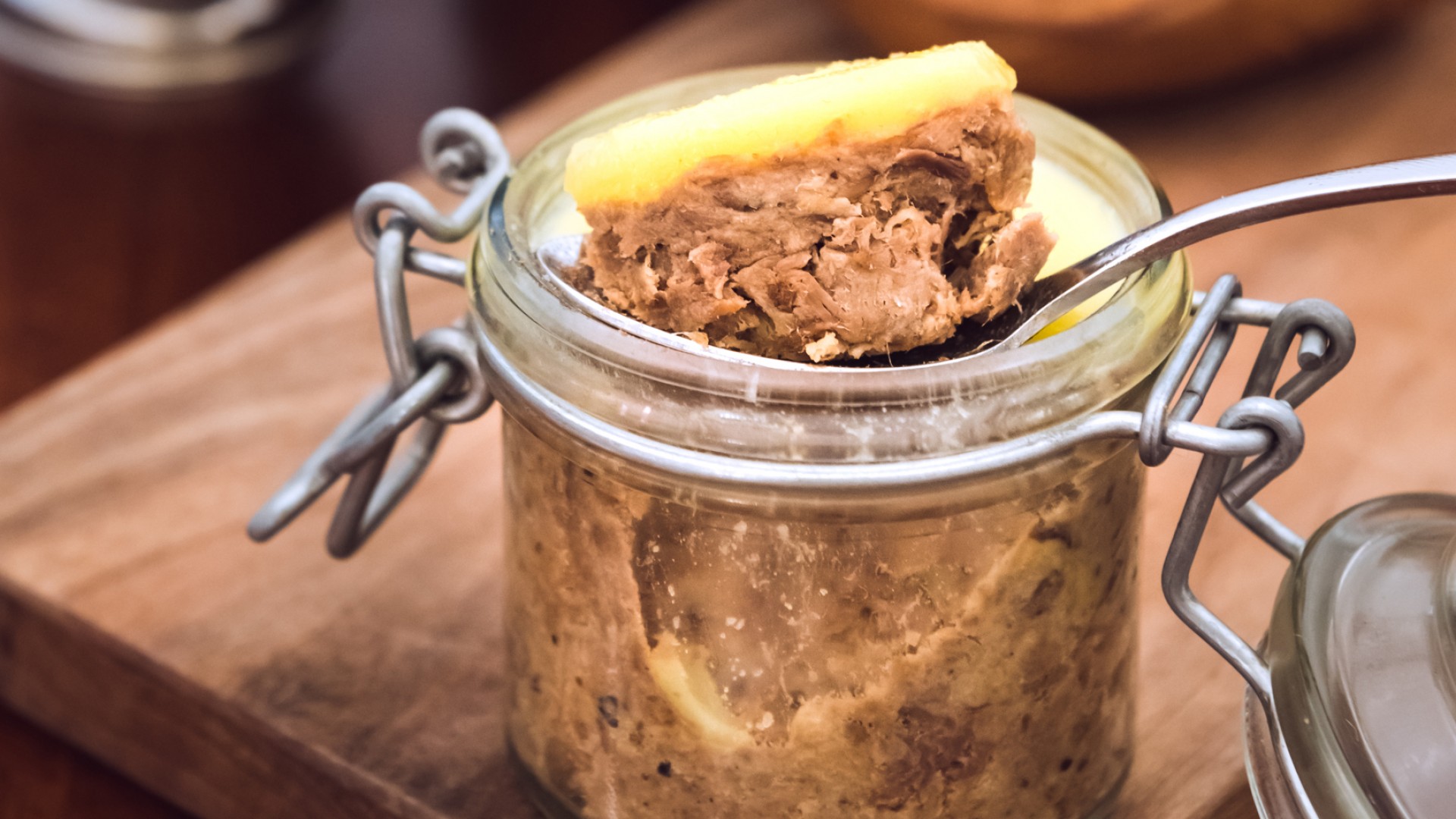 Choosing what to get along with your mandatory steak at a Hawksmoor can be a painful ordeal. Because, in case you've never noticed before (too distracted by the haunch-sized porterhouse perhaps?), Hawksmoor has got a hell of a lot of side dishes. When it comes to ultimate indulgence we'd forego all those steaks and sides and dip straight into the starters. Specifically the potted beef and bacon with Yorkshires. Spoon that rich meat spread onto a warm Yorkshire pudding, ladle on a generous amount of sticky onion gravy, and revel in the fact that your ten year old self at the Christmas dinner table would be awfully proud of you right now. Vegetables be damned, we want Yorkshires with every meal.
Kudu bread at Kudu
119 Queen's Road, SE15 2EZ; £9.5 for both butters
Kudu might have nabbed itself a Bib Gourmand just eight months after opening, but there's still a part of us that thinks if the only dish they ever served was 'Kudu Bread', the South African eatery would already have 3 Michelin stars by now. We love bread. So, rest assured that we eat a lot of it and that when we tell you that this is one of London's finest bread experiences, you best believe it. Partly because the bread itself is warm, fluffy and a joy to consume. But mainly because the melted butters that accompany it are absolutely worth decreasing your life expectancy over. You can choose between the melted lardon butter with sumac or the melted seafood butter with baby shrimp. Or, y'know, you can just do the right thing and get both.
East End pie and mash at Blacklock
30 Rivington Street, EC2A 3DZ; £8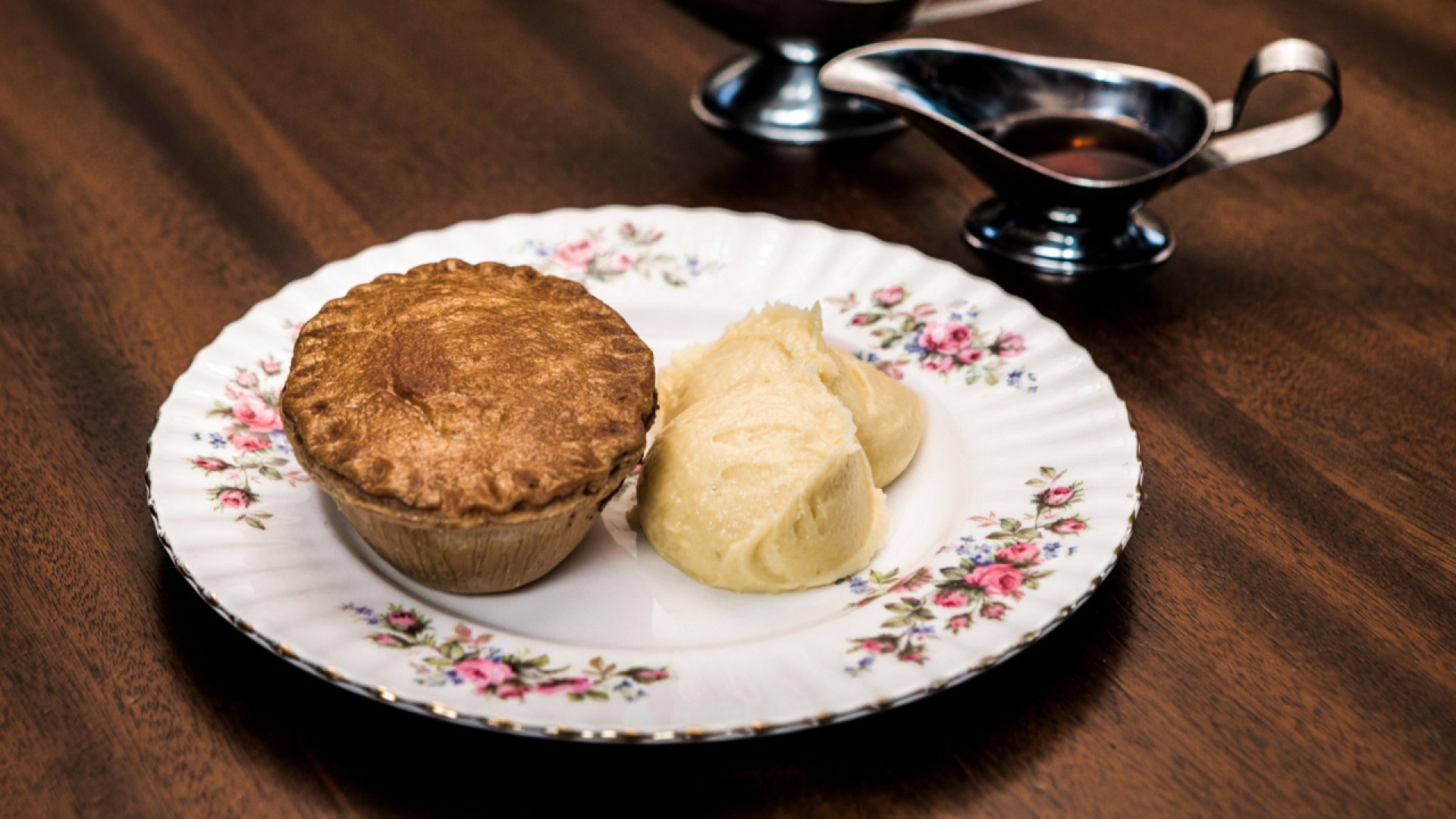 As part of its latest Worker's Lunch menu, Blacklock has got a range of dishes that make for a rather extra lunch time option. Perhaps the most extra of all (and thus our favourite of the lot) is the East End pie and mash. Buttery Cornish pastry encases aged beef and nuggets of bone marrow in this sexed-up version of the British classic. Served with a traditional glug of liquor and a softball of mash, it's a lunch-time pie that'll have you wanting a siesta rather than a return to office spreadsheets.
Foie gras doughnut at Black Axe Mangal
156 Canonbury Road, N1 2UP; £12.99
Doughnuts? Yep, we'd say they're a pretty indulgent foodstuff. And what about foie gras? Well – ethics aside – we'd say that definitely falls on the indulgent side of things, too. But doughnut sandwiches stuffed with foie gras and prune jam? They might just be the final boss of indulgence; richness personified in the palm of one's hands. Available at Black Axe Mangal, these nuggets of savoury opulence are a one-of-a-kind London eat and one of the best ways to remind yourself that indulgence doesn't always mean eating something that makes you feel sick afterwards. Indulgence can mean consuming something dainty between your forefinger and your thumb that makes you feel truly, utterly sexy.
Six-hour beef shin, reginette, gremolata at Pastaio
19 Ganton Street, W1F 9BN; £30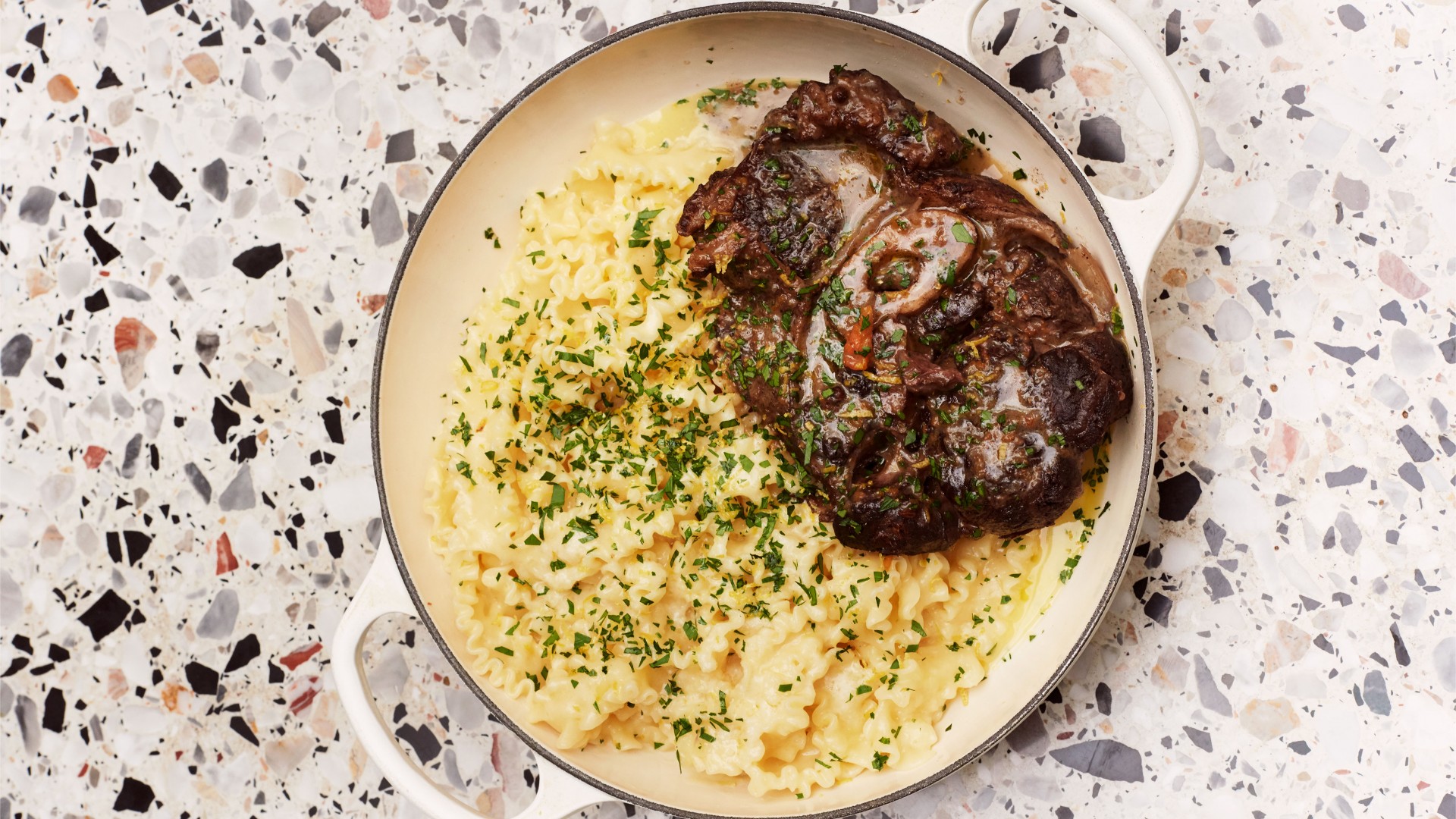 Pastaio and Joe Woodhouse
Pastaio recommends that you share this generous pasta portion between two to three people. We'd recommend you throw caution to the wind and just go H.A.M. on some of the best slow-cooked beef pasta in the city. The shin – slow-cooked in a red wine concoction for six hours – coats ribbons of reginette in bold, unvarnished beef flavour. Try and go through the whole meal without smacking your lips or ordering a glass of red for company. Life can be tough sometimes, but not when you've got pasta like this.
Omelette Arnold Bennett at The Wolseley
160 Piccadilly, W1J 9EB; £13.75
There's a reason that A.A. Gill wrote 'Breakfast at The Wolseley' – a book of essays that contained over 30 breakfast and patisserie recipes from The Wolseley. The reason was that the breakfast there is the absolute cat's pyjamas. Supposedly created for the novelist Arnold Bennett (we're getting a bit literature up in here, aren't we?), the omelette Arnold Bennet is a smoked haddock and hollandaise-heavy dream of a dish. Start the day with this and you'll bet set for a cat nap not soon after.
Lobster mac and cheese at Bob Bob Ricard
1 Upper James Street, W1F 9DF; £29.50
Having a button that says 'press for champagne' is a pretty surefire indicator that the restaurant you're at sits on the higher-end of the price scale. Don't even think for a moment that Bob Bob Ricard is going to be anything like what you'd call 'affordable' or 'thrifty'. You're going to need deep pockets to even think about dining here. Nonetheless, if you do fancy an exorbitant blowout – there aren't many better places to do it. Order the lobster mac and cheese for the ultimate high-low combo of decadence. Fresh lobster is deliciously drowned in cheesy waves of gruyere, cheddar, mozzarella and parmesan. Make sure you wait over an hour after you eat it before you go swimming after eating a trough of this.