Christmas hampers are far more than a twee tradition – these days they're packed with all kinds of treats that go way beyond your usual festive fare.
There are posh little numbers (see Corrigan's Christmas breakfast hamper with champagne and smoke salmon blinis); hampers filled with planet-fixing produce (Pipers Farm's Festive Treats box); and boozy baskets that are sure to add some sparkle to your Christmas Day (Bubbleshop's Festive Champagne Case). Not to mention they're a good way to support your favourite indy deli/wine shop/restaurant/delete as appropriate.
There's another wonderful thing about hampers: they're good to give, or they're good to just buy for yourself so you've readily got Christmassy treats on hand throughout the season. Someone coming over for tea? You'll have artisan mince pies ready to go. Going to a party? There'll be a bottle of festive fizz lying around.
In fact, when it comes to Christmas food and drink gifts, Christmas hampers tick all kinds of boxes. And they usually come with a lovely little basket, too. 
Read on for Foodism's pick of the best Christmas hampers
The most mouthwatering Christmas hampers for 2021
Corrigan's Christmas breakfast hamper [pictured above]
Talk about getting the day started with a bang – beloved Irish chef Richard Corrigan has put together a Christmas breakfast hamper that's sure to put a spring in your step (and possibly napping by lunch). This perfect parcel is packed with champagne, ham hock and foie gras terrine, a smoked salmon blini kit, hand-made mince pies and even a branded tea towel (and to wipe up all those crumbs). Two lucky randomly chosen customers will get a 25g tin Oscietra Caviar inside their hamper too – ooft. 
Bubbleshop Festive Champagne Case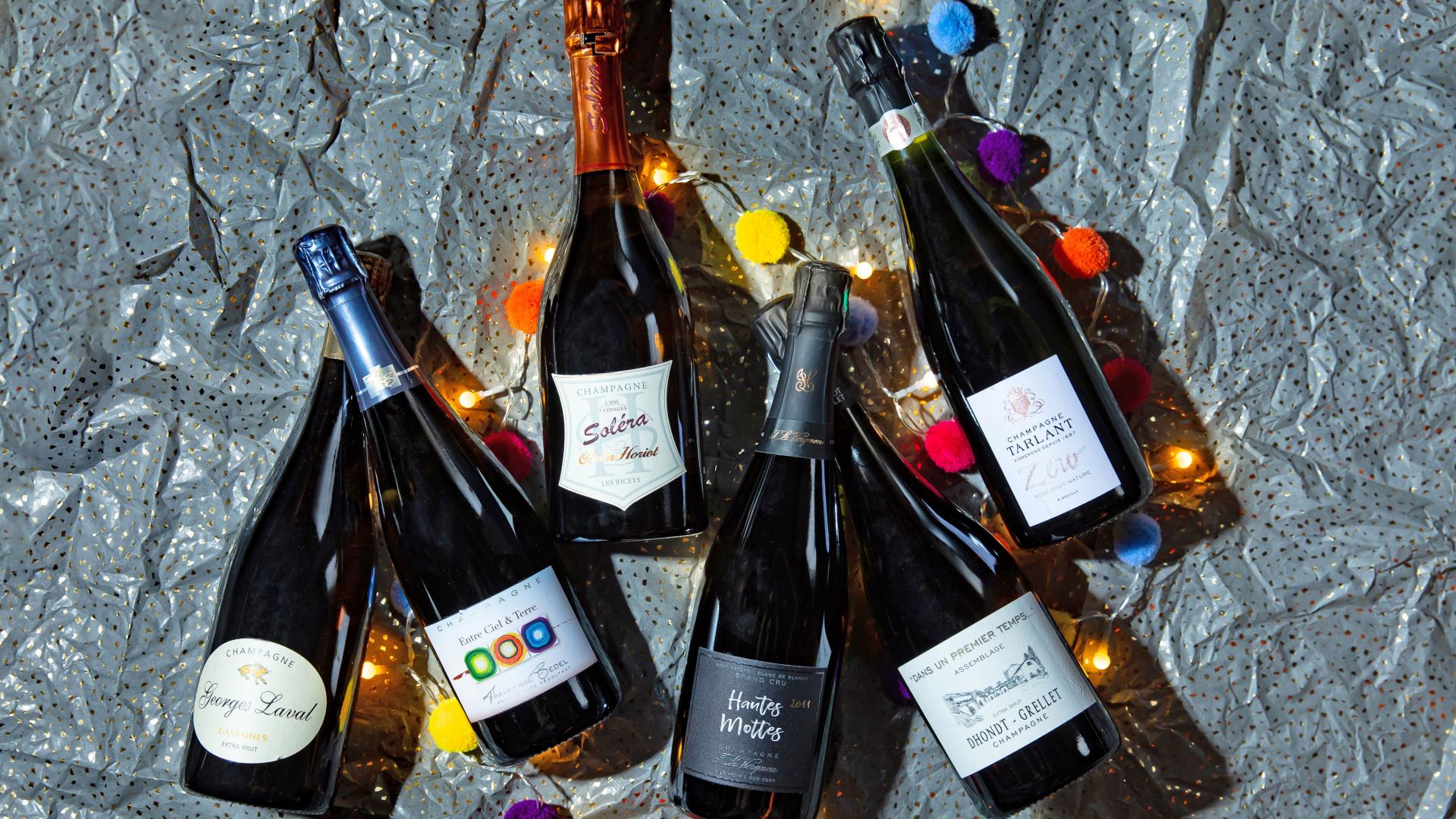 It wouldn't be Christmas without something sparkling, and this hamper from small-grower sparkling wine merchant Bubbleshop is really something special. The six bottles are handpicked by Foodism's ultimate girl crush and superstar sommelier Sandia Chang, co-founder of Kitchen Table, and each bottle is designed to be enjoyed at a different part of the festive feast, complete with pairing tips. 
Dukeshill It's a Wonderful Life hamper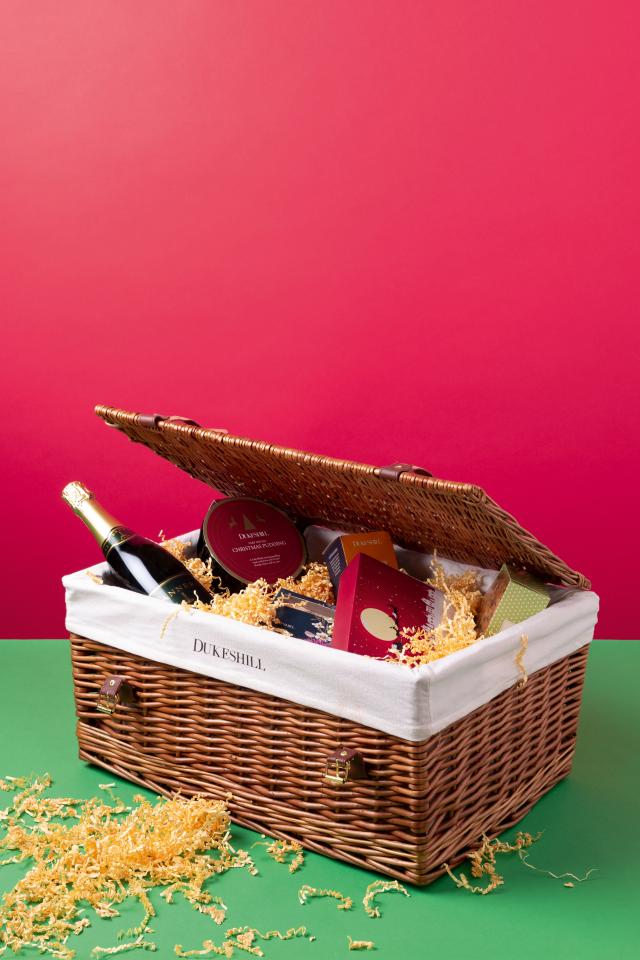 However you do Christmas, it's likely you'll find the odd way to squeeze in a touch of decadence and luxury you might not normally stretch to, and if produce from a company that boasts a Royal Warrant for its hams and cured meats sounds like a bit of you, one of Dukeshill's lovely Christmas hampers might be just the ticket. As well as its signature ham, this one includes beautiful British cheeses and chutneys, sweet treats and even a bottle of cava – perfect for gifting, festive entertaining or just stocking up before the big day.
Petersham Nurseries Luxury Food Hamper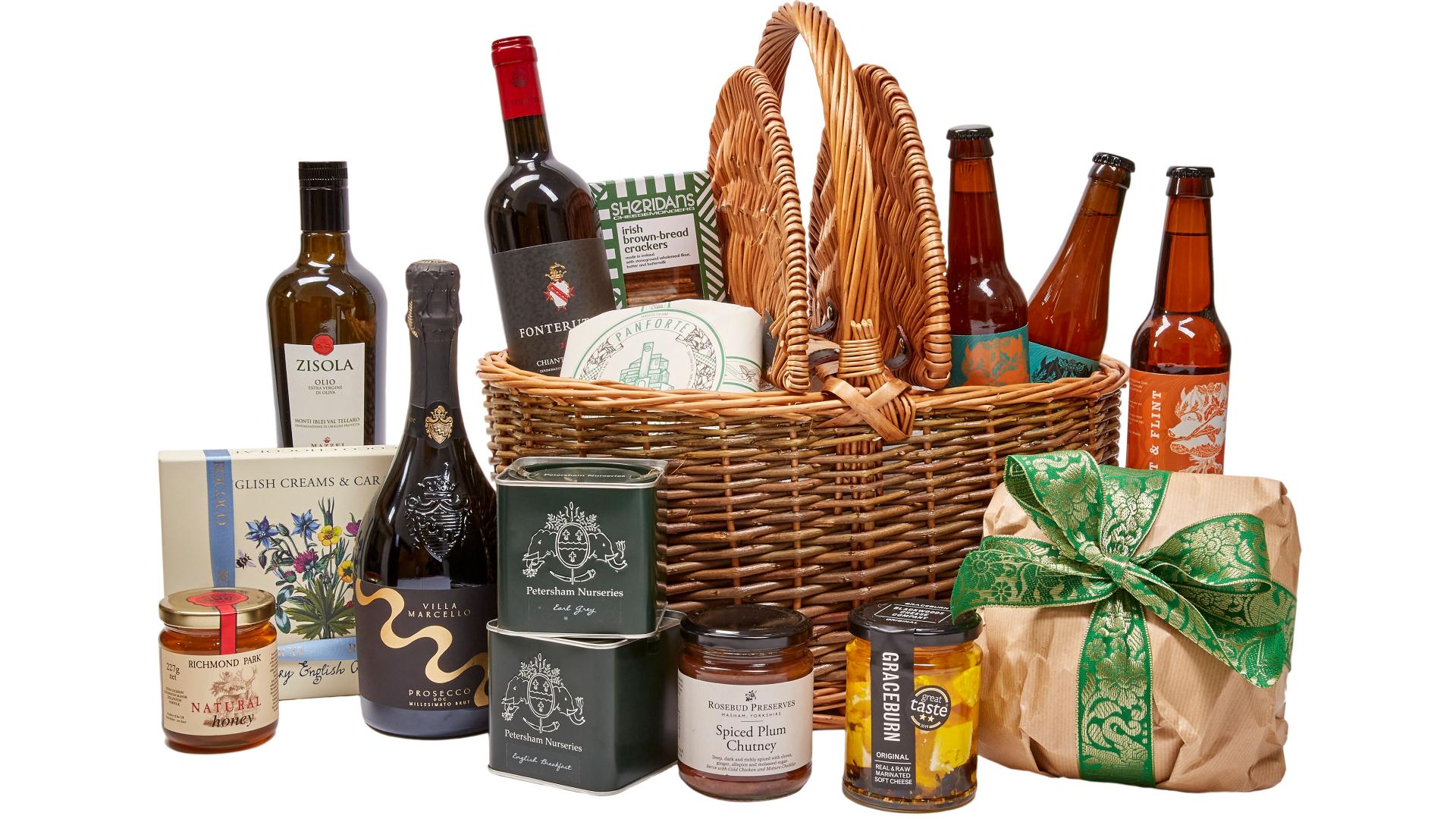 Petersham Nurseries isn't just a restaurant, it's a whole lifestyle brand – and we're here for it, because if we could live in the bloom-bedecked restaurants, we probably would. We don't think we'll be allowed to set up a tent inside the greenhouse in Richmond any time soon though, so we're making do with Petersham's new selection of Christmas hampers instead. Depending on which one you go for, they're stuffed with Murano glassware, crockery, linens and delicious delights including wine, panettone and Italian extra virgin olive oil.
Hame by Adam Handling festive delivery box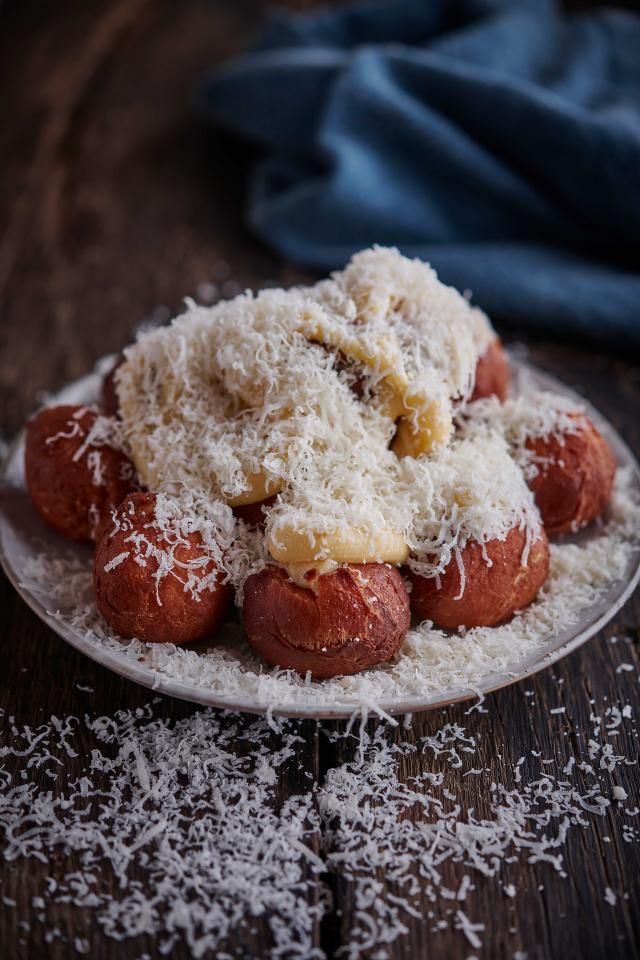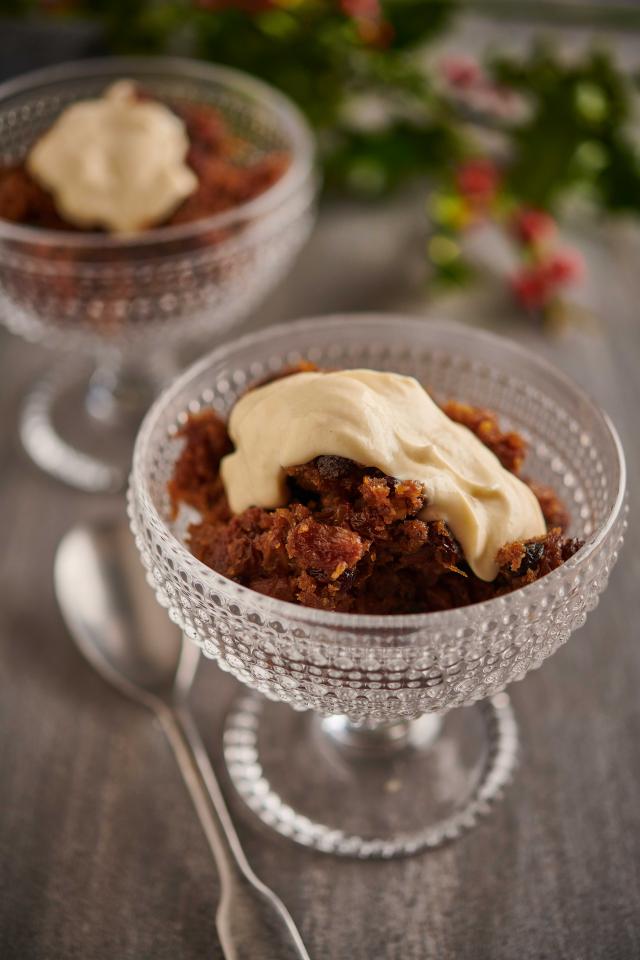 Stressing about the pressure of cooking the festive feast? Order one of Hame by Adam Handling's delivery boxes, pour yourself a glass of bubbly and raise a toast to a decision well made. These mammoth boxes are jam-packed with everything you need to get things going on the big day, mixed with a few of  Handing's signature delicious dishes for good measure: chicken butter and sourdough; cheese doughnuts; and then a choice of beef wellington or turkey with all the trimmings. Sounds like a very Merry Christmas to us. For two-four people.
The River Café Gift Bag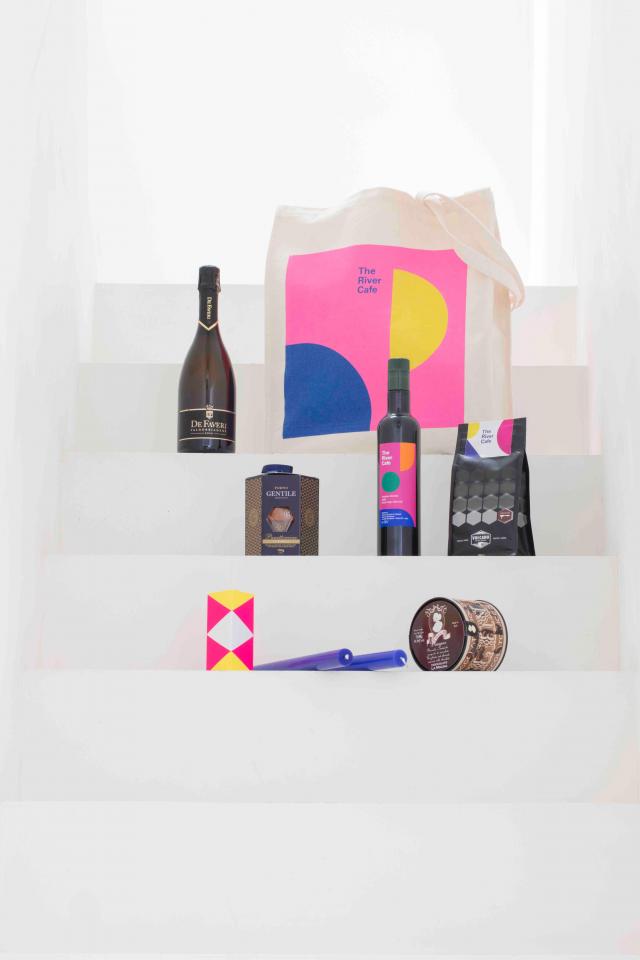 A very stylish party in a pouch: the River Café gift bag contains everything you need for festive cheer – a bottle of Prosecco Superiore di Valdobbiadene, a miniature panettone classico from Gentile, La Molina chocolate-covered almonds and hazelnuts, espresso-ground coffee from Volcano roasters, bright cobalt-blue dining candles from True Grace, long colourful matches and the new season extra virgin Tuscan olive oil from Selvapiana. It's bloomin' gorgeous – and probably cheaper than a meal in the restaurant, too.
Pipers Farm Festive Treats Box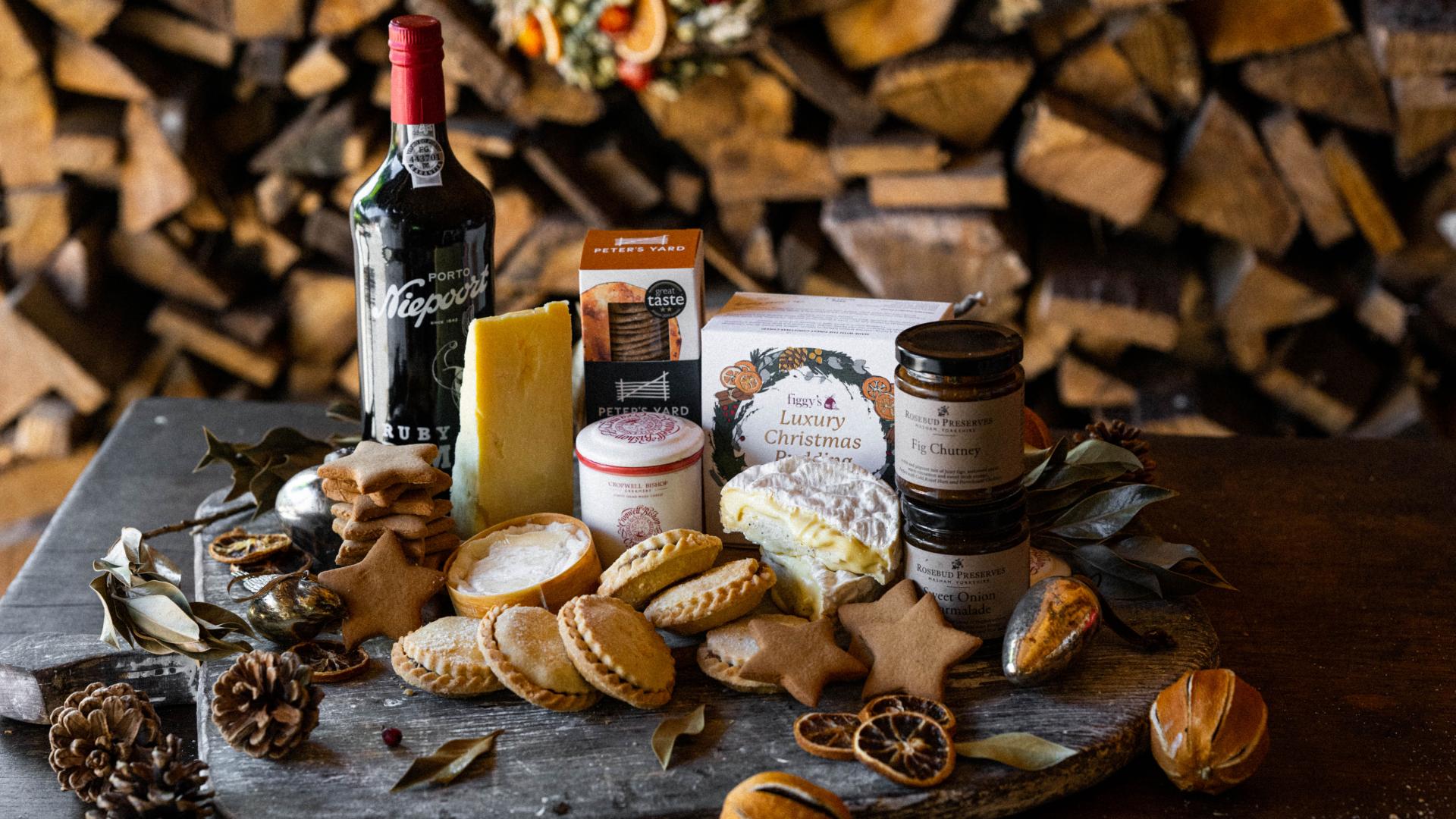 Figgy pudding and a cup of good cheer are all you need to get Christmas off to a good start, but Pipers Farm's aptly named festive treats goes the extra mile with mince pies, a truffled baron bigod, potted stilton, Lincolnshire poacher and everything you need for a cheeseboard that'll knock those knitted socks you got from your nan off – including a bottle of Niepoort port. Pipers Farm is known for its commitment to regenerative farming, which means everything you buy from the online store is sourced and produced the way it should be.
Provisions Wine and Cheese hampers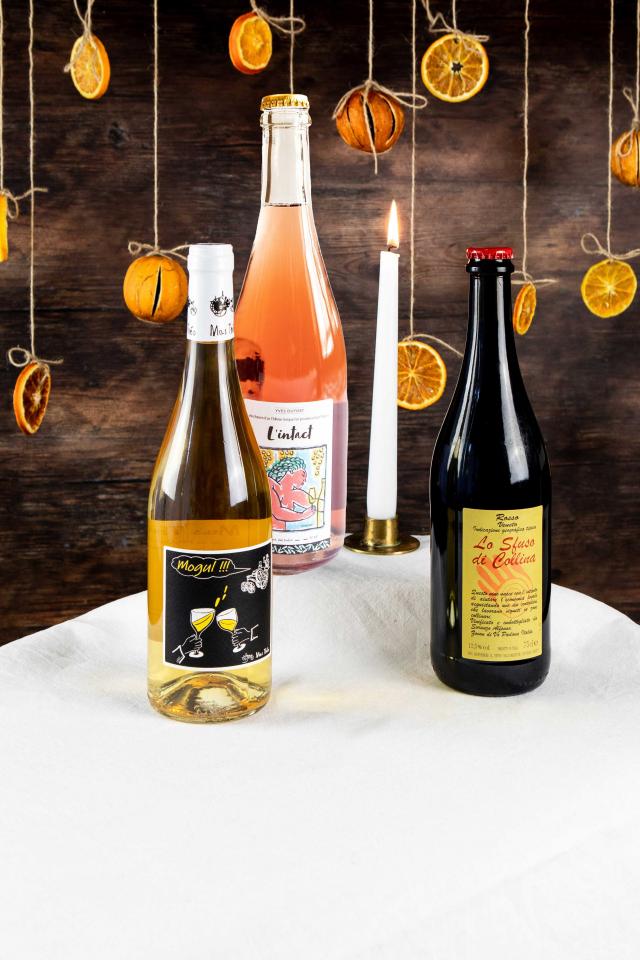 Wine and cheese are one of the best bits about Christmas (or, in fact, any time of year), and if you live in North London, Provisions on Holloway Road is the place to get both. The independent wine and cheese importer has been around since 2015, with a focus on natural and biodynamic wines and raw milk cheeses from France and across Europe. That's the kind of thing we like to hear, so it's not surprising we also like the look of their bumper selection of hampers. There's one to suit every budget or need, from the The Funky One, with three cool natural wines (£60) to Simply the Best (£210), a cornucopia of Christmas essentials like chocolate (yum), duck rillettes (double yum), and champagne (you get the idea).
The Proof After Dinner Hamper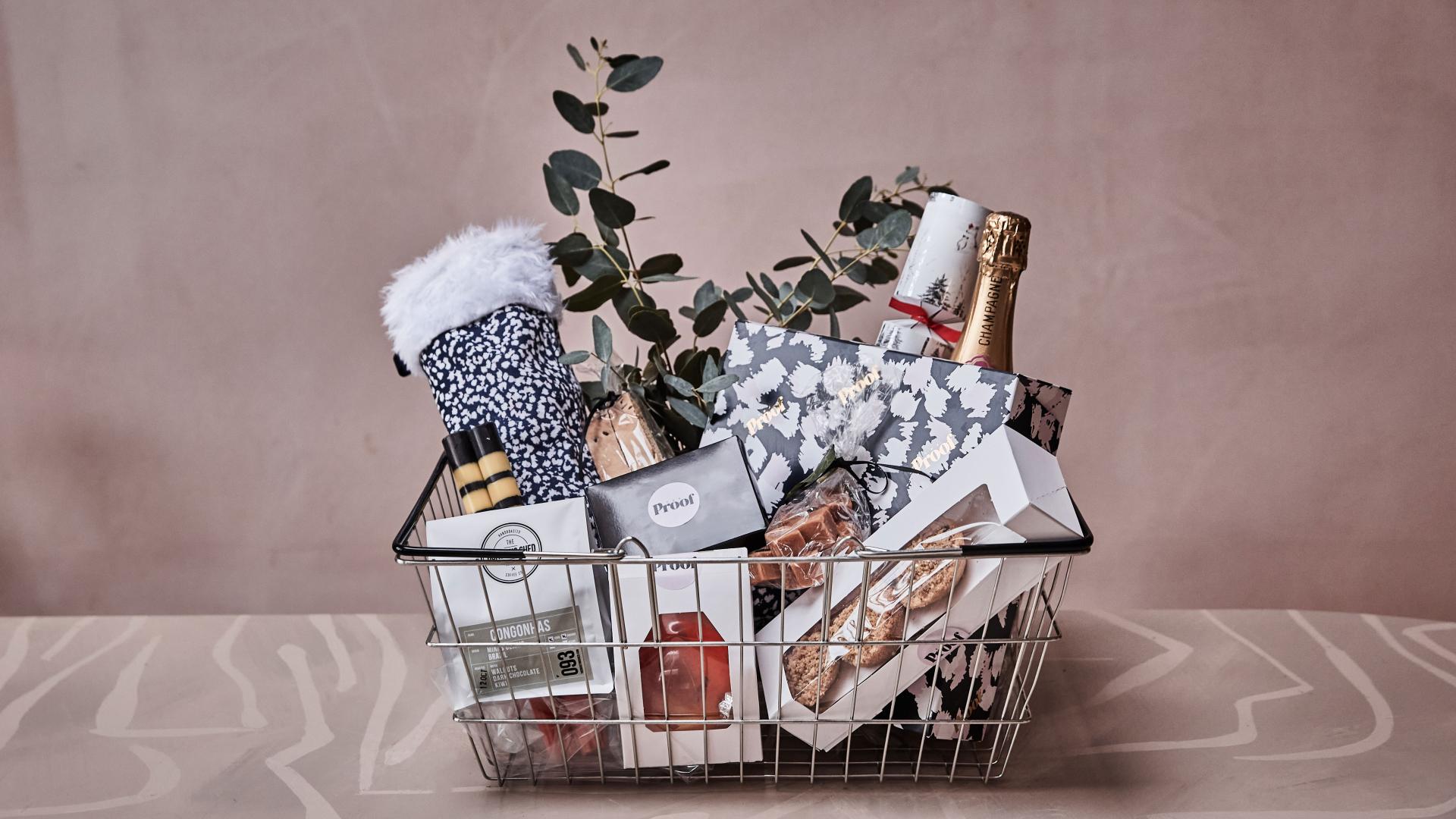 For a treat so sweet it might as well have been hand-delivered by the Sugar Plum Fairy herself, get yourself this hamper from The Proof, the pudding delivery specialists based in Hackney. It comes in a shopping basket overflowing with the bakery's signature Proofiteroles, orange crumble mince pies, a chocolate Yule log, and a selection of cool Christmassy products from similarly minded independent brands – including a camo-patterned Christmas stocking. Now where's our Nutcracker Prince?
Pantree Shop Small Christmas hampers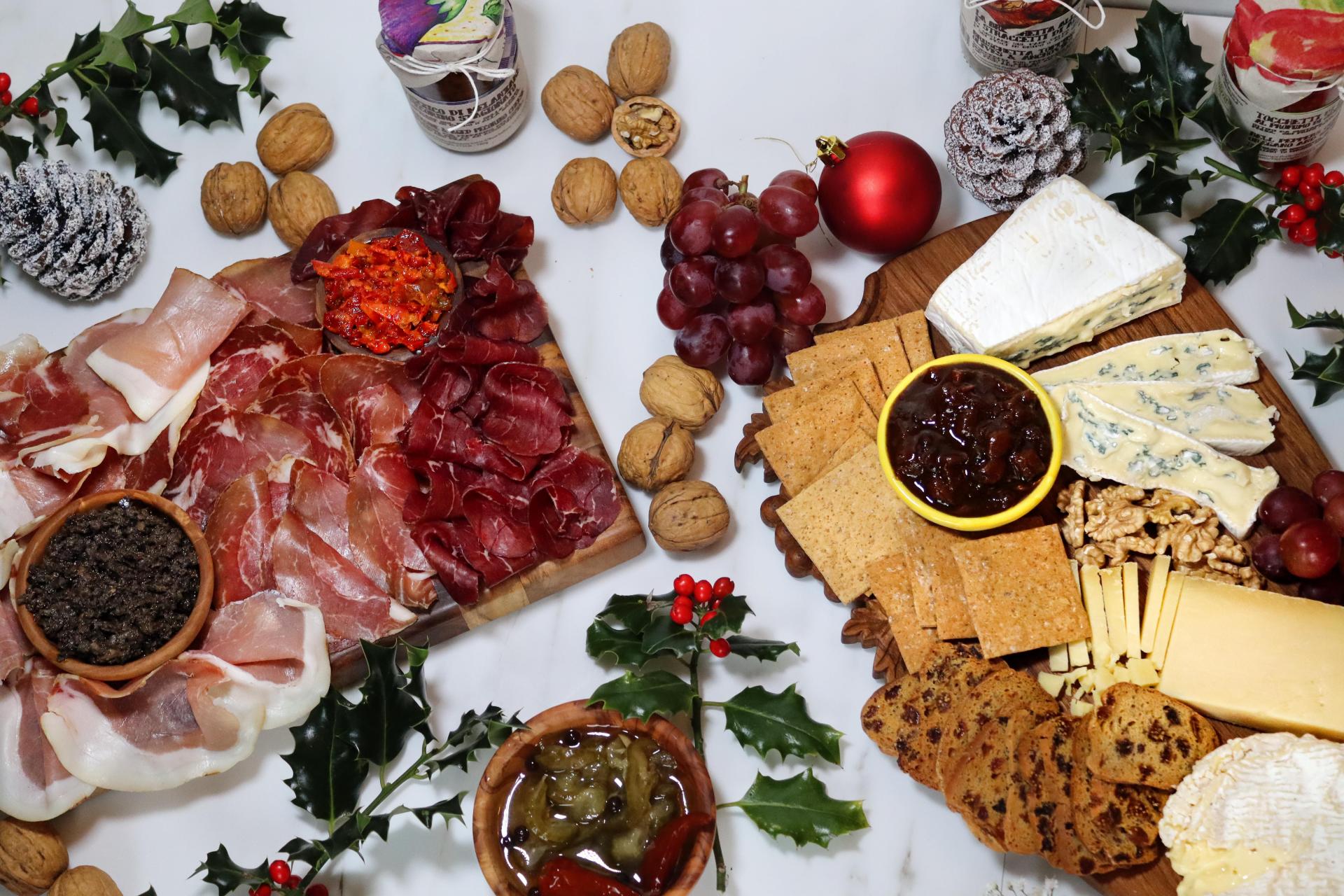 If you're having to juggle plans for Christmas Day, you might feel a bit marooned when it comes to sorting out a Christmas dinner's worth of shopping at short notice. But fear not: ethical food marketplace Pantree is on hand to help, with its Shop Small hamper selection. The hampers are stuffed with everything from your Christmas turkey and meats to cheese selections, sweet treats and more – and the best part is that your money goes to the artisans whose fare you'll be tucking into. You can feed six or more people with the largest size, four with the medium, and for for the smallest if you're contending with Christmas dinner with just your significant other or housemate this year.
Naturally Aspirated New-School Christmas box
Ugh! Another cool wine shop selling bottles almost guaranteed to be delicious. Gross! Said no one, ever. And said no one about Naturally Aspirated Wines, the West London shop specialising in wines that "just happen to be natural". The idea is that the shop focuses on what's good, not what's in fashion, which means it's a great place to pick up bottles you've never heard of. Want proof it's cool? The shop is located in a former 1930s soap factory. Get the selection of six bottles that have been picked out for the festive period and you can even order a cigar or two to come along with it.