I'm eating a blue corn quesadilla. It's magnificent, from the nutty, chewy tortilla packed full of perfectly piquant ingredients, to the smattering of tangy pickled onions perched on top.
I cut it in half, and golden cheese gently oozes out in all its mouth-coating glory. It's the kind of good that brings a blissful smile to my face; the kind of good that means I eat the rest of it slowly, in tiny mouthfuls, so that I can savour it for as long as possible.
This doesn't taste, look, or feel like vegan food, from the jackfruit pulled 'meat' to the melted 'cheese', improbably made with coconut. But then none of tonight's dinner does. I've hoovered up paprika-spiked 'chicken' wings; scoffed a to-fish taco that tastes of the sea; and devoured a tortilla topped with 'carne' asada, which even has a bit of charring on the 'meat' that gives it flavour, all at Club Mexicana, the vegan kitchen currently in residence at Pamela in Dalston. Full disclosure: I'm not vegan, although I choose to eat as ethically as possible, buying sustainably sourced, largely vegetable-based produce.
This food is flavour-packed, colourful and satisfying – streets away from both the 'plant-based' eating at the forefront of current healthy-eating trends, and the prevailing idea that vegan food is boring, bland and beige.
And that, Club Mexicana's co-founder Meriel Armitage tells me, is exactly the point. "Our whole raison d'etre is to show people that it's not all chickpeas and chia seeds," she says. "We're turning those preconceptions on their head, showing people that it can be absolutely stunningly beautiful, colourful and vibrant, with flavours to match."
The image of veganism is currently undergoing a radical change
Armitage and her team aren't alone in their quest – Temple of Seitan, a vegan fried 'chicken' joint just off Hackney's Mare Street, opened to wide acclaim in January, selling 'chicken' burgers and subs made with seitan, a high-gluten flour that has a chewy texture often used to replace meat. There's Black Cat Café, also in Hackney, where Armitage learned some of the tricks of the trade; and 90° Melt, a vegetarian and vegan grilled cheese shop in Mile End.
And it's not just dedicated restaurants dishing up animal-free food: just a few to namecheck are vaunted London restaurant Lyle's, where chef James Lowe and his team pride themselves on their well thought-out vegan offering; pizza joint Voodoo Ray's always has a vegan 'za; and even outside the realms of hipsterdom, Zizzi's has an entire vegan menu, Nando's has multitude of vegan options (yes, really); and it's never been easier to get your hands on a range of animal-free ingredients down the supermarket.
In London 2017, veganism is most definitely a 'thing'. A very delicious thing, apparently. And it certainly has its benefits – not least for the environment, although this argument is often disputed – but also, if focusing on predominantly fresh vegetables, for your health. And these days, with many chefs slowly shifting their focus further away from meat, eating a plant-based diet can prove to be far from a sacrifice.
The possible reasons for this change are many; ethical and environmental concerns top the list. Veganism is ultimately defined as a way of living which seeks to exclude as far as possible all forms of exploitation of and cruelty to animals for food, clothing or any other purpose. This includes not supporting the use of animals being used as entertainment – including in zoos.
It's a huge commitment, yet it's one that people are increasingly prepared to make. According to the Vegan Society's stats, veganism has increased by 360% in the last decade; there are half a million vegans currently in the UK, a further million vegetarians, and half of those vegetarians are thinking of going fully vegan. It's predicted that there will be at least a million vegans in the UK within the next ten years.
Yet there's another reason why veganism has seen a recent boom – plant-based eating is widely being touted as a healthier diet, and a solution to obesity and a range of other modern ailments.
"The image of veganism is currently undergoing a radical change," says the Vegan Society's Dominika Piasecka. "People now associate it with health, fitness and wellbeing. There's a certain pressure on vegans to eat healthily and that comes from social media accounts posting healthy vegan meals. It's become a stereotype for vegans to eat healthily and to look slim."
While the Vegan Society believes it doesn't matter why people are becoming vegan, it's just good that they're doing it, it's exactly this very 'plant-based' stereotype that drove Melbourne export Rebecca McGuinness to set up Temple of Seitan with her husband Pat O'Shea.
"That's why we're doing what we're doing," she says. "We noticed that there were a lot of vegan places opening but they were predominantly vegetable-based and raw, centering around being healthy, but that's not what we're about at all."
Seitan (pronounced say-tan, rather than like the devil) is the vegan ingredient that's currently cropping up on social media thanks to its uncanny ability to imitate the texture of meat. Made out of wheat gluten (the protein part of wheat that gives bread dough its elasticity), it was originally developed by buddhist monks and has been used as a meat substitute in China and Japan for centuries.
At McGuinness's fast-food joint, seitan is used to make everything from 'chicken' subs to the smoky, salty 'bacon' bits that top the mac'n'cheese. Temple of Seitan's popcorn 'chicken' is absolutely everything it should be, with a crispy 'skin' heavily spiced with salt and paprika. The flavours are remarkably similar to the real deal, as is the texture, although I'd compare it more to a chicken nugget than a wing.
"We mix our seitan with water, spices and tofu, which gives it a lighter texture," says McGuinness. "Everyone's seitan is a bit different, and you can use it to imitate all kinds of meat – we've made steaks and burgers in the past, using TVP [textured vegetable protein, which is used to make vegetarian mince]." The burgers have proved so popular that the vegan fast-food joint plans to bring them back this summer.
Also on their menu is a moreish mac'n'cheese. "We make our own soy cheese, and top it with seitan 'bacon' bits and a cashew parmesan. A lot of the flavours that go into it are garlic, smoked paprika and mustard," says McGuinness. "These flavours by themselves aren't necessarily cheesy, but together they create an overpoweringly savoury flavour. It's about finding the spices that work well to bring that flavour in."
Spice is undeniably key, and that's one of the reasons why Armitage set up Club Mexicana. "In Mexican food, all the flavour comes from the herbs, spices and the chillies, and the meat is just a vehicle for all those things. You marinade it in the sauces; you add beautiful salsas; you get things really crispy on the grill and get that smoky flavour. Mexican is a really great cuisine that doesn't need meat to be the vehicle with which you transport all of those spices."
Instead, Armitage has leveraged ingredients like jackfruit to replicate pulled pork tacos and quesadillas. "A lot of the components of vegan food are soft and mushy, and we're on a constant quest to find ingredients that have a chewy texture to them, because as soon as you start to leave out meat you lose that chewiness."
Elsewhere, the to-fish tacos are made of tofu that's wrapped in seaweed then deep-fried in beer batter, "so you've got that crispy outer layer, seaweed to give it that taste of the sea; and the soft and chewy tofu. It really messes with people's minds," says Armitage.
It might feel jarring that both restaurants are creating dishes that imitate animal-based foods, but, as Temple of Seitan's McGuinness points out, "just because you've made the decision to go vegan, it doesn't mean you stop liking meat, and it's good for helping people transition." After all, most of us don't grow up eating a vegan or vegetarian diet.
As for infusing these ingredients with flavour, more is, er, more, says Armitage of Club Mexicana. "Go bold. If something tastes like it needs a tiny bit more lime, I'll add a whole lime. Don't be shy with it. You can always pull it back again."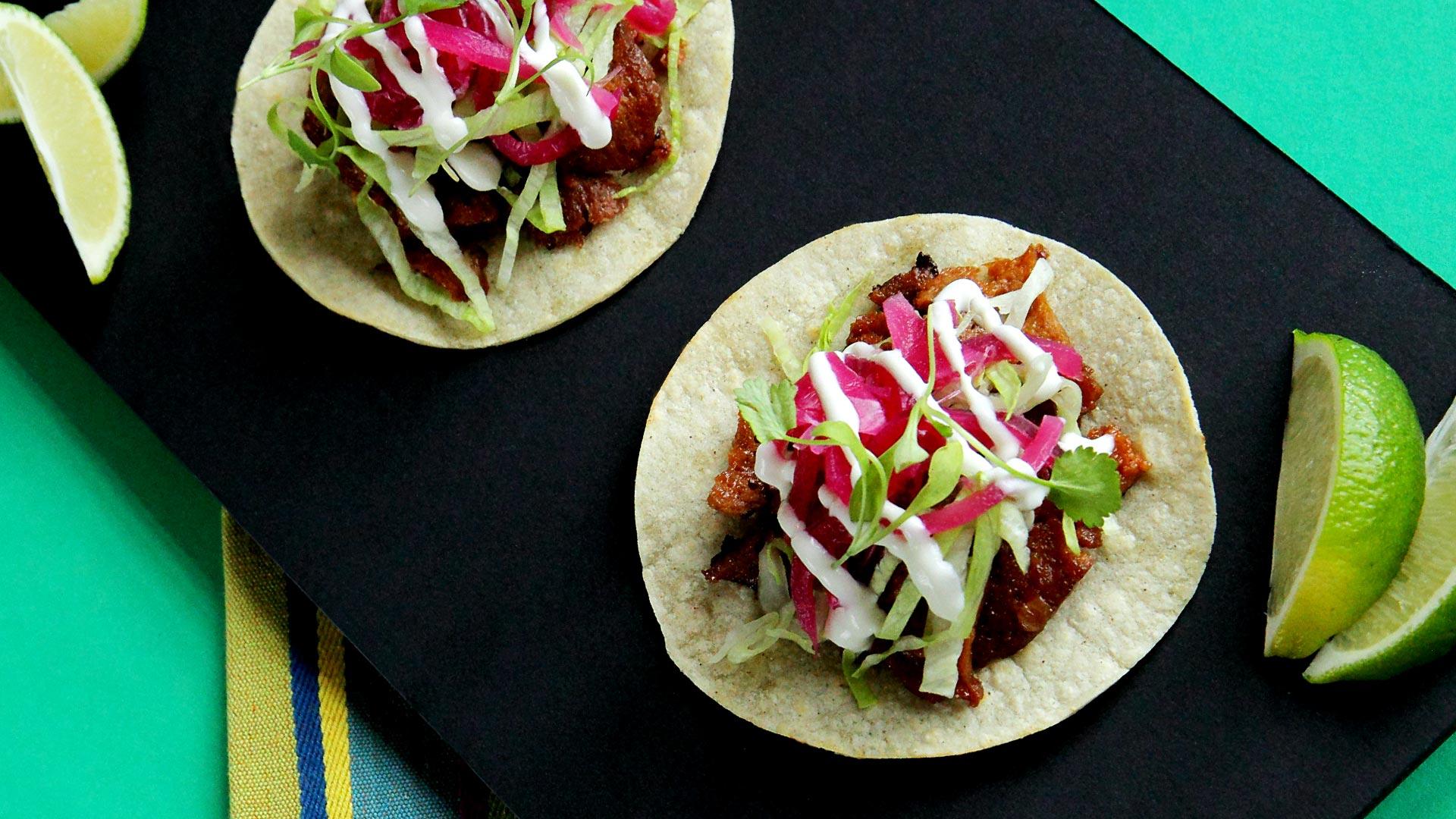 The other appeal of Mexican food is its colourful appearance, which is completely different to the 'hearty' browns and greens usually associated with vegan food. You eat with your eyes as well as your mouth, and this is something Armitage is always mindful of. "I chop up fresh herbs, chillies and nuts, and scatter them over the dish to make it look pretty, and it enhances the texture on your very first bite."
The most striking thing here is the level of attention paid to infusing these vegan ingredients with flavour – equal to the care taken when preparing meat and fish.
Nacho Gómez, chef at Black Cat Café in Hackney, one of the places where Armitage trained, says that creating a great-tasting, satisfying vegan meal is a matter of knowing what you're doing, and putting the focus on the right ingredients. "If you substitute meat for tofu, tempeh or seitan, and pay the attention to those ingredients that you would usually pay to meat, you can add so much flavour – if you know what you're doing."
Gómez is Spanish, an influence you'll see on the menu at his restaurant, but he's taken inspiration from the cultures around him, creating a menu that has a Caribbean slant to it, too. "One of our absolute favourite dishes is a Caribbean 'fish' stew. The 'fish' is made from soya bean protein; the sauce is really rich, with peanut, scotch bonnet, thyme, pimento and coconut milk, and it's served with red plantains."
Just because you choose to be vegan, doesn't mean that you stop liking meat
At 90° Melt, a vegetarian and vegan grilled cheese sandwich shop in Mile End, Nidhi Sharma is adamant that meat isn't required to add flavour. "Lots of the flavours from meat and dairy come from fat, and if you think about it, fat doesn't actually have an interesting taste – it's just very rich. If you use herbs and fresh ingredients, you can add flavour to pretty much anything at all."
At her restaurant, almost every item on the menu has a vegan option, using dairy-free cheeses, and Sharma adds flavour by making fresh sauces from scratch every day, like a coriander chutney and a chipotle sauce.
Of course, eating and creating vegan food is very different when you don't eat meat to when you do. But chefs at non-vegan restaurants, says James Lowe (of award-winning Lyle's restaurant in Shoreditch), shouldn't take any less care over it.
"We create a menu every night, and then the team will put together a vegetarian menu, a vegan menu, and pescatarian, dairy-free and gluten-free menus. It's interesting and it forces us to be creative. We often develop a dish for the vegetarian and vegan menus that then makes its way onto the main menu."
And it's about more than just what you're eating. "We change the proportions on the plate, and we change the format of the meal. While the normal menu builds up to the main dish, our vegan menu will consist of three very similar-sized dishes," Lowe says. "It's about understanding the balance and the ingredients, and it doesn't always conform to a normal menu shape and size. We play around with it."
Having an excellent vegan offering is extremely important to Lowe. "I've seen restaurants with set menus where vegetarians and vegans are charged the same but just given a salad. They're such poor substitutes that are given no thought compared to the main menu," Lowe continues.
"I don't really think that's OK. You're there to look after people and they're paying for that service. Vegans often tell me they've never been given a proper menu before."
"At the moment we've got a roast potato broth, a clear broth that's made the same way that you make an onion soup, with heavily roasted potatoes, poached new season potatoes, lovage oil, and crispy potatoes with burnt celeriac. It's a really earthy, rich, deep-flavoured dish, but without any of the traditional ways that you would use to get those rich flavours."
Whether it's a crop of vegan restaurants or chefs paying extra attention to their vegan offering, it's clear that times are changing. The critical question remains: for a nation of meat and two veg, can vegan food ever taste as good as its animal-derived counterpart?
Richard H Turner, the meat maestro behind the Hawksmoor group, Foxlow and Meatopia, admits, "I'm not sure vegan food will ever have the flavour that comes from meat fat, fish and umami. But in Asian hands, vegan food can easily taste as good. They create umami through fermentation, and using soybeans and miso."
"Pickling and fermenting creates a different kind of umami to meat; it creates different flavour compounds that aren't naturally found in vegetables. That sweetness, that sharpness."
The science behind it is too much to explore here, but, Lyle's Lowe explains, "in a meat-based dish you will often find the breakdown of more amino acids that form glutamates, which are more savoury and complex. You could therefore say there is more, or a deeper, flavour in a meat product. The flip side of this is something like miso – a purely vegetable-based product that has incredibly complex flavours."
The main problem with trying to convert to a plant-based diet is that, by nature, we're not designed to eat only vegetables. "Meat carries such umami. It satiates very quickly and, if you're a true omnivore, you will always crave that hit of energy that you can't get from veganism," points out Turner. "But [in modern life] we don't really need that any more."
Vegan food, in the right hands, can certainly taste as good as meat
He believes that vegan food, in the right hands, can certainly taste as good as meat. Great news for those who are considering becoming vegan, but this comparison raises another question: we don't ask whether meat can taste as good as vegetables, so why does that idea apply the other way around?
As James Lowe points out, "There's no meat that compares to the experience of eating the first fresh peas or fruit from the tree that's still warm from the sun, but then there's nothing in the vegetable world that's like a slice of well-aged mutton or a raw scallop that's just been shucked. All these things are wonderfully different."
This growing appreciation for the bounty of flavours that vegetables can bring to our plates is slowly, but surely, influencing the way we eat. It's time to change how we think about meat and veg – and we're lucky enough to have innovative chefs and restaurateurs who can help us do it.
Hungry yet? Good. Click here to find out where you can get in on the plant-based comfort food action, or read our guide to 6 of our favourite vegetable-forward restaurants in London. You can also catch Club Mexicana at Standon Calling, a food-forward music festival in Hertfordshire taking place 27-30 July 2017.