For some people, summertime might be all about heading to the beach and whipping out a glistening six pack of abs. For us here at Foodism, summer usually consists of cracking out a six pack of glistening cans in the park that's closest to the office. A pleasant middle ground between those two opposite poles is the festival. It's rare to find someone who hasn't been to a stonking music festival at least once, and it's even rarer to find someone who doesn't enjoy them at all. When the sun is shining, there aren't many places we'd rather be than in a field with some great music, excellent food and some of our very best mates.
To help distract you from meaningless office work and get you genuinely excited for sunglasses, shorts and summer dress weather, we've scoured London, the UK, and even the whole ruddy continent of Europe to find the best festivals. From street-food feasts to techno havens and weekenders that are full of outdoor adventures, there's something for pretty much everyone at this year's crop of festivals. Give yourself something to look forward to and book a place for you and your bezzies. We'll see you there. It's gonna be in-tents.
Festivals in London
Jam on Rye
Peckham Rye Park; 27 May
What is it: Brought to you by the same people behind London street food market specialists KERB, Jam on Rye is a festival intent on showcasing London's emerging talents in music, food and the arts. Fill your stomach with food and drink, fill your ears with live music and fill your soul with, er, culture.
The line-up: Jam on Rye will be bringing Kelis and her milkshake to the yard (aka Peckham) for her first UK festival performance of 2019, joined by Soul II Soul founder Jazzie B and legendary producer Omar. Three music stages will be spread across the Rye showcasing a blend of live music, DJs and some of London's great up-and-coming artists in reggae, urban, jazz, afro-beat and world music – basically, prepare to dance.
Food & drink: Seeing as KERB have helped organise the thing, you can expect an all-star line-up of street food produced by the market magnates. KERB have pulled together 25 of the city's best street-food operators to keep you well nourished throughout the day. We're talking Bleecker Burger. We're talking BBQ Dreamz. We're talking Club Mexicana, and so much more. We're talking a great way to spend a day.
From £30. jamonryefestival.com
Mighty Hoopla Festival
Brockwell Park; 8 June
What is it: A celebration of all things pop, Mighty Hoopla is returning to Brockwell Park for its 2019 iteration. The festival is a pop music extravaganza that promises to be fun for all the family with its offering of games and frivolity in the summer sun. Aside from getting your fill of the excellent pop music on tap, you'll find an endless slew of activities including drag queen lip-sync battles and glitter stations to keep you sparkling all day long. There's also going to be bingo. Buckle up your dancing shoes.
The line-up: Pop music legends including Chaka Khan, All Saints, Bananarama, Jamelia, Kate Nash, and Liberty X will all be attendance to help you get your boogie on. Even if pop isn't really your thing, garage act Artful Dodger are on hand to re-remind you how much better music was in 1999.
Food & drink: The festival will be welcoming more than forty top-notch food and drink stalls who will be serving up everything from Korean buns at street food superstars Kopo to a fully functioning taco truck. Vegan junk food from The Green Grill and Greedy Khao will be suitable for the plant-based among us, while thirsty omnivores can indulge in a range of juicy craft beers, pad thai from Bangwok, cocktails, pulled pork buns and speciality curries.
From £35. mightyhoopla.com
All Points East
Victoria Park; 24 May-2 June
What is it: All Points East is an eclectic (and fairly electric) music festival held over two weekends once a year in London's Victoria Park. Not only will there be dirty, dirty tunes on the Saturday and Sunday but a free-to-enter weekday programme will also take place at the park to help give back to the local community. Those free events include a free outdoor cinema, street food, pop-up bars, theatre, arts, sports and wellbeing, children's activities and loads more.
The line-up: Dance music duo The Chemical Brothers are headlining along with a rogue's gallery of bass thumping DJs including Maribou State, Joy Orbison, Jon Hopkins, Peggy Gou and many, many more. If you're more into your rock 'n' roll, then perhaps hearing that The Strokes, Primal Scream, Parquet Courts and Fat White Family are knocking about will fill your heart with joy. From rap (Run the Jewels, Danny Brown) to avant-garde pop (Christine and the Queens, Bon Iver), there's really a little something for everyone.
Food & drink: The music, as opposed to the eating, definitely takes centre stage here. That said, you can still expect a great range of food traders and a wide variety of bars serving beer, wine, spirits, cocktails and soft drinks.
From £60.allpointseastfestival.com
The Ends Festival
Lloyd Park, Croydon; 31 May-2 June
What is it: Finally, a reason to go to Croydon. This weekender will take place at South London's Lloyd Park, inviting thousands of music lovers each day from 31 May to 2 June to revel in its hip-hop and reggae-infused musical lineup. The Ends Festival is also partnering with the Croydon Music and Arts Council to shine a light on some of the finest in homegrown talent by giving them an opportunity to perform.
The line-up: This is definitely one out there for the hip-hop heads. The likes of Nas and De La Soul are heading up rap music's US contingent while homegrown talents such as Ghetts, Donae'o and Kojo Funds will also be gracing the stage. It's not all hippy and hoppy, however. Damian Marley, NAO, and Latin superstar J Balvin are all also confirmed.
Food & drink: Applications are still open for food and drink vendors, though Carlsberg and Somersby have both committed as the festival's official beer and cider partners to keep you fully refreshed (and merry) the entire weekend.
From £50.theendsfestival.co.uk
Field Day
Meridian Water; 7-9 June
What is it: Field Day is embarking on a new chapter in 2019, moving to a new home in the form of Enfield's Meridian Water. The new location features ten acres of outdoor space plus four gigantic, interlinking warehouses – the largest of which will be the biggest warehouse venue for music in London. Which is big news. Field Day will also be going on later than any other festival in the UK this summer, giving you a lot more bang for your buck.
The line-up: Enfield might feel like the other side of the planet, but here's why it's worth the journey: this year's line-up spans every musical genre you'd ever want from a festival. Which means no ska, obvs. Skepta, Diplo, Bonobo, Jorja Smith, Pusha-T though? They'll all be there. And so will Earl Sweatshirt, George Fitzgerald, DJ Seinfeld, JPEGMAFIA. Field Day is where one of your really keen mates will have curated an elaborate plan of attack on their Notes app, only to find that it's not really necessary at all and no one likes that much forward thinking at a festival. Whichever stage you do end up waltzing to on the day, you're guaranteed to see some quality acts.
Food & drink: Along with its tasty music, Field Day brings together the cream of London's street-food scene to cater for all appetites. With more than 60 unique food stalls from some of London's most renowned markets, you could easily bill the festival Food Day. We're really glad they haven't. We're just saying that it would have been easy. Tons of tasty vendors will be keeping you full of dancing fuel and rumour has it that it's also going to be something of a craft beer extravaganza. Bulldog Dry Gin and Camden Town Brewery have hopped aboard the Field Day express to whet your appetite with IPAs and G&Ts that are well above your typical zoo-grade festival beers.
From £40;fielddayfestivals.com
Cross the Tracks
Brockwell Park; 9 June
What is it: An all-new feast of soul, jazz and funk in South London. Cross the Tracks brings three of the things Brixton is most famous for – music, street food and beer – to a park on the edge of the iconic neighbourhood. Expect plenty of all the above, plus a wellness space, record fair and market of goods from local designers and makers.
The line-up: At the top of the bill is queen of funk Chaka Khan, but where this festival really comes into its own is through its celebration of London's booming scene of young jazz musicians: there's Jordan Rakei, Oscar Jerome, Nubya Garcia, Etta Bond, Maisha and Joe Armon Jones, to name just a few.
Food & drink: With more than 40 traders taking residence in Brockwell Park for the day, there's no way you're going hungry. From vegan treats at Greedy Khao and Biff's Jack Shack to Caribbean flavours at Only Jerkin, you're sorted. London Brewers' Market will be sorting the beer list, which means there'll be plenty of super-fresh brews from Five Points, Bullfinch, Gipsy Hill, Canopy, Mondo and more, too.
From £40.xthetracks.com
Festivals in the UK
Lost Village
Lincolnshire; 22-25 August
What is it: We love a good dose of surrealism, and thankfully Lost Village has it by the bucket load. Taking over a long-forgotten forest in the wilds of Lincolnshire, this weekender is back for a fifth year in 2019, and the hardest part will be choosing which of its slightly ramshackle, back-country-themed stages you want to drink, dance and be merry at. Our pick is the Forgotten Cabin, followed closely by the Abandoned Chapel.
The line-up: An eclectic mix of electronic music fills the bill at this year's Lost Village, with Maribou State, Bicep, Richie Hawtin, Modeselektor and a secret special guest sitting at the very top of the bill. Other must-sees include James Holden and Jayda G.
Food & drink: For a creepy village, the grub's not half bad: there's the normal rich array of street-food traders to keep you fuelled, but for something a little bit more experiential there are tribal banquets from some of the finest chefs in the UK, plus the dedicated Eating House for fast, restaurant-style scran. If you're homesick, a line-up of chefs includes Neil Rankin, Jackson Boxer and Merlin Labron-Johnson – plus, there'll be restaurants from Hawksmoor and modern Indian favourites Dishoom. That's in addition to pop-ups from some of the world's best-loved drinks brands: check out Patrón's bar and stay for a watermelon punch to cool down if the weather holds up.
From £185. lostvillagefestival.com
We Out Here
Cambridgeshire; 15-18 August
What is it: From giving them airtime on Radio 6 Music to releasing them on his label Brownswood, there are few people who've done more for UK jazz musicians than Gilles Peterson. Now he's given them (and us) a UK festival, too. Taking to the old Secret Garden Party site in Cambridge for the first time this August, this weekender will be like one giant Gilles Peterson radio show, and we've got a lot of time for that.
The line-up: With that in mind, you've got plenty of jazz scene stalwarts on the bill: Sons of Kemet, Kokoroko, Zara McFarlane and Shabaka Hutchings' Mercury-nominated The Comet is Coming are just the start of a long list, and there are tons of great DJs to keep you moving into the evening, too. Expect old-school sounds from Theo Parrish, an eclectic mix of tunes from Awesome Tapes From Africa and one Gilles Peterson himself, obvs.
Food & drink: The We Out Here team has been busy pulling together a compendious list of artists in jazz and electronic music, so the main line-up of food traders is still to come. The focus, we're told, will be responsibly sourced, Fair Trade, independent and veg-forward.
From £156.weoutherefestival.com
Shambala
Northamptonshire; 22-25 August
What is it: Oh, Shambala that environmentally conscious, plastic-free, sustainable and vegetarian festival of fun, music and hedonism done right. It's an ever-more-popular weekender set in a secret spot in the Northamptonshire countryside that's as famous for its eco-cred as it is its vibrant carnivals and top notch music line-up. Normal weekend tickets sold out back in January, but there are still a few available if you're willing to take part in a supported cycle to the site from London, Sheffield or Bristol. Go on, earn it.
The line-up: Each year, Shambala aims to take a snapshot of the global music scene with its bill of artists, and 2019 is no different. You've got raga-blues fusion from Debashish Bhattacharya, West London hip hop from The Age of L.U.N.A, Tuareg music from Kel Assouf and Iglooghost – the producer Flying Lotus calls 'the next Aphex Twin'. Variety is the spice of life.
Food & drink: Shambala has been meat and fish free since 2016, but this year it goes further than that: hot drinks will be free of cow's milk, all eggs and dairy will be organic and free range, drinks will be Fairtrade and all cleaning products will be non-toxic and biodegradable. And it's all done with the goal of keeping waste to a minimum and highlighting the impact of the meat and dairy farming on the planet.
From £170.95.shambalafestival.org
ALSO
Compton Verney, Warwickshire; 5-7 July
What is it: A small festival full of big ideas. ALSO is designed to bring its guests together with some of the leading thinkers in arts, science and psychology, complemented by great new bands, immersive food and drink experiences and comedy that'll have you rolling in the aisles.
The line-up: Here, the talks and workshops take centre stage: you could spend your morning learning how to unlock the creative part of your brain, and your afternoon on a scavenger hunt through the woods. This year's theme is 'Out of the Woods', so there's a big focus on all things green, from environmentalists talking about the rainforests to forest bathing and rewilding sessions. Sounds relaxing.
Food & drink: After all that forest bathing, you'll probably want a bite to eat: thankfully, your options are vast, from a taste of Tibet to a feast with ethical goat meat supplier Cabrito. Spanish-inspired restaurant Getaria will be serving pintxos at an opening day fiesta, and Damian Clisby of Petersham Nurseries will be taking over the pots and pans for a feast on the Saturday of the festival as well. For drinkers, there are tons of cocktails, or a kombucha café if you're after something less boozy.
From £120.also-festival.com
Valley Fest
Chew Valley Lake, Somerset, 2-4 August
What is it: Valley Fest returns to the Chew Valley Lake and, once again, the soundtrack is spectacular, the glitter is… well, glittering and the vibe is, as always, silly. With ball-pit karaoke, hands-on farm tours and hobby horse gymkhana racing alongside all the good tunes, it doesn't get more kid friendly than this.
The line-up: From Dutty Moonshine's 14 piece Big Band and its high energy jazz to the dulcet tones of Tom Odell and Indie chart toppers Razorlight, there's much fun to be had out in front of Valley Fest's two music stages.
Food & drink: Valley Fest's feasts are legendary, but you've got to be quick to snap up a ticket. This year Josh Eggleton (The Pony & Trap) and Rob Howell (Root) head behind the pass to serve up a 6-course veg-led menu on the Saturday night; while The Free Range Chef – aka Beth Al Rikabi – leads on Sunday with a three-course Middle-Eastern inspired spread. Elsewhere, some of the South West's street-food traders will be dishing out their goods, Annie Coplestone (of The Monmouth Table, Moro and River Cottage) will be on hand with tapas in the tipis. There will even be an artisan market in amongst all the activities and music acts, too.
From £118.80.valleyfest.co.uk
TRNSMT Festival
Glasgow Green, Glasgow; 12-14 July
What is it: Head down to Glasgow's famous Green from 12-14 July for three days of stomping and shimmying – with an obligatory Tennents in hand – to the sounds of Stormzy, Sigrid and more. TRNSMT Festival takes over from now-deceased T in the Park (RIP) as one of Scotland's favourite music festivals and, since it takes place in Glasgow's East End, there's hunners more places to gie' it laldy once the days draw to an end.
The line-up: There's a nice mixed platter of tasty tunes on offer this year. Big names take over the main stage, from the aforementioned Stormzy to Years & Years, Bastille and Jess Glynne. While over on the King Tut's stage you're more likely to be bouncing around to Example, Circa Waves and Mystery Jets.
Food & drink: TBA
From £59.95.trnsmtfest.com
Green Man
Brecon Beacons, 15-18 August
What is it: With so much going on around London, the three-hour drive to Green Man in the heart of Wales' Brecon Beacons might seem like a little bit of a schlep: but it's worth it. It's famous for its solid alternative music line-ups and mellow vibes. What you might not know, though, is that booking a Settler's Pass will give you the opportunity to camp at the Green Man site from Monday 12 August and spend the week discovering beautiful destinations in the surrounding Welsh countryside with an exclusive discount.
The line-up: From Four Tet to Father John Misty, there's plenty to get excited about at this year's festival, but you'll probably find us down the front for eclectic American rockers Yo La Tengo, London jazz group Ezra Collective and chilled-out instrumentalists Khruangbin. Away from the music, there's plenty of talks and interactive workshops covering everything from the hottest new literature to the science behind the northern lights, too.
Food & drink: TBA
Settler's Pass from £236. greenman.net
Wilderness Festival
Cornbury Park, Oxfordshire, 1-4 August
What is it: There's a special place in every foodie's heart for Wilderness, the festival that gives food, art and ideas a near-equal billing with the music. From the long-table banquets and open panel discussions to the infamous Wilderness Cricket Match, this one's a must.
The line-up: Robyn, Bombay Bicycle Club and Groove Armada top the bill, while DJ sets from Eats Everything and Erol Alkan run the late-night entertainment at The Valley and High Ground. Elsewhere, you've got iconic Soho club Ronnie Scott's running a jazz session, dance from Sadler's Wells and talks and workshops about everything from adventure travel to Scottish ceilidh dancing.
Food & drink: From Barrafina and Sabor's Nieves Barragán to James Knappett of The Kitchen Table, this year's feasting line-up is utterly outrageous, and as jam-packed with London food royalty as years gone by. Iconic Richmond restaurant Petersham Nurseries will set up shop, Josh Katz of Berber and Q will team up with Cornish supremos Woodfired Canteen, and Tom Brown of Cornerstone in Hackney will be making an appearance, too. And that's before the bulk of the traders are announced, as well.
From £179.50;wildernessfestival.com
Standon Calling
Hertfordshire, 25-28 July
What is it: A fantastical parallel universe that you can visit for just one weekend a year. Each year, the festival chooses a theme – this year's is Twisted Creatures: A Strange Evolution – and absolutely everything, from the fancy dress to the drinks and the stage set up, revolves around that theme. There's an element of the family friendly by day, sure, but come evening and there's more than a few parties you won't want to miss, not to mention a decent food and drink lineup from London's finest. And rather unusually for a totally different universe, this one is just a 45-minute drive from North London.
The line-up: No matter your kind of jam, you'll find something to suit at this year's Standon. Nile Rodgers & Chic, Wolf Alice and Rag'n'Bone Man get top billing, supported by artists ranging from Friendly Fires to the slinky R'n'B vocals of Mahalia. Elsewhere, you've got the funk and soul of Chicago's Hypnotic Brass Ensemble, the delicate haze of West London duo Babeheaven and DJ sets from the likes of Simian Mobile Disco and Crazy P Soundsystem.
Food & drink: TBA
From £159. standon-calling.com
Festivals in Europe
Nova Batida
Lisbon, Portugal; 13-15 September
What is it: A complete mini holiday in festival form. Nova Batida ('new London') is a three-day celebration of art, music and culture in the heart of the hip city of Lisbon. Alongside a brilliant music lineup balancing hotter-than-hot names with new ones to watch, there's a series of talks, debates and educational experiences; supper clubs and street food; yoga and surfing classes; and tours, museum visits and workshops taking place all over the city. All against a balmy 26°C backdrop.
The line-up: If you like electronic music you're in for a treat, with Four Tet, Jon Hopkins, Leifur James and Floating Points taking centre stage. Elsewhere, there'll be rap from Octavian; hip hop from Talib Kweli; jazz from star saxophonist Nubya Garcia; and more. And that's just for starters – Nova Batida will be announcing more artists soon.
Food & drink: If you're more sit-down dinner than scoffing street food on the hoof, well, Nova Batida is one for you. There'll be the usual festival-style stalls and traders, but the festival has curated two supper clubs in the city, too, where you can get your greedy chops around the finest Portuguese food. And for once you can eat as much as you like, safe in the knowledge that you'll dance it off later.
From £99.novabatida.com
We Love Green
1-2 June; Paris, France
What is it: We love festivals and we love things that are eco-friendly, so it makes sense that we love, er, We Love Green, which takes place in Paris's Bois de Vincennes. But a hemp and harem-pant filled hippy fest this is not; each year brings a hard-hitting lineup, organic food and a space to discuss environmental innovation, all while the festival works to pioneer sustainable solutions for the events industry.
The line-up: Oh, it's a good'un. You've got the slinky neo soul from Kali Uchis and Erykah Badu; psych rock from Tame Impala; avant-garde R&B from FKA Twigs and more. As you'd expect, there's a decent focus on French artists, with Christine and the Queens, Booba and others – and dance king Laurent Garnier's on there, too. Prepare to dance all night long.
Food & drink: TBA
From £102.welovegreen.fr
FLOW
9-11 August; Helsinki, Finland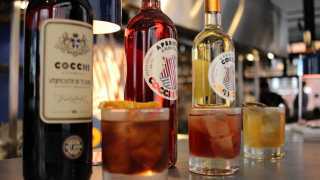 What is it: We aren't always keen on city festivals, but we've got to hand it to Helsinki's Flow Festival: set against the starkly urban and achingly cool backdrop of a historic power plant, it hits edgy chic right on the nose. This isn't your usual rave up: a brilliant line-up is supported by a roster of cool, sustainability-focused events and a, er, sauna truck. For something a little bit different, this is just the ticket.
The line-up: Flow has its roots in a club that then grew into an event, so you know the music's going to be good. There's a little bit of everything: punchy rap from Cardi B, neo soul from Erykah Badu, funky R&B from Blood Orange, and dark Scandi pop from Tove Lo, just to name a few.
Food & drink: With some 40 restaurants and 20 bars, you'll have plenty of food to get through. There's a strong focus on vegetarian cooking and ethically sourced produce, as well as street-food traders specialising in Finnish wild cooking, Asian flavours, burgers, healthy smoothies and more.
From £177.flowfestival.com
Øya Festival
Oslo, Norway; 6-10 August
What is it: Think Scandi cool, applied to a festival celebrating both big-name stars and up-and-coming artists and set against the backdrop of Oslo's fjords. It all kicks off with the Club Night on the Tuesday, with events at clubs around the city – a warm up for the next four days of food, music and more. Even better, the festival is focused on minimising its carbon footprint and aims to become one of the most environmentally friendly festivals in the world. Øya, we applaud you.
The line-up: Eclectic indie. Think The Cure, Robyn, Christine and the Queens, James Blake and Sigrid, supported by a roster of lesser-known names like Rex Orange Country, Ezra Collective… and, er, Stefflon Don.
Food & drink: Everything here is organic – good for you, good for the planet – and super tasty. The organisers apply the same level of precision to the food line-up as they do to the music, so you know it's going to be good.
From £277. oyafestivalen.no
Secret Solstice
Reykjavik, Iceland; 21-23 June
What is it: This festival happens in Iceland during the Midnight Sun, which – for the uninitiated – is the time of year when the northern European country gets daylight for 24 hours a day. But instead of getting driven stir crazy by a lack of sleep, most Icelanders see it as a way to spend more time partying. That's why Secret Solstice invites a star-studded line-up of artists to Reykjavik every summer, as well as organising madcap one-off gigs in suitably scenic surrounds like mountains, lava caves and tunnels in actual glaciers, too. And because you're in Iceland, you can buy a package that includes tours of waterfalls, hot springs and black sand beaches. Just take our money.
The line-up: There are tons of great Icelandic artists on the bill, just as you'd expect, but it's also the only place you'll find a list of artists as eclectic as Black Eyed Peas, Rita Ora, Robert Plant and Pussy Riot. Yes, that's right.
Food & drink: TBA
From £102.secretsolstice.is